Take your hot chocolate to the next level with this Hot Chocolate Shake! Made with 310 Shake, banana, almond butter, and more, this hot chocolate smoothie is full of nutrition and flavor!
Classic Hot Chocolate Shake Recipe
Drinking a cold smoothie on a chilly autumn morning isn't always appealing to me - especially when all I want to do is crawl back into bed! Luckily, this Classic Hot Chocolate Shake gives me something to look forward to when I wake up and keeps me satiated and cozy. I prefer drinking this in the morning for breakfast, but it's also a great snack when you're craving something sweet. This hot chocolate can be made in just minutes to fit the busiest of schedules and in my opinion, is way tastier than the sugary prepackaged hot chocolates!
With 20g of protein and 10g of fiber, this Classic Hot Chocolate Shake not only offers amazing flavors, but an impressive amount of nutrition to keep you full while providing your body with the fuel it needs. While there are some ingredients that you typically don't see in a regular hot chocolate, such as almond butter and banana, they add great flavor and essential vitamins to balance your health. Let's get started!
What You Need to Make this Hot Shake
The ingredients that are in this shake are 310 Organic Chocolate, banana, unsweetened almond milk, almond butter, vanilla extract, a dash of sea salt, and a date (optional). A date is great to add for a touch of additional sweetness, if desired.
310 Organic Chocolate
If you've never tried 310 Organic Chocolate in a warm beverage, this recipe is a great opportunity to test it out! I love how this meal replacement shake gives any smoothie a milky chocolate flavor, but it tastes like a true hot chocolate when prepared hot. It's naturally-sweetened and formulated without artificial ingredients or flavorings, for a healthy and nourishing treat that everyone can enjoy! It's easy for me to recommend this meal replacement shake to my friends and family because it's vegan, keto, and paleo-friendly to suit a wide variety of lifestyles!
I could keep going about why 310 Shakes are a pantry essential, but below are some additional key points…
15g of plant-based proteins derived from pumpkin, brown rice, and pea
5g of dietary fiber per serving
Free from sugar, gluten, dairy, soy, and GMOs
Blend of powerful superfoods including kale, spinach, spirulina, ginger, turmeric, and more
Ways to "Shake Up" this Recipe
Omit or add any ingredients that your heart desires! You can easily add your favorite extracts for a flavored hot chocolate, or check out our Keto-Friendly Raspberry Hot Chocolate Shake for another indulgent, chocolaty treat.
Here are some other ways you can customize this recipe!
Add cacao powder or cacao nibs for more chocolate flavor
Omit the banana for a thinner consistency
Add collagen for 11g of additional protein
Cashew or oat milk instead of almond milk
How to Make this Hot Shake
The first step to making this hot chocolate is to heat up your almond milk either on a stovetop or in the microwave.
After you have your warm almond milk, combine the rest of the ingredients into a blender and blend until completely smooth. Pour your finished drink into a mug or thermos and enjoy your healthy hot chocolate wherever you go!
Ingredients:
1 scoop 310 Organic Chocolate 
1 banana
1 cup unsweetened almond milk
1 tbsp almond butter
1 tsp vanilla extract
1 dash sea salt
Optional: 1 date
Directions:
Warm almond milk in the microwave or on a stovetop.
Combine ingredients in a blender and blend until completely smooth.
Serve and enjoy!
Nutrition:
345 calories
37g carbs
27g net carbs
10g fiber
13g fat
20g protein
What's your favorite shake recipe using 310 Organic Chocolate? Let us know in the comments below for a chance to be featured on our blog! 
Like this recipe? Check out other delicious, nutritionist-approved 310 Nutrition recipes here! 
In This Recipe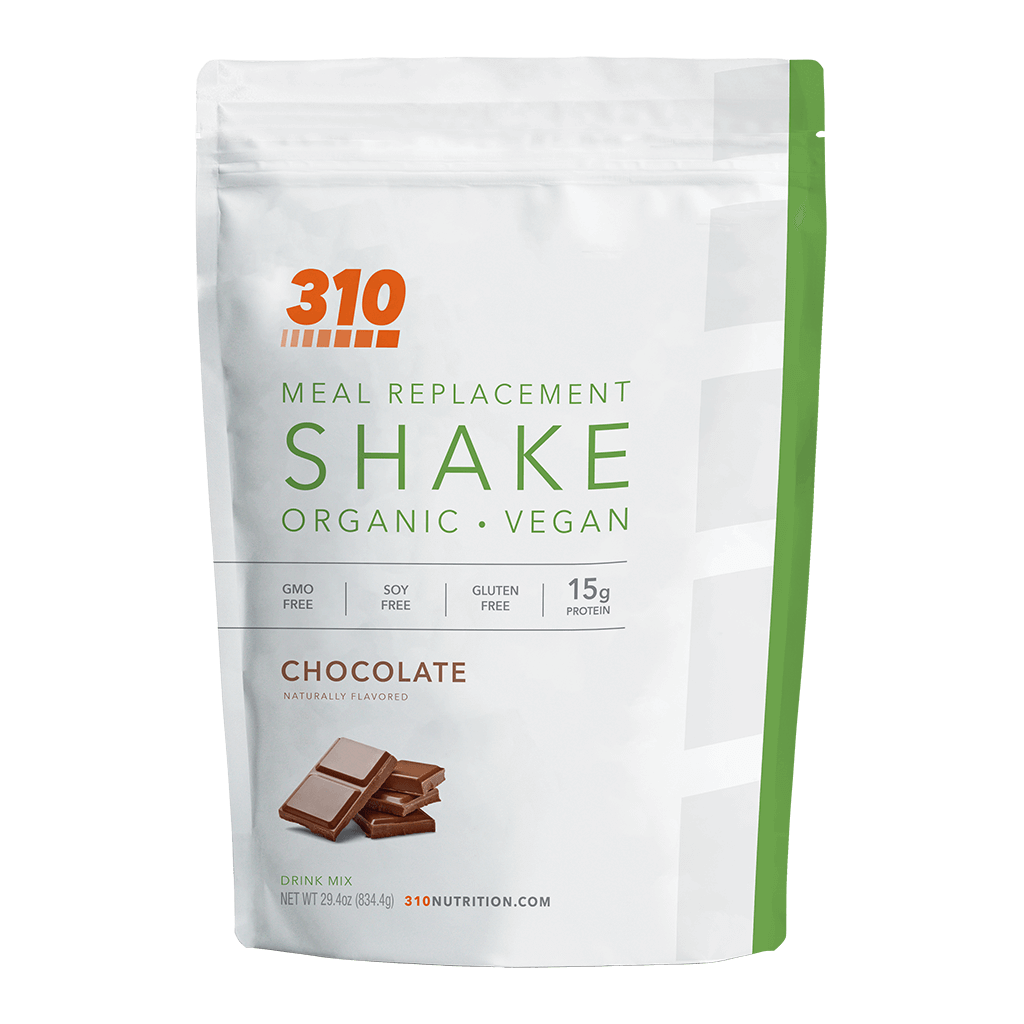 310 Chocolate Shake - Original
100% vegan organic creamy Meal Replacement Shake with 15 grams of plant-based protein along with essential superfoods and nutrients to support your weight-loss goals and journey to a healthy lifestyle. View Shake »