Skip the pre-packaged hot chocolate mixes and syrups, and make this Keto-Friendly Raspberry Hot Chocolate instead! It's a fun twist on the classic beverage and it's full of nutrition to help keep you on track with your health goals!
Keto-Friendly Raspberry Hot Chocolate Recipe
Winter is right around the corner and nothing is more warming and comforting than a mug of steaming hot chocolate! This Keto-Friendly Raspberry Hot Chocolate reminds me of raspberry-filled truffles, and is the perfect drink to sip on a chilly day under some blankets. You can also pour this fruity hot chocolate into a thermos to have a yummy treat with you wherever you go, while staying aligned with your health and wellness goals!
When you think of hot chocolate, "nutritious" is probably not the first thing that pops into your head, but this shake is going to change your mind. Believe it or not, this hot chocolate is loaded with antioxidants, fiber, and vitamins from raspberries and spinach. It may sound odd adding spinach into hot chocolate, but like adding leafy greens into a shake, you can't taste it at all! I love making hot shakes around this time of year because they help keep me warm while providing me with clean nutrition that my body needs to function optimally.
What You Need to Make this Hot Shake
You only need five ingredients to make this hot shake: 310 Organic Chocolate, warm unsweetened coconut milk, MCT oil, fresh raspberries, and spinach! Although I typically use frozen fruit in regular shakes to achieve a thick and creamy texture, fresh raspberries are preferred in this recipe because you want to keep your shake hot and on the thinner side like a true hot chocolate.
310 Organic Chocolate
The reason you don't need hot chocolate packets is because 310 Organic Chocolate provides the indulgent and rich cocoa flavor, while being completely sugar-free! It may sound too good to be true, but 310 Organic Chocolate is sweetened with Stevia and monk fruit and formulated with natural ingredients for a deep chocolate taste without any artificial flavorings or additives. If you follow these recipes, you've probably used 310 Organic Chocolate in your shakes previously - but enjoying it hot is a serious game-changer and the perfect hot chocolate substitute!
Here are a few reasons why I like to keep 310 Organic Chocolate in my pantry year-around…
Vegan, keto, and paleo-friendly
15g of plant-based proteins per serving
5g of dietary fiber
Contains a blend of organic superfoods including spinach, kale, ginger, turmeric, broccoli, and more!
Ways to "Shake Up" this Recipe
Just like all our other shake recipes, you can customize and personalize this hot chocolate to your own liking! I personally love the tartness of raspberries with the chocolate notes, but you can easily change the flavor of this shake by using a different type of berry. Below are a few more variations you can experiment with as well!
Omit berries for a true hot chocolate flavor
Use flavor extracts instead of fruit 
Add 310 Collagen for 11g of extra protein
Use kale instead of spinach
Almond or cashew milk in place of coconut milk
How to Make this Hot Shake
The first step to making this shake is to warm your coconut milk either on the stovetop or in a microwave. You don't need to bring the milk to a boil, just make it warm enough for your liking.
Next, combine the warmed milk and spinach in a blender and blend until it becomes a smooth puree. This extra step ensures a smooth consistency because no one wants chunky spinach in their hot chocolate, am I right?
Finally, add the remaining ingredients into the blender and blend again until everything is thoroughly combined, which takes under a minute. Serve your hot chocolate in a mug or thermos and enjoy a comforting yet nourishing treat that is sure to satisfy your sweet tooth!
Ingredients:
Directions:
Using a microwave or stovetop, warm coconut milk.
Combine ingredients in a blender and blend until completely smooth.
Serve and enjoy!
Nutrition:
310 calories
14g carbs
5g net carbs
9g fiber
21g fat
17g protein
What's your favorite shake recipe using 310 Organic Chocolate? Let us know in the comments below for a chance to be featured on our blog! 
Like this recipe? Check out other delicious, nutritionist-approved 310 Nutrition recipes here! 
In This Recipe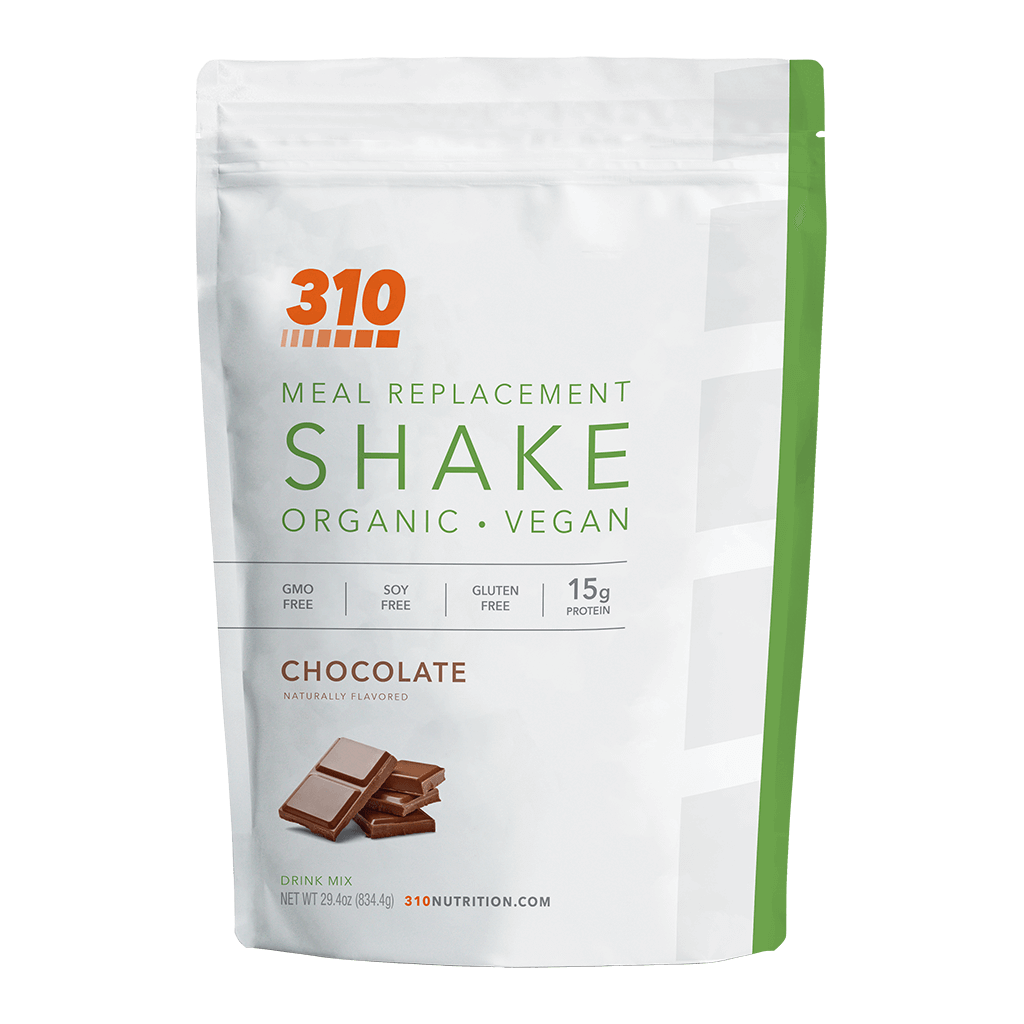 310 Chocolate Shake - Original
100% vegan organic creamy Meal Replacement Shake with 15 grams of plant-based protein along with essential superfoods and nutrients to support your weight-loss goals and journey to a healthy lifestyle. View Shake »