This Keto Coconut Chai Shake is lusciously creamy and full of exciting flavor for a totally satisfying smoothie treat! Blend it up in just a few minutes for a quick and easy low-carb meal, snack, or dessert!
Keto Coconut Chai Shake Recipe
Need to add some variety to the fall flavors you commonly enjoy? Chai is an underrated flavor that deserves some love, plus it tastes absolutely delicious in this Keto Coconut Chai Shake! If you have a sweet tooth yet you're following keto or low-carb guidelines, this keto-friendly shake is here to satisfy your sweet tooth while helping you stay aligned with your health and dietary goals.
Using low-carb ingredients like cauliflower and dried coconut flakes, this shake is full of fiber to help keep you full and support great digestion, while supplying your body with essential nutrients. I often make this shake as my afternoon pick-me-up because the chai tea in this recipe really helps uplift my mood without the coffee jitters! This is also a great breakfast or post-workout shake to provide your body with the fuel it needs.
For the full recipe and variations on this shake recipe, keep reading!
What You Need to Make this Shake
Blend this shake up in under five minutes with these simple ingredients: 310 Organic Vanilla, frozen cauliflower rice, chilled chai tea, dried coconut flakes, coconut cream, cinnamon, and ice! You can either buy your own chai tea to brew and chill, or find a pure unsweetened chai tea for this recipe. If you want to make your own chai, I'll go over how you can brew the perfect tea later!
310 Organic Vanilla
To add sweetness and major flavor to this shake, I use a scoop of 310 Organic Vanilla. This meal replacement shake is great for keto and low-carb lifestyles because it's solely-sweetened with Stevia and monk fruit, for a sugar-free treat. I also love how it adds a silky-smooth consistency to all my shakes, and it truly reminds me of vanilla ice cream, which is definitely something you can't typically enjoy on a keto diet!
Aside from great taste and texture, 310 Organic Vanilla is also loaded with impressive nutrients that will help you feel your best from the inside out. Just check out some of these amazing qualities, below!
5g of dietary fiber per serving
Plant-based proteins derived from pumpkin, brown rice, and pea
Vegan, keto, and paleo-friendly
Free from soy, gluten, dairy, sugar, and GMOs
Ways to "Shake Up" this Recipe
Although this is a keto shake, there are still several ways that you can customize it to your liking! You can always add in additional healthy fats or other flavors to spice up this recipe however you wish. Here are some of my favorite alternative ingredients to add if you can't think of any ideas!
310 Collagen for additional 11g of protein
Add chai spices like nutmeg, allspice, or ginger
Use 310 Chocolate for a Chocolate Chai version
Freeze chai tea into ice cubes for stronger chai flavor
How to Make this Shake
The first step to making this shake is brewing your chai tea. Boil eight to twelve ounces of boiling water and then steep your tea bag in the hot water for five minutes. After five minutes, remove your tea bag and leave your tea in the fridge to cool. For a stronger chai flavor, you can even steep two tea bags, but just take out the tea before it over-steeps or it can have a bitter taste.
After you have your chilled chai, simply add it along with the rest of your ingredients into a blender and blend on a medium-to-high setting for 40 seconds to a minute until everything is thoroughly combined. Serve your finished shake in a glass, garnish with cinnamon, and enjoy your totally yummy, low-carb treat!
Ingredients:
1 scoop 310 Organic Vanilla
1 cup frozen cauliflower rice
1 cup chai tea, chilled
1 tbsp dried coconut flakes
1/4 cup coconut cream
1 dash of cinnamon
1/2 cup ice
Directions:
Combine ingredients in a blender and blend until completely smooth.
Serve and enjoy!
Nutrition:
365 calories
17g carbs
8g net carbs
9g fiber
26g fat
20g protein
What's your favorite shake recipe using 310 Organic Vanilla? Let us know in the comments below for a chance to be featured on our blog!
Like this recipe? Check out other delicious, nutritionist-approved 310 Nutrition recipes here! 
In This Recipe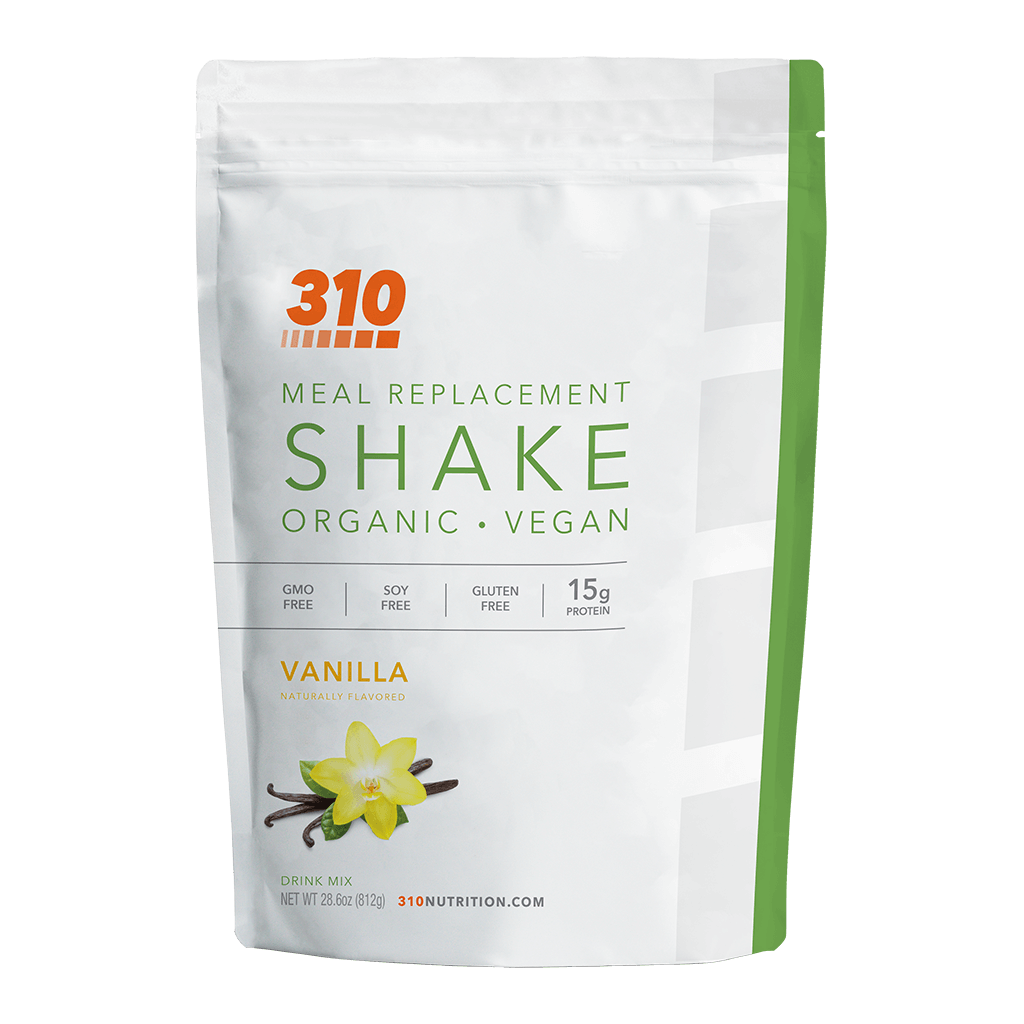 310 Vanilla Shake - Original
100% vegan organic creamy Meal Replacement Shake with 15 grams of plant-based protein along with essential superfoods and nutrients to support your weight-loss goals and journey to a healthy lifestyle. View Shake »