Craving a fall-inspired, healthy treat?! This Chai Tea Smoothie is full of flavor and nutrition, and can be blended up in just a few minutes for an easy, nutritious, and naturally-sweet drink. 
Chai Tea Smoothie Recipe
Chai lattes can be enjoyed year-round, but they're especially comforting and cozy during the chilly fall and winter seasons. Although it's easy to just stop by a coffee shop for a chai treat, they often use a sugary, flavored concentrate or syrup to achieve the perfect chai taste, rather than using fresh spices and black tea. So, I've started making my own chai lattes at home and you can too!
I typically make a large batch of chai at one time to have it readily available for iced or hot lattes, and the leftover tea can be turned into this Chai Tea Smoothie! This drink is a great way to reap the benefits of tea without artificial flavors and added sugars, while providing your body with plant compounds and antioxidants from black tea.
In This Recipe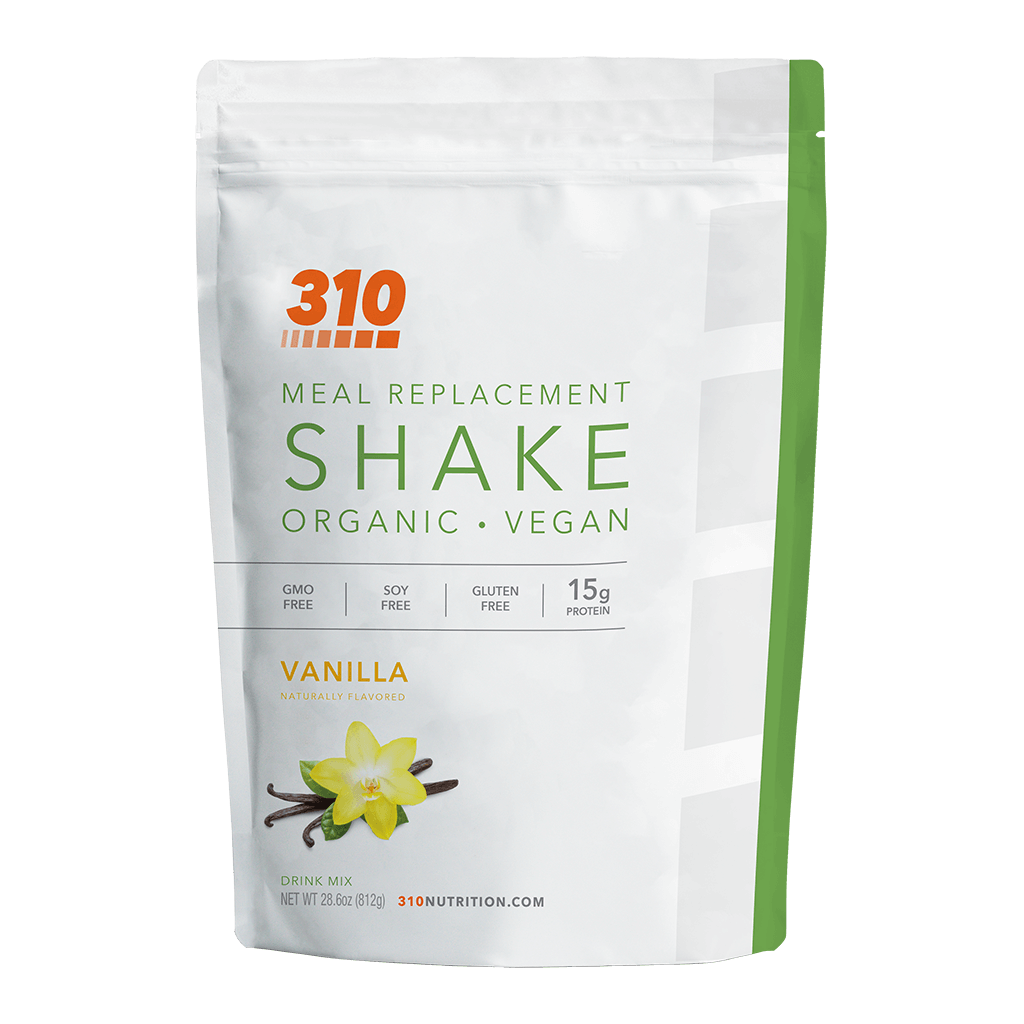 310 Vanilla Shake - Original
100% vegan organic creamy Meal Replacement Shake with 15 grams of plant-based protein along with essential superfoods and nutrients to support your weight-loss goals and journey to a healthy lifestyle. View Shake »
To add more sustenance and volume, I also include frozen cauliflower rice and 310 Organic Vanilla for plant-based proteins and fiber, which are key components that help you stay satiated. You can easily blend this recipe up within minutes, so save your money, skip the line, and give this Chai Tea Smoothie a try!
What You Need to Make this Smoothie
You'll find nothing but clean, whole food ingredients in this recipe! All you need is 310 Organic Vanilla, frozen banana, frozen cauliflower rice, chai tea, unsweetened almond milk, almond butter, vanilla extract, cinnamon, and ice (optional).
310 Organic Vanilla
Although I have learned to love my chai's unsweetened, there are still times where I enjoy a sweet and creamy latte to satisfy my major sweet tooth! Luckily, there's 310 Organic Vanilla to give this smoothie its major flavor, for a sweet treat that can be enjoyed daily, with zero added sugars or artificial ingredients.
This meal replacement shake is formulated to fit a wide range of lifestyles, so whether you're following vegan, keto, low-carb, or paleo guidelines, you can still incorporate this impressive shake into your routine to support your goals. There are several reasons why my pantry is always stocked with 310 Organic Vanilla, but below are a few qualities that are unbeatable!
15g of plant-based proteins derived from pumpkin, brown rice, and pea
5g of dietary fiber
Naturally-sweetened with Stevia and monk fruit
Free from common allergens including soy, dairy, gluten, and nuts
Ways to "Shake Up" this Smoothie
Make this recipe uniquely yours by adding or substituting ingredients to suit your personal taste. With countless ways to customize this smoothie, you can truly let your creativity fly. For some ideas, here are a few variations I've tried and loved!
Chia, flax, or hemp seeds instead of almond butter
Swap out almond milk for cashew or oat milk
Add nutmeg and clove for stronger chai flavor
Splash of coffee for a dirty chai flavor
Low-carb version: omit banana and add more frozen cauliflower rice
How to Make this Smoothie
The first step to making this smoothie is preparing your chai tea. Simply boil eight to twelve ounces of water and then steep your tea bag in the hot water for five minutes. After five minutes, remove your tea bag and leave your tea in the fridge to cool. For a stronger chai flavor, you can either steep two tea bags or add your spices (cinnamon, nutmeg, and clove), into the tea itself. Just go easy on the clove if you choose to add spices straight to the tea since it's quite potent!
After your chai has chilled, just add all your ingredients into a blender and blend on a medium-to-high setting until everything is thoroughly combined. I recommend adding the ice if your chai hasn't completely chilled or if you enjoy a slushee texture. Lastly, just serve your smoothie in a glass, garnish with cinnamon, and enjoy this classic drink with a healthy twist!
Ingredients:
1 scoop 310 Organic Vanilla
1/2 small frozen banana
1/2 cup frozen cauliflower rice
1 cup chai tea, brewed
1/4 cup unsweetened almond milk 
1 tbsp almond butter
1 tsp vanilla extract
1/4 tsp cinnamon
Optional: 1/2 cup ice
Directions:
Combine ingredients in a blender and blend until completely smooth.
Serve and enjoy!
Nutrition:
300 calories
27g carbs
17g net carbs
10g fiber
12g fat
21g protein
What's your favorite shake recipe using 310 Organic Vanilla? Let us know in the comments below for a chance to be featured on our blog! 
Like this recipe? Check out other delicious, nutritionist-approved 310 Nutrition recipes here! 
In This Recipe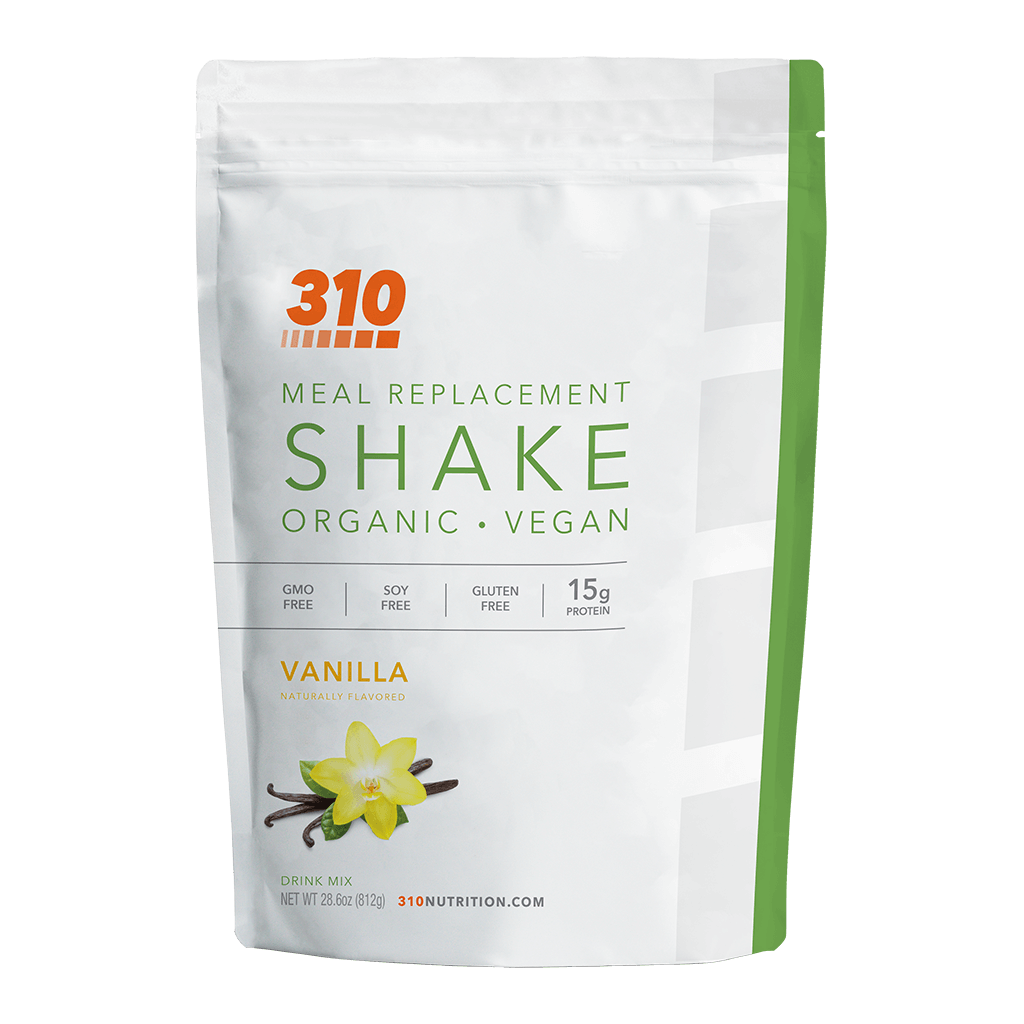 310 Vanilla Shake - Original
100% vegan organic creamy Meal Replacement Shake with 15 grams of plant-based protein along with essential superfoods and nutrients to support your weight-loss goals and journey to a healthy lifestyle. View Shake »