Kickstart your summer wellness goals with this yummy Strawberry and Peach Protein Smoothie! It's easy-to-make, packed with healthy ingredients, and bursting with juicy, sweet, fruity flavors!
In This Recipe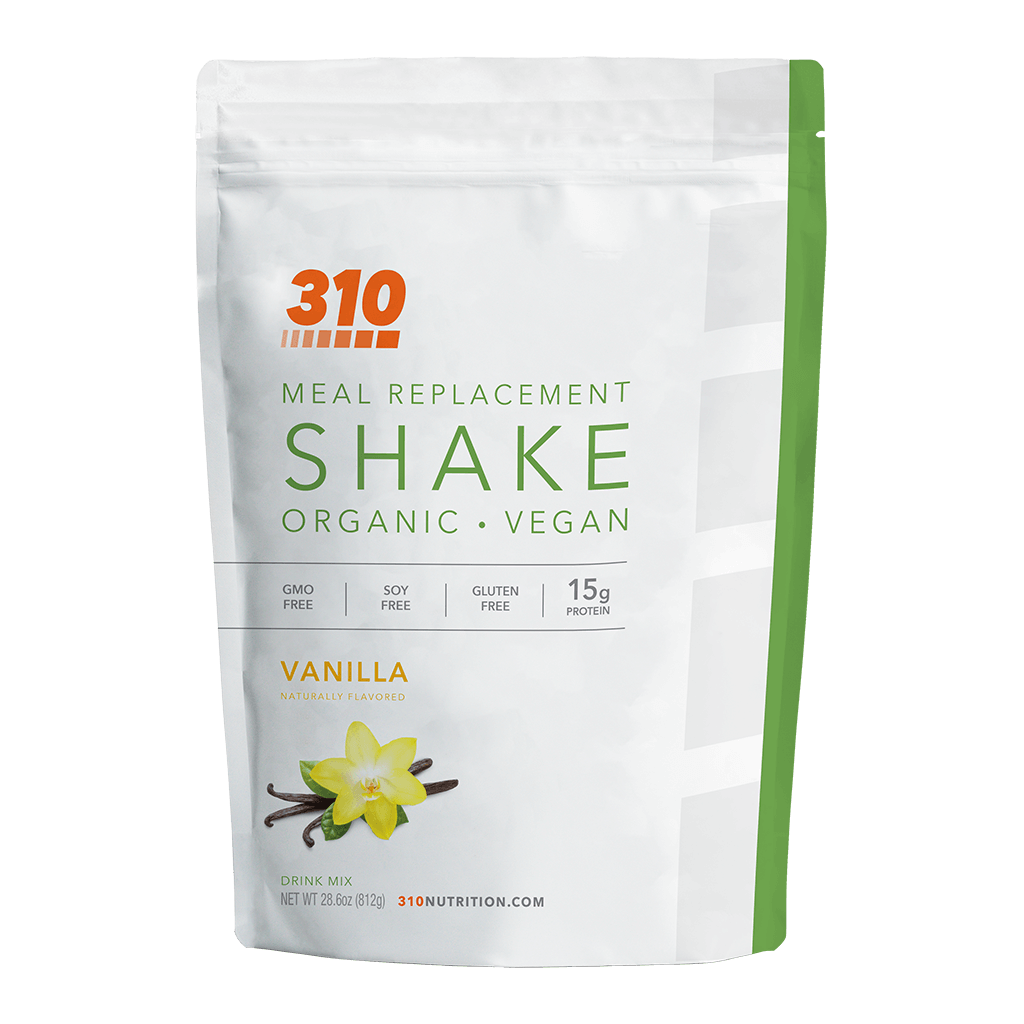 310 Vanilla Shake - Original
100% vegan organic creamy Meal Replacement Shake with 15 grams of plant-based protein along with essential superfoods and nutrients to support your weight-loss goals and journey to a healthy lifestyle. View Shake »
Strawberry & Peach Protein Smoothie Recipe
Say hello to summer with this creamy Strawberry and Peach Protein Smoothie! In the past few weeks, peaches and strawberries have been the first things I see when I walk into the grocery store, so I just had to create a delicious protein smoothie with these seasonal fruits, that can be enjoyed at any time of day!
Smoothie Prep
You can easily make this smoothie by buying pre-frozen strawberries and peaches or by freezing them yourself. I like adding frozen fruit to smoothies because it really helps add thickness and creaminess to the shake, but if you prefer your shakes on the thinner side, I recommend using fresh fruit instead!
Prep Tip: If you find your fresh fruit ripening too quickly, slice them up and transfer them to the freezer so you can use them for smoothies instead of throwing them away! You can even individually package the fruit into baggies with other smoothie ingredients to make "smoothie prep bags". When you're ready to make a smoothie, all you have to do is pour the contents of your prep bag into the blender with liquid and your 310 Shake flavor of choice – super simple!
Learn more quick tips with our smoothie prep guide! It covers the different methods you can use to prep your smoothies to save some time!
What You'll Need to Make this Smoothie
In order to make this yummy Strawberry and Peach Protein Smoothie, all you need is 310 Vanilla, unsweetened almond milk, Greek yogurt (for an extra boost of protein), frozen strawberries, frozen peaches, chia seeds, and ice, if you'd like.
310 Vanilla 
310 Vanilla is a thick and creamy shake that adds taste, texture, and a boost of nutrition to this smoothie recipe! In addition to adding a creamy element, pairing well with the fruity flavors of the Strawberry and Peach, it also provides essential nutrients to help optimize health. Here are just some of the key stand-out benefits of the shake... 
15g of plant-based proteins from pea, brown rice, and hemp
5g of dietary fiber
Blend of superfood greens
20 vitamins & minerals
& more!
Alternative Ingredients
While I typically use unsweetened almond milk as the base, you can use whatever milk or milk alternative that you prefer! However, I do recommend sticking to unsweetened options to avoid added sugars, but if you're looking to switch up this recipe, here are some other options that I think would be super tasty…
Unsweetened cashew milk: for a creamier smoothie

Fresh squeezed orange juice: for more of a "sour" fruit flavor
Water or unsweetened coconut water: to allow the natural fruity tart flavor to shine through
Also, if you don't have chia seeds, feel free to add a tablespoon of flax or hemp seeds for a little bit of nuttiness and texture, as well as a boost of nutrients.
How to Make Your Smoothie
To make this yummy smoothie, simply combine 310 Vanilla, strawberries, peaches, Greek yogurt, chia seeds, and unsweetened almond milk into a blender and blend on high until smooth and creamy, which takes about a minute.
At this point, you can examine the smoothie and decide for yourself whether you'd like to add in some ice! If you do choose to add ice, I recommend starting with half a cup of ice and blending the smoothie for an additional 30 seconds or so. Serve the smoothie in your favorite glass and if you're feeling fancy, garnish with a strawberry!
Strawberry & Peach Protein Smoothie
Prep time: 3 minutes
Blend time: 1 minute
Total time: 4 minutes
Serves 1
Ingredients:
1 scoop 310 Vanilla
1/2 cup unsweetened almond milk
1/2 cup Greek yogurt
1/2 cup frozen strawberries
1/2 cup frozen peaches
1 tbsp chia seeds
Ice
Directions:
Combine ingredients in a blender and blend until completely smooth.
Serve and enjoy!
Nutrition:
364 calories
38g carbs
25g net carbs
14g fat
24g protein
What's your favorite shake recipe using 310 Vanilla? Let us know in the comments below for a chance to be featured on our blog! 
Like this recipe? Check out other delicious, nutritionist-approved 310 Nutrition recipes here! 
In This Recipe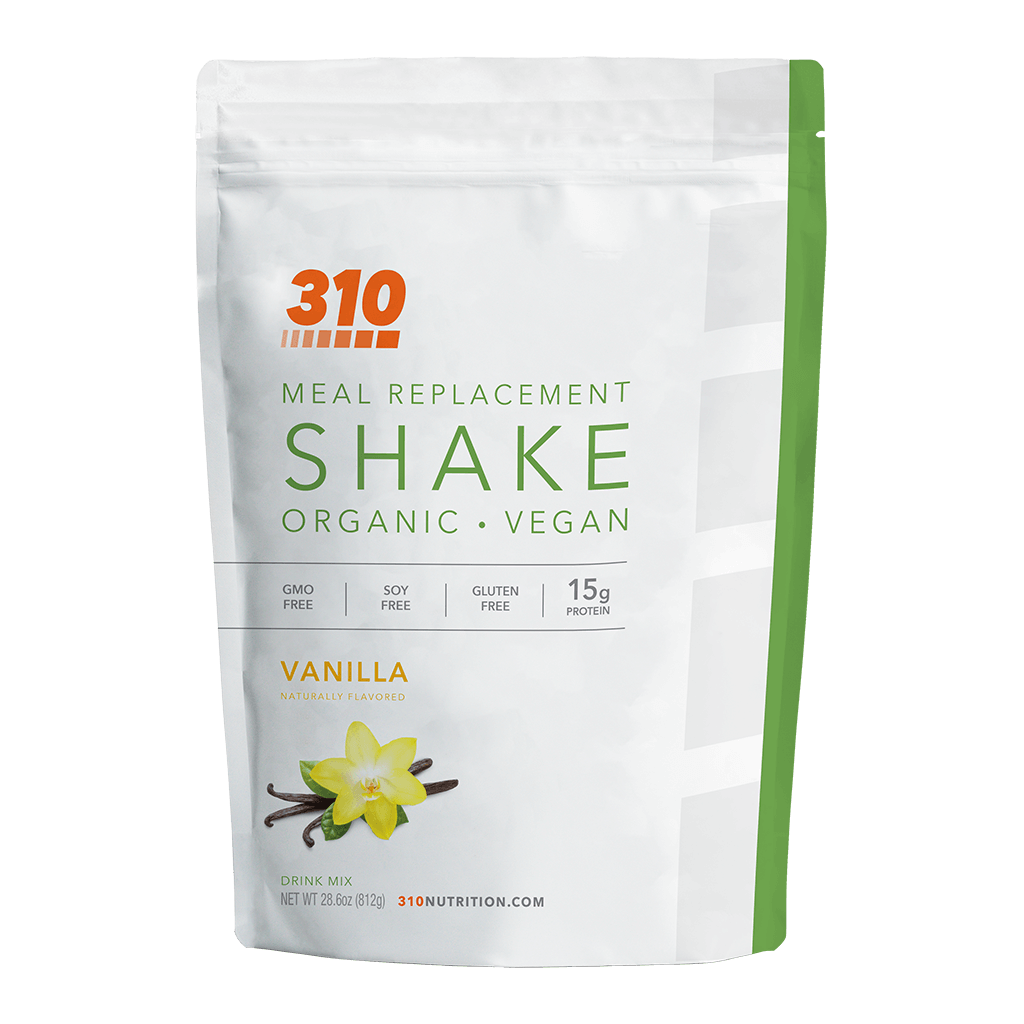 310 Vanilla Shake - Original
100% vegan organic creamy Meal Replacement Shake with 15 grams of plant-based protein along with essential superfoods and nutrients to support your weight-loss goals and journey to a healthy lifestyle. View Shake »