Skip the processed breakfast and power through your mornings with this nutrient-packed Salted Caramel Oatmeal Smoothie! Made with all whole food, vegan ingredients, it'll leave you full and satisfied. 
Salted Caramel Oatmeal Smoothie Recipe
Although pancakes, waffles, and French toast may be popular breakfast foods, having such large amounts of sugar can leave you feeling tired and lethargic within hours. Instead, start your day with nutritious foods to provide your body with the proper fuel it needs for the day with this Salted Caramel Oatmeal Smoothie. It's the perfect combination of sweet and salty to satisfy all your cravings. The best part? It's blended in just minutes to fit busy schedules, so there's no need to skip your morning meal!
In This Recipe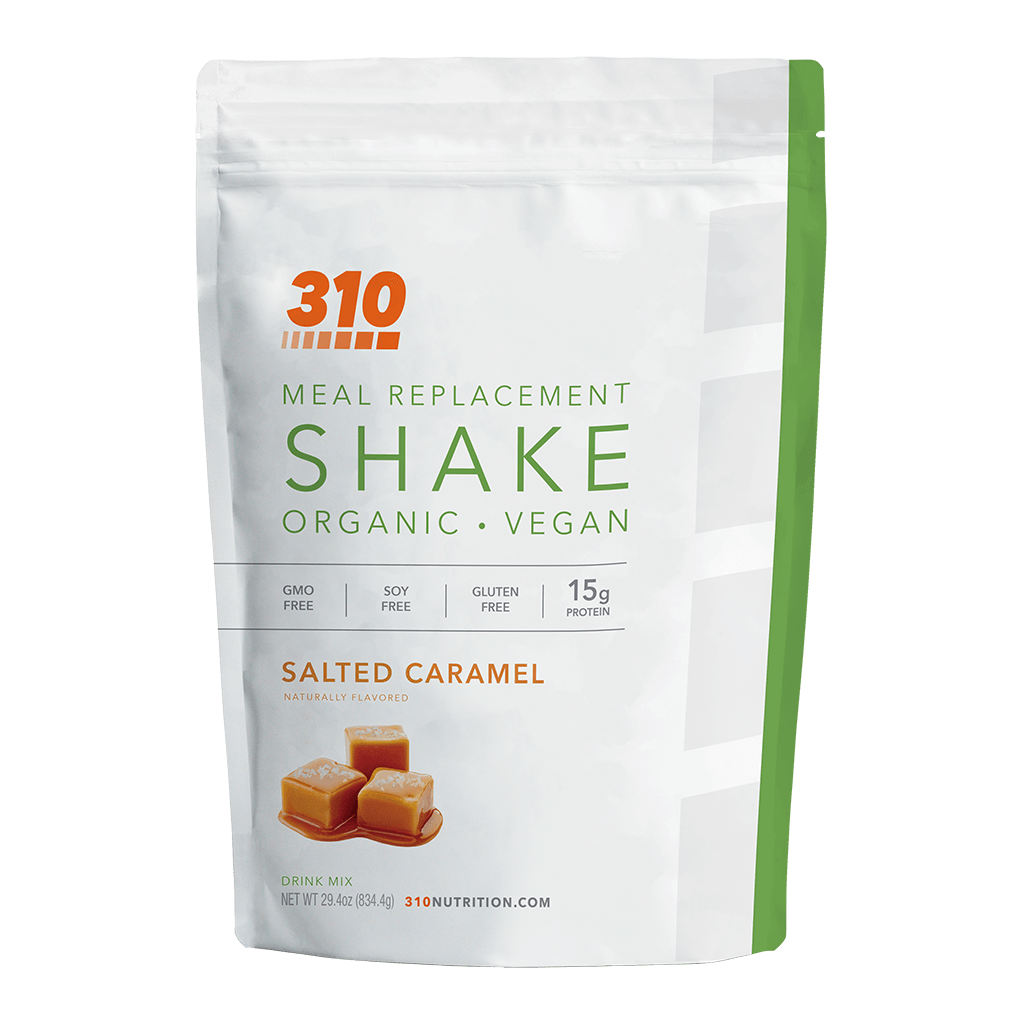 310 Salted Caramel Shake - Original
100% vegan organic creamy Meal Replacement Shake with 15 grams of plant-based protein along with essential superfoods and nutrients to support your weight-loss goals and journey to a healthy lifestyle. View Shake »
For me, a balanced breakfast should have quality protein, complex carbs, and healthy fats, so I made sure to incorporate all those elements into this recipe for a satiating smoothie. By using a variety of whole food ingredients including 310 Shake and almond butter, this drink is packed with 20g of protein and 9g of nourishing fats to keep you full and energized! Keep on reading for the full recipe and tips on how you can make this at home…
What You Need to Make this Smoothie
The ingredients I used in this recipe are 310 Organic Salted Caramel, unsweetened almond milk, rolled oats, frozen banana, almond butter, ice, and a dash of sea salt. That's it!
310 Organic Salted Caramel
If you don't like overly sweet treats, 310 Organic Salted Caramel is going to be your new best friend! It has a rich, caramel-y flavor with a hint of sea salt for a saltwater taffy taste. You can use it in coffee, oatmeal, or even healthy baked goods for a major boost of nutrients while exciting your taste buds. Eating the same sources of lean protein can get a bit boring, which is why I love switching it up with this shake to easily increase my daily protein intake! I've been a longtime fan of 310 Shakes and here's a few reasons why…
Sugar-free, sweetened with Stevia and other plant-based flavors 
Free from soy, dairy, gluten, nuts, and GMOs
Vegan, keto, and paleo-friendly
15g of plant-based proteins per serving
Ways to "Shake Up" this Recipe
There's a lot of room for creativity in this recipe, so go ahead and customize it to your liking! Below are a few alternative ingredients that also work well…
Swap out Salted Caramel for Chocolate
Cashew or peanut butter instead of almond
Add hemp or chia seeds
310 Collagen for extra protein
Low-carb version: frozen cauliflower rice instead of banana
How to Make this Recipe
At last, let's put this smoothie together! Combine all the ingredients into the blender and gradually blend to a high setting for 30 to 40 seconds, or until completely smooth. After you reach a creamy consistency, serve your drink in a glass or shaker cup and enjoy!
Ingredients:
1 scoop 310 Organic Salted Caramel
1 cup unsweetened almond milk
1 tbsp rolled oats
1 small frozen banana
1/2 tbsp almond butter
dash of sea salt
1/2 cup ice
Directions:
Combine ingredients in a blender and blend until completely smooth.
Serve and enjoy!
Nutrition: 
305 calories
38g carbs
29g net carbs
9g fiber
9g fat
20g protein
What's your favorite shake recipe using 310 Organic Salted Caramel? Let us know in the comments below for a chance to be featured on our blog! 
Like this recipe? Check out other delicious, nutritionist-approved 310 Nutrition recipes here! 
In This Recipe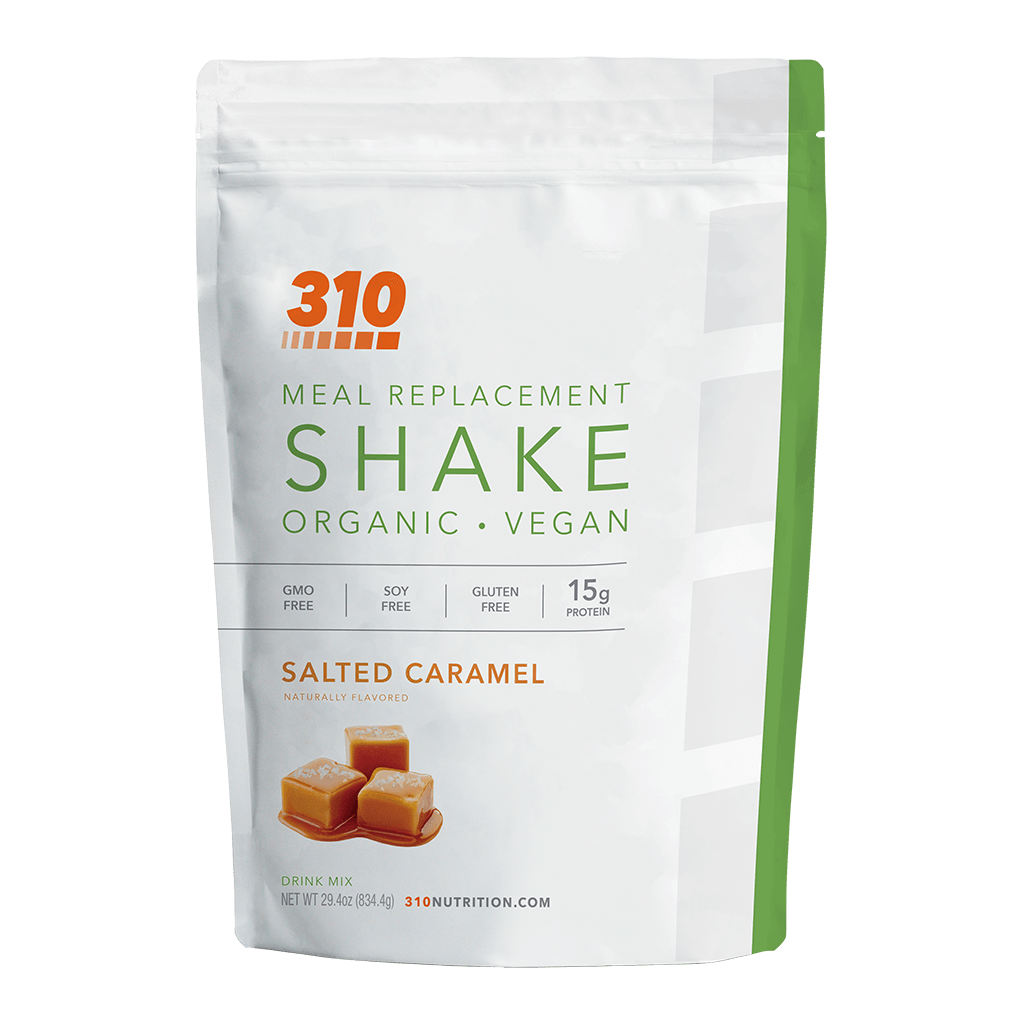 310 Salted Caramel Shake - Original
100% vegan organic creamy Meal Replacement Shake with 15 grams of plant-based protein along with essential superfoods and nutrients to support your weight-loss goals and journey to a healthy lifestyle. View Shake »