Skip the sugar-filled latte from your local coffee shop and try this Pumpkin Spice Oat Milk Latte instead! It's filled with nutritious ingredients and makes the most delicious fall treat!
Pumpkin Spice Oat Milk Latte Shake Recipe
'Tis the season for cool, crisp air, crunchy leaves under your feet, sweater weather, and of course, pumpkin spice! I'm one of those people who love pumpkin spice everything, but simply cannot justify getting a pumpkin spice latte every morning. It's rough on my wallet and my body with all the added sugars and artificial flavors that are in a typical pumpkin spice latte. Instead, I just make this Pumpkin Spice Oat Milk Latte Shake to give me a boost of energy while satisfying my love for fall flavors.
Featuring real pumpkin, the shake is packed with vitamin A and C to support a strong immune system and total body health. The pumpkin also naturally gives your drink an appetizing orange hue that is so aesthetically pleasing you might just have to take a photo of it to share with your friends and family!
Keep on reading to learn how you can make this shake at home!
What You Need to Make this Shake
The ingredients I used for this shake are 310 Organic Pumpkin Spice, pumpkin puree, rolled oats, coffee, unsweetened oat milk, almond or cashew butter, vanilla extract, cinnamon, and ice. If you have pumpkin pie spice readily available, that's another great ingredient to include as well!
310 Organic Pumpkin Spice
Make any shake taste like fall with just one scoop of 310 Organic Pumpkin Spice! This well-balanced meal replacement shake is made with top-quality vegan and organic ingredients for a tasty treat that will also fuel your body right.
For more versatility. you can even mix 310 Organic Pumpkin Spice into oatmeal, healthy baked goods, smoothie bowls, or chia seed pudding for a burst of flavor without adding any sugar. If you're a pumpkin spice lover, I cannot recommend this shake enough! Just take a look at some additional qualities that 310 Organic Pumpkin Spice contains…
15g of plant-based proteins from pumpkin, brown rice, and pea
5g of dietary fiber
Vegan, keto, and paleo-friendly
Free from sugar, soy, gluten, dairy, and GMOs
Ways to "Shake Up" this Recipe
Everyone has their own version of a pumpkin spice latte and the best recipe is simply the one that excites your taste buds the most. There are countless ways to customize this shake and below are just a few options you can try when recreating this recipe at home!
Espresso instead of coffee*
For a creamier shake, add banana or more pumpkin and omit oats
Add nutmeg or clove
Add a scoop of 310 Collagen for more protein
*Add more oat milk if using espresso instead of coffee
How to Make this Shake
To make this shake, first place your pumpkin puree in an ice tray and allow it to freeze overnight. I like my shakes extra creamy and this step helps achieve even more thickness.
Once you have your frozen pumpkin puree ice cubes, simply add them along with the rest of the ingredients into a blender and gradually blend from a medium to a high setting until everything is completely smooth. Pour your shake into a glass or shaker cup and enjoy your healthy sweet treat!
Ingredients:
1 scoop 310 Organic Pumpkin Spice
1/4 cup pumpkin puree, frozen into ice cubes
2 tbsp rolled oats
8oz brewed coffee, chilled
4oz unsweetened oat milk
1 tbsp almond or cashew butter
1 tsp vanilla extract
1/4 tsp cinnamon
1/2 cup ice 
Directions:
Combine ingredients in a blender and blend until completely smooth.
Serve and enjoy!
Nutrition: 
345 calories
32g carbs
22g net carbs
10g fiber
14g fat
23g protein
What's your favorite shake recipe using 310 Organic Pumpkin Spice? Let us know in the comments below for a chance to be featured on our blog! 
Like this recipe? Check out other delicious, nutritionist-approved 310 Nutrition recipes here! 
In This Recipe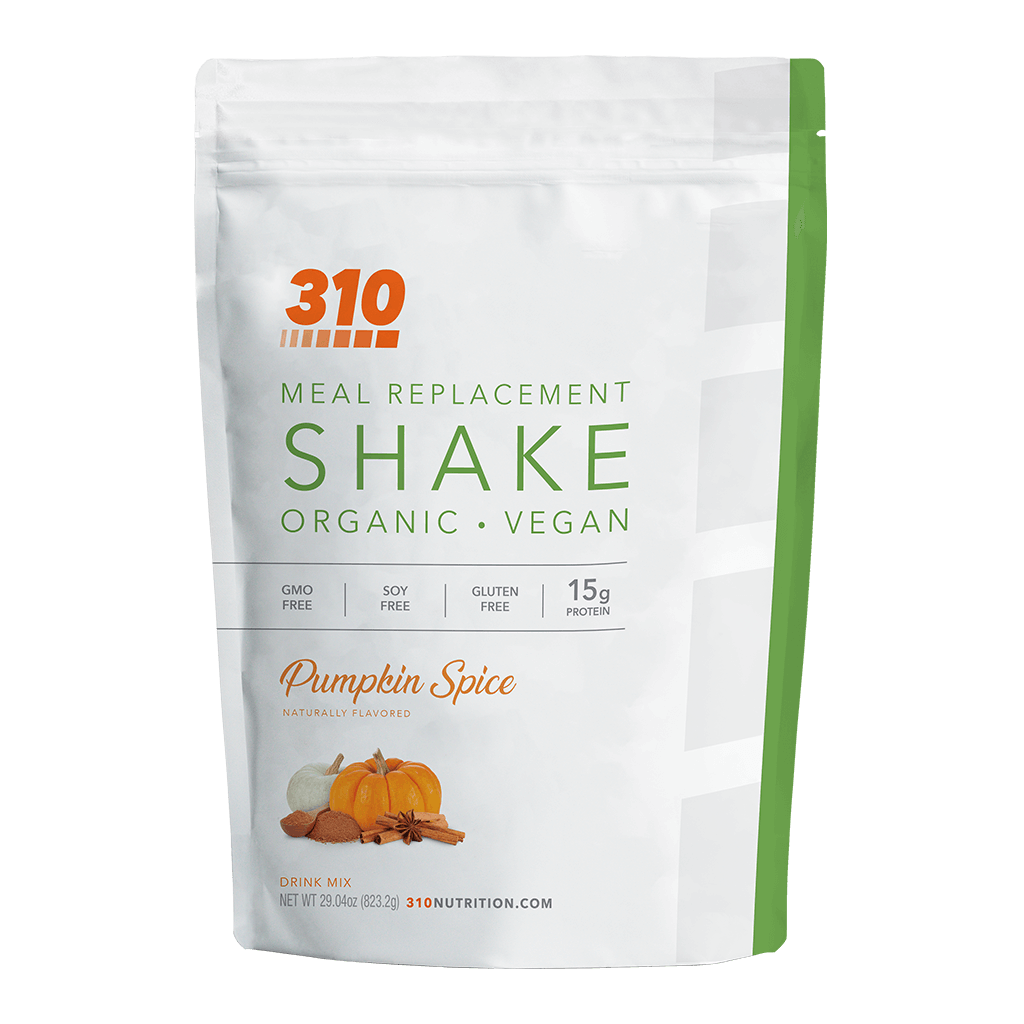 310 Pumpkin Spice Shake - Original
100% vegan organic creamy Meal Replacement Shake with 15 grams of plant-based protein along with essential superfoods and nutrients to support your weight-loss goals and journey to a healthy lifestyle. View Shake »