How to Make this Pumpkin Pie Paradise Shake
The first official day of fall is practically here and that means if you're a fan of all things pumpkin, you're in luck! It's officially the season for adding pumpkin spice to everything you can and thinking of lots of different recipes that allow you to indulge in the flavor.
With that being said, I'm sure you'll appreciate this spin on a classic piece of pumpkin pie, but way healthier and in refreshing shake form! It has all of the sweet and spicy flavors you're looking for, along with whole food, nourishing ingredients that will fuel your body and mind for hours.
Not to mention that this recipe includes 310 Organic Pumpkin Spice, which is ultra-rich, creamy, and totally delicious – and can satisfy your urge for all things pumpkin while helping you meet your weight loss goals this fall and winter.
Read on to learn how to make this fulfilling fall smoothie…
Ingredients:
Serves 1
1 scoop 310 Organic Pumpkin Spice
1 cup unsweetened almond milk
1 tbsp cashew butter
1/2 cup pure pumpkin puree
1/2 tsp pumpkin spice
1/2 cup ice
Directions:
Combine ingredients in a blender and blend until completely smooth.
Serve and enjoy!
Nutrition: 
Calories: 301
Carbs: 25g
Net Carbs: 14g
Fiber: 11g
Fat: 13g
Protein: 20g
What You Need to Make this Shake
Alright, let's get our pumpkin pie on! It's super easy to make this shake, promise. Plus, it can keep you from making and eating an entire pumpkin pie by yourself!
I used 310 Organic Pumpkin Spice, unsweetened almond milk, cashew butter, pure pumpkin puree, pumpkin spice, and ice.
Lots of times when you think you're buying regular PURE canned pumpkin, it can actually be pumpkin pie filling, so be careful. There's a big difference between the two because while pure pumpkin is really healthy, full of fiber and vitamins and minerals, and low in calories, pumpkin pie filling contains sugar and other additives. So, make sure you grab the right one for this recipe!
310 Organic Pumpkin Spice
It's the time to indulge in pumpkin, and that means our much-loved 310 Organic Pumpkin Spice is back! This seasonal shake favorite is a must for deliciously-tantalizing smoothies, smoothie bowls, and pumpkin-flavored baked treats, all season long!
If you haven't yet tried 310 Organic Pumpkin Spice, it offers an intriguing mix of flavors – like cinnamon, nutmeg, and clove – along with creamy pumpkin in every sip.
Although this shake is ultra-popular, it's a special flavor to celebrate the fall season, so stock up on yours before it disappears. It goes so well in many different types of smoothie recipes – making it as versatile as it is yummy.
I cannot recommend this scrumptious seasonal flavor enough! Plus, like all other 310 Shakes, 310 Organic Pumpkin Spice Shake…
Contains all organic, plant-based superfoods
Offers 15g protein, 5g fiber, and only 2g net carbs
Is sugar, dairy, gluten, soy, and GMO-free
Is only 110 calories per serving
Recipe Variations
Want to alter this recipe slightly to create a different taste or use up other ingredients? You can switch it up in different ways and it will still taste wonderfully fall-flavored and delicious.
However, we suggest you stick with pumpkin as the main ingredient because it's just SO GOOD. Here are some varieties you can try to get an equally-yummy, pumpkin-y delicious shake…
Try ½ 310 Organic Pumpkin and ½ 310 Organic Vanilla  for a burst of vanilla bean
Replace pumpkin spice with cinnamon or nutmeg
Swap out pure pumpkin with frozen banana in a pinch
Add in walnuts, pecans, or almonds for more healthy fat & crunch
How to Make this Recipe
Learn how to make this recipe with the full recipe card up top!
What's your favorite shake recipe using 310 Organic Pumpkin Spice? Let us know in the comments below for a chance to be featured on our blog! 
Like this recipe? Check out other delicious, nutritionist-approved 310 Nutrition recipes here! 
In This Recipe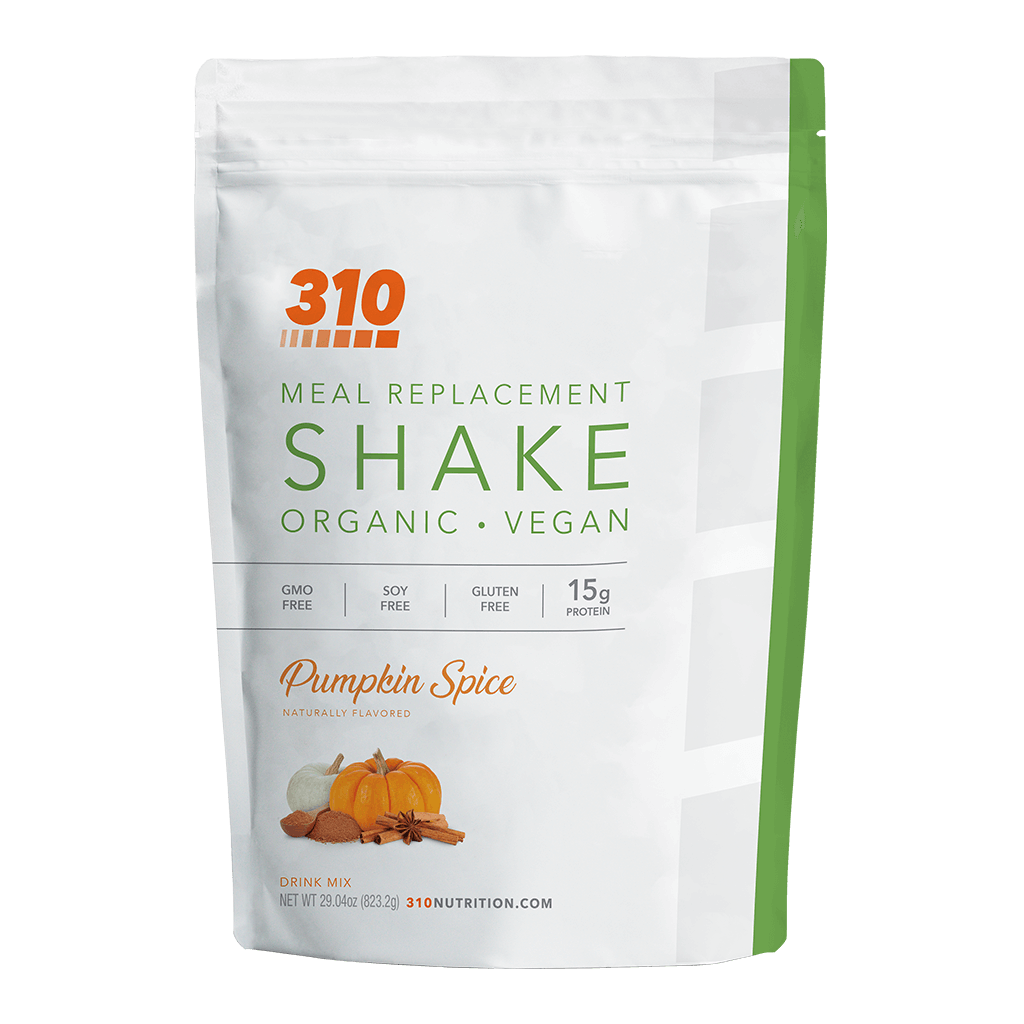 310 Pumpkin Spice Shake - Original
100% vegan organic creamy Meal Replacement Shake with 15 grams of plant-based protein along with essential superfoods and nutrients to support your weight-loss goals and journey to a healthy lifestyle. View Shake »