This Pina Colada Protein Shake is made with fresh fruit, coconut, and Greek yogurt for a refreshing summer treat! It's packed with protein and can easily be made vegan for a healthy smoothie that everyone can enjoy!
In This Recipe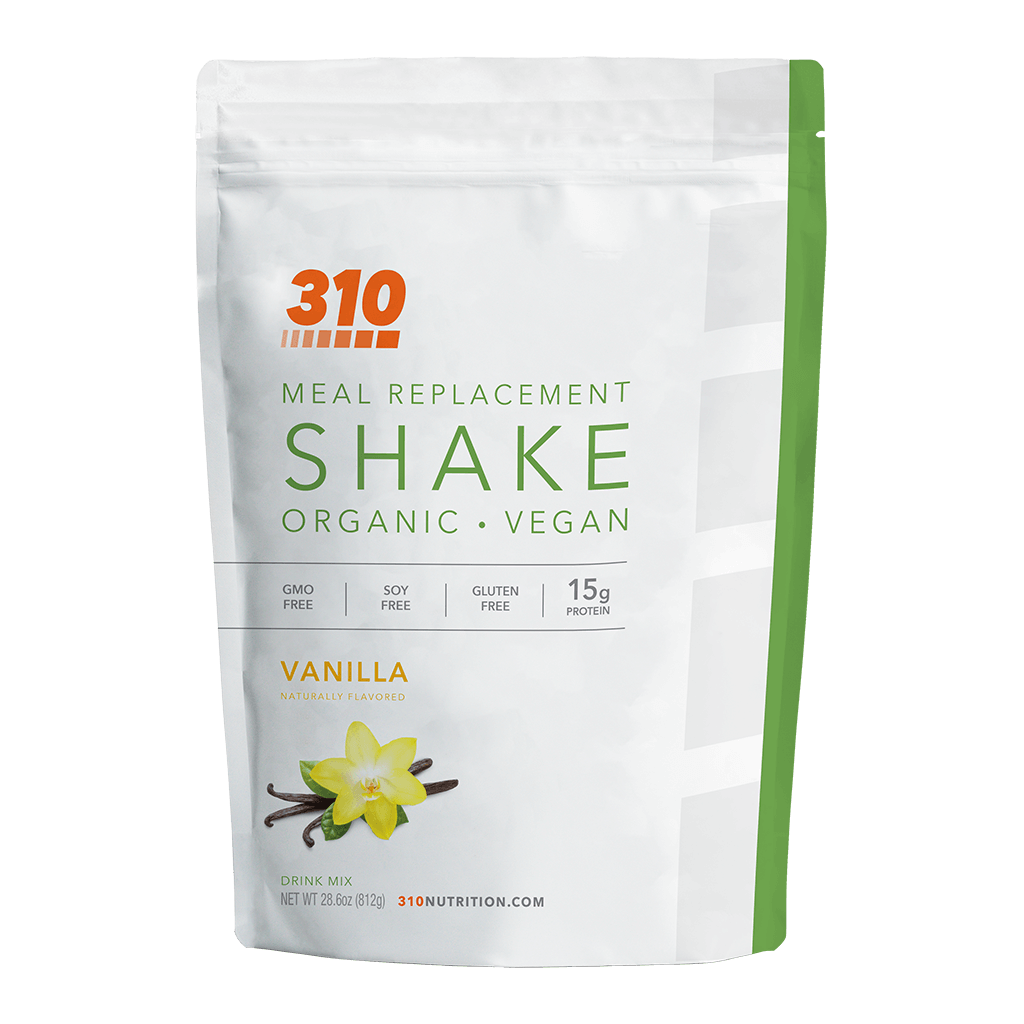 310 Vanilla Shake - Original
100% vegan organic creamy Meal Replacement Shake with 15 grams of plant-based protein along with essential superfoods and nutrients to support your weight-loss goals and journey to a healthy lifestyle. View Shake »
Pina Colada Protein Shake Recipe
After canceling my summer vacation plans, I was feeling a bit bummed out, but this Pina Colada Protein Shake picked me right back up again! It's the perfect summer drink to enjoy in the backyard or by the poolside.
Made with delicious tropical fruits including pineapple - which is full of vitamin C to promote glowing skin and a healthy immune system - this yummy shake will make you feel like you're on white sandy beaches with turquoise water!
This protein shake is packed with flavor without using artificial flavorings or syrups, to provide you with a healthy, sweet summer treat that fuels your body while satisfying your taste buds. This is definitely a recipe you'll be making repeatedly, I can almost guarantee it!
Take a look at some of these tips and tricks to create the perfect shake!
What You Will Need to Make this Shake
To make this shake, you just need 310 Organic Vanilla, frozen pineapple, banana, unsweetened dried coconut, coconut milk, unsweetened Greek yogurt, and ice.
Pro Tip: If you're like me and put all your bananas in the freezer to keep them from over-ripening, just use your frozen banana and add a little bit more coconut milk to thin out the shake.
310 Organic Vanilla
As you can see, the ingredients used in this shake are unsweetened to help reduce your daily sugar intake. Alternatively, I like using the natural sugars in fruit and 310 Organic Vanilla to help sweeten up the drink in a nutritious, but still satisfying way.
310 Organic Vanilla is sweetened with plant-based Stevia and monk fruit to provide this protein shake with a creamy consistency and sweet vanilla bean taste. It's my secret ingredient to add a dessert-like element to my shakes without using artificial sweeteners or flavorings! Those are just a few reasons why I enjoy adding 310 Organic Vanilla to my recipes, but check out some of the other impressive qualities of 310 Meal Replacement Powders!
Free of sugar, soy, dairy, nuts, eggs, and GMOs
Formulated with clean, vegan, and organic ingredients
Blend of plant-based proteins (pumpkin, brown rice, and pea), & nutrient-packed herbs and veggies like turmeric and beet root powder!
Ways To "Shake Up" This Recipe
Don't be afraid to customize this shake to suit your flavor preferences! This recipe is simply a guide to how you can make a yummy pina colada shake, but feel free to add your own personal touch to cater it to your own taste buds. Below are some ideas and alternative ingredients you can try adding to change it up.
Plain unsweetened coconut yogurt: For a completely vegan/dairy-free version
Coconut water instead of coconut milk: For a lighter, more "slushee" consistency
Chia seeds: Adds more texture, protein, and healthy fats
Collagen Powder: Additional boost of protein and helps promote radiant hair, skin, and nails
How to Make This Shake
At last, it's time to make this tropical protein shake! Simply add all your ingredients into your blender and blend on high until you reach a smooth, silky consistency. If you want your shake to be thinner, just add a touch more coconut milk and blend again until thoroughly combined. Once you reach the desired consistency, pour your shake into a glass and garnish with dried coconut on top for added texture, if you'd like. Then, sip and enjoy!
Pina Colada Protein Shake 
Prep time: 3 minutes
Blend time: 1 minute
Total time: 4 minutes
Serves 1
Ingredients:
1 scoop 310 Organic Vanilla
1/2 cup frozen pineapple 
1/2 banana
1 tbsp dried coconut, unsweetened
1/2 cup unsweetened coconut milk
1/2 cup unsweetened Greek yogurt
Ice 
Directions:
Combine ingredients in a blender and blend until completely smooth.
Serve and enjoy!
Nutrition: 
377 calories
41g carbs
32g net carbs
15g fat
22g protein
What recipe are you going to make first with your new 310 Organic Vanilla? Let us know in the comments below for a chance to be featured on our blog! 
Like this recipe? Check out other delicious, nutritionist-approved 310 Nutrition recipes here!
In This Recipe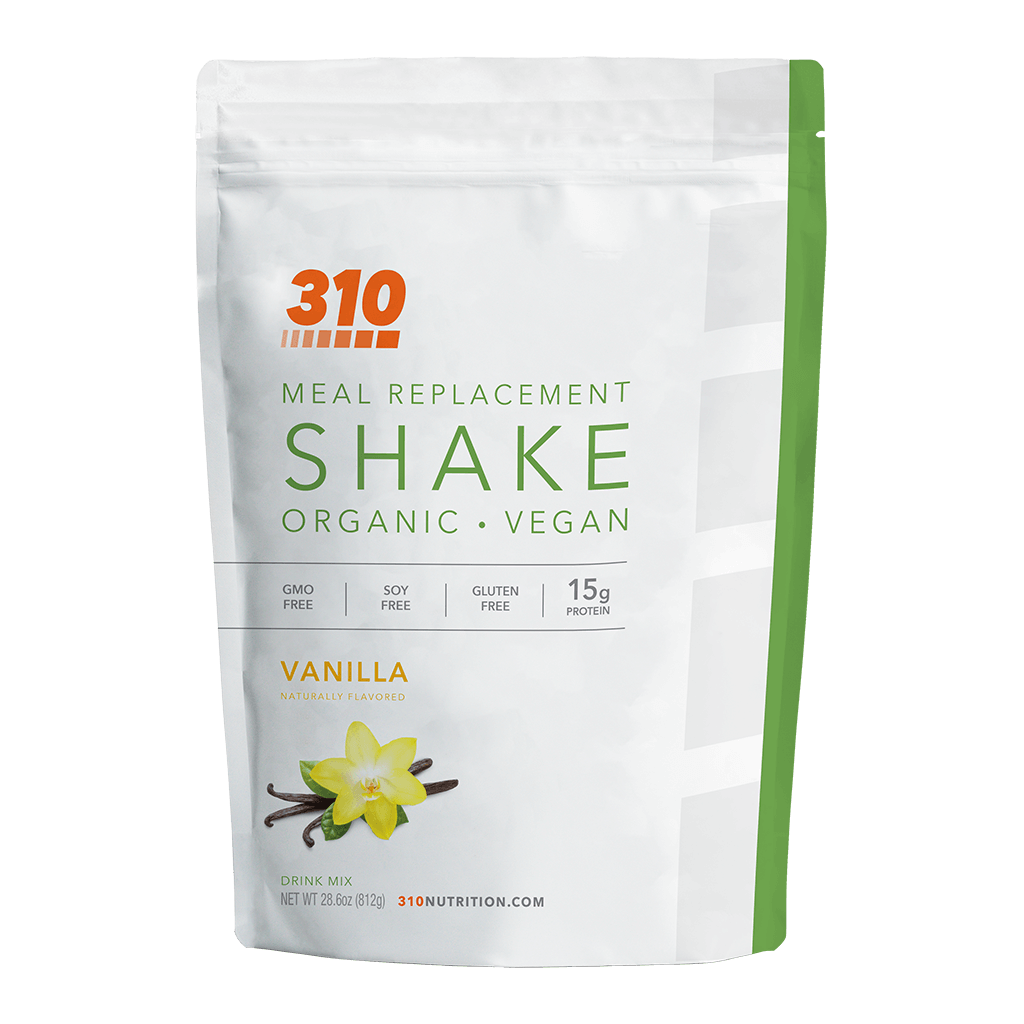 310 Vanilla Shake - Original
100% vegan organic creamy Meal Replacement Shake with 15 grams of plant-based protein along with essential superfoods and nutrients to support your weight-loss goals and journey to a healthy lifestyle. View Shake »