Swirl some scrumptious holiday flavor into your day with this Peppermint Swirl Shake! Made with nutritious, whole food ingredients, this recipe will satisfy your holiday cravings and uplift your spirits, while nourishing your body!
Peppermint Swirl Shake Recipe
I'm giving a shout out to our NEW 310 Peppermint Swirl with this refreshing Peppermint Swirl Shake! It has a yummy vanilla bean base with a touch of peppermint that isn't too overpowering at all! If you're a big fan of white peppermint hot chocolates or mochas, this shake is going to be right up your alley. As the busy holiday season approaches, I love taking this Peppermint Swirl Shake with me while I run my errands to enjoy as a healthy snack or breakfast, and highly recommend you give it a try!
In This Recipe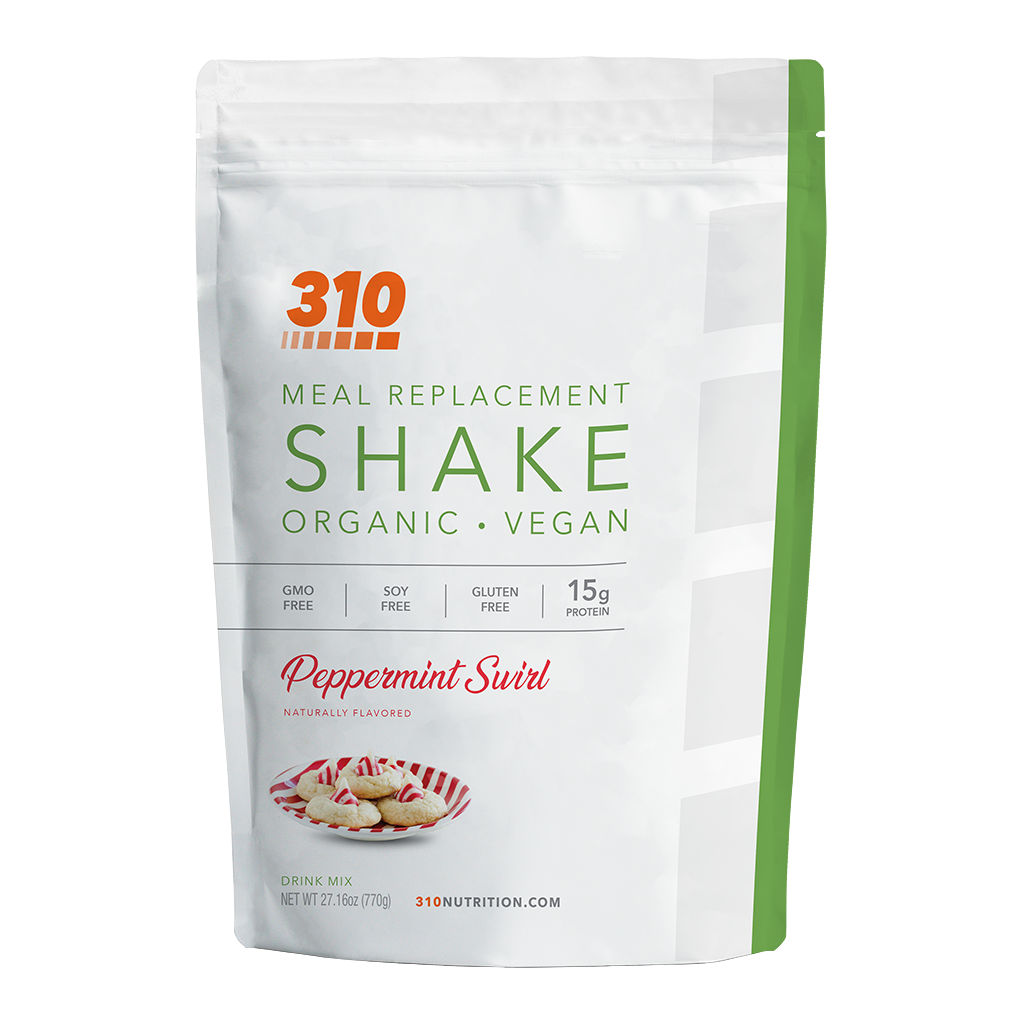 310 Peppermint Swirl Shake - Original
15 grams of plant-based protein nourish your body in this super-creamy organic blend, along with immune-supporting superfoods. It's a "can't-miss" healthy holiday indulgence, perfectly balanced with zero-sugar & satisfying sweetness, in this Limited Edition Shake. View Shake »
Able to be blended up in minutes with a few simple ingredients, this recipe fits into any schedule for a quick and satisfying sweet treat that has an impressive amount of nutrition. In fact, this shake has 21g of plant-based protein and 9g of fiber from 310 Shake and frozen cauliflower rice, to help keep you full and support digestion. Frozen cauliflower rice is one of my favorite ingredients to add into shakes because it's versatile and helps me easily sneak in veggies, while adding volume and thickness to my drinks! Without further ado, let's get into this holiday inspired recipe!
What You Need to Make this Shake
Five ingredients is all you need to create this flavorful shake. I use 310 Organic Peppermint Swirl, frozen cauliflower rice, unsweetened almond milk, cashew butter, peppermint extract, and that's it!
310 Organic Peppermint Swirl
Surrounded by candy canes, cookies, and other desserts, healthy habits can be hard to maintain during the holidays. With 310 Organic Peppermint Swirl, you can still indulge in seasonal flavors while supporting your health and wellness goals! Formulated with vegan and organic ingredients, use this versatile meal replacement shake to make hot or cold drinks, nutritious baked goods, peppermint fudge, and more. I love having 310 Organic Peppermint Swirl in my pantry to recreate my favorite holiday treats and think you will too!
Below are some additional qualities that make 310 Shakes stand out…
Free from sugar and artificial flavors
Sweetened with Stevia and flavored with natural ingredients
15g of plant-based proteins derived from pumpkin, brown rice, and pea
5g of dietary fiber
Dairy, soy, gluten, nut, and GMO-free
Ways to "Shake Up" this Recipe
Want ways to add more flavor or nutrition to your drink? I've got you covered with a few of my favorite alternative ingredients! Check them out for an equally tasty shake…
Frozen banana instead of frozen cauliflower rice
Avocado, chia seeds, or flax seeds instead of cashew butter
Coconut or cashew milk instead of almond
Cacao powder for a hint of chocolate flavor
How to Make this Shake
At last, let's get to blending! Just add all your ingredients into a blender and blend on a medium-to-high setting until everything is smooth and thoroughly combined. Once you reach a silky consistency, pour your festive shake into a shaker cup or glass and enjoy!
Ingredients:
1 scoop 310 Organic Peppermint Swirl
1 cup frozen cauliflower rice
1 cup unsweetened almond milk
1 tbsp cashew butter
2 drops peppermint extract
Directions:
Combine ingredients in a blender and blend until completely smooth.
Serve and enjoy!
Nutrition:
265 calories
20g carbs
11g net carbs
9g fiber
12g fat
21g protein
What's your favorite shake recipe using 310 Organic Peppermint Swirl? Let us know in the comments below for a chance to be featured on our blog! 
Like this recipe? Check out other delicious, nutritionist-approved 310 Nutrition recipes here! 
In This Recipe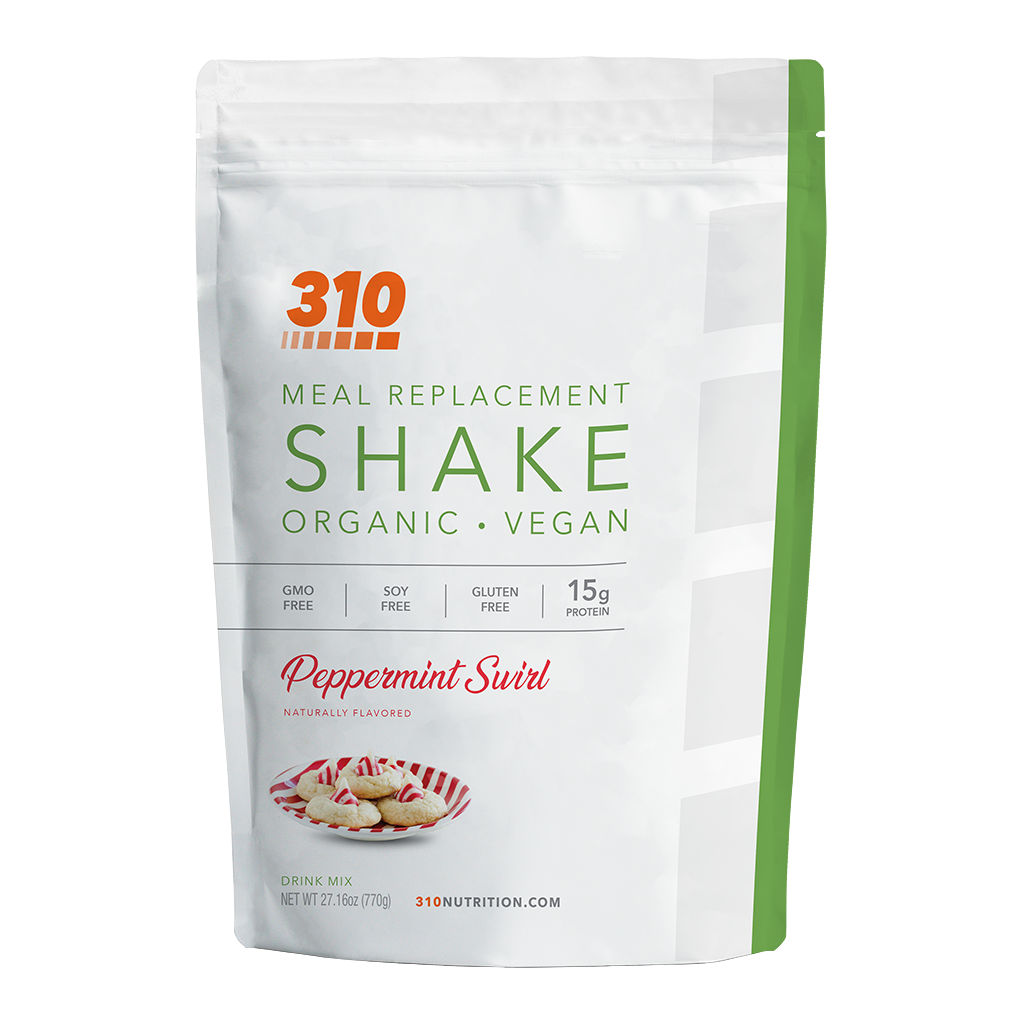 310 Peppermint Swirl Shake - Original
15 grams of plant-based protein nourish your body in this super-creamy organic blend, along with immune-supporting superfoods. It's a "can't-miss" healthy holiday indulgence, perfectly balanced with zero-sugar & satisfying sweetness, in this Limited Edition Shake. View Shake »