In the mood for a non-fruity dessert smoothie?! This Peanut Butter Banana Caramel Shake is going to provide you with all the flavor and nutrition you need to excite your taste buds while keeping you on track with your goals!
Peanut Butter Banana Caramel Shake Recipe
While this Peanut Butter Banana Caramel Shake is reminiscent of a yummy, indulgent milkshake, I used only nutritious whole food (and vegan!) ingredients to achieve a dessert-like taste. This recipe can be blended up in just minutes for the perfect quick snack, breakfast, or healthy dessert that the whole family can enjoy.
Believe it or not, six ingredients is all it takes to create this delicious shake with 24g of quality protein and 13g of healthy fats! In addition to peanut butter, I also included 310 PB Powder, one of my favorite shake boosters, for an extra punch of peanutty flavor and protein. If you've never tried 310 PB Powder in your shakes, this recipe is a great way to start introducing it into your drinks!
What You Need to Make this Shake
The ingredients you need for this shake are 310 Organic Salted Caramel, unsweetened almond milk, frozen banana, peanut butter, 310 PB Powder, and ice. That's it!
310 Organic Salted Caramel
This recipe complements any 310 Shake flavor, but I've been a big fan of using 310 Organic Salted Caramel! The unique combination of sweet and salty pairs perfectly with frozen banana and peanut butter to satisfy my cravings for both savory and sweet snacks.
Formulated with vegan and organic ingredients, just one scoop of 310 Organic Salted Caramel contains 15g of plant-based proteins for an easy and convenient way to increase you daily protein intake. You can also use this versatile protein powder in oatmeal, coffee, or even baked goods. See below for even more awesome qualities that this meal replacement shake offers…
5g of dietary fiber
Vegan, keto, and paleo-friendly
Free from sugar and artificial flavors; made with Stevia and other plant-based ingredients
Contains a blend of powerful superfoods including ginger, kale, broccoli, beet, and more
How to "Shake Up" this Recipe
As mentioned previously, this recipe only has six ingredients, so it leaves a lot of room for you to customize it however you'd like. Here are some alternative ingredients I've tried in the past and absolutely adored if you want some suggestions!
Organic Vanilla or Organic Chocolate instead of Salted Caramel
Coconut or oat milk instead of almond
Add date for extra sweetness and notes of caramel
Add frozen cauliflower rice
How to Make this Shake
Ready to make this recipe? Just combine all the ingredients into a blender and gradually blend on a medium-to-high setting until smooth, which takes around 30 to 40 seconds. Once you reach a creamy consistency with no clumps remaining, serve your shake in a glass or shaker cup and you're ready to power through the day!
Ingredients:
Directions:
Combine ingredients in a blender and blend until completely smooth.
Serve and enjoy!
Nutrition:
355 calories
39g carbs
29g net carbs
10g fiber
13g fat
24g protein
What are your favorite recipes using 310 Organic Salted Caramel? Let us know in the comments below for a chance to be featured on our blog! 
Like this recipe? Check out other delicious, nutritionist-approved 310 Nutrition recipes here! 
In This Recipe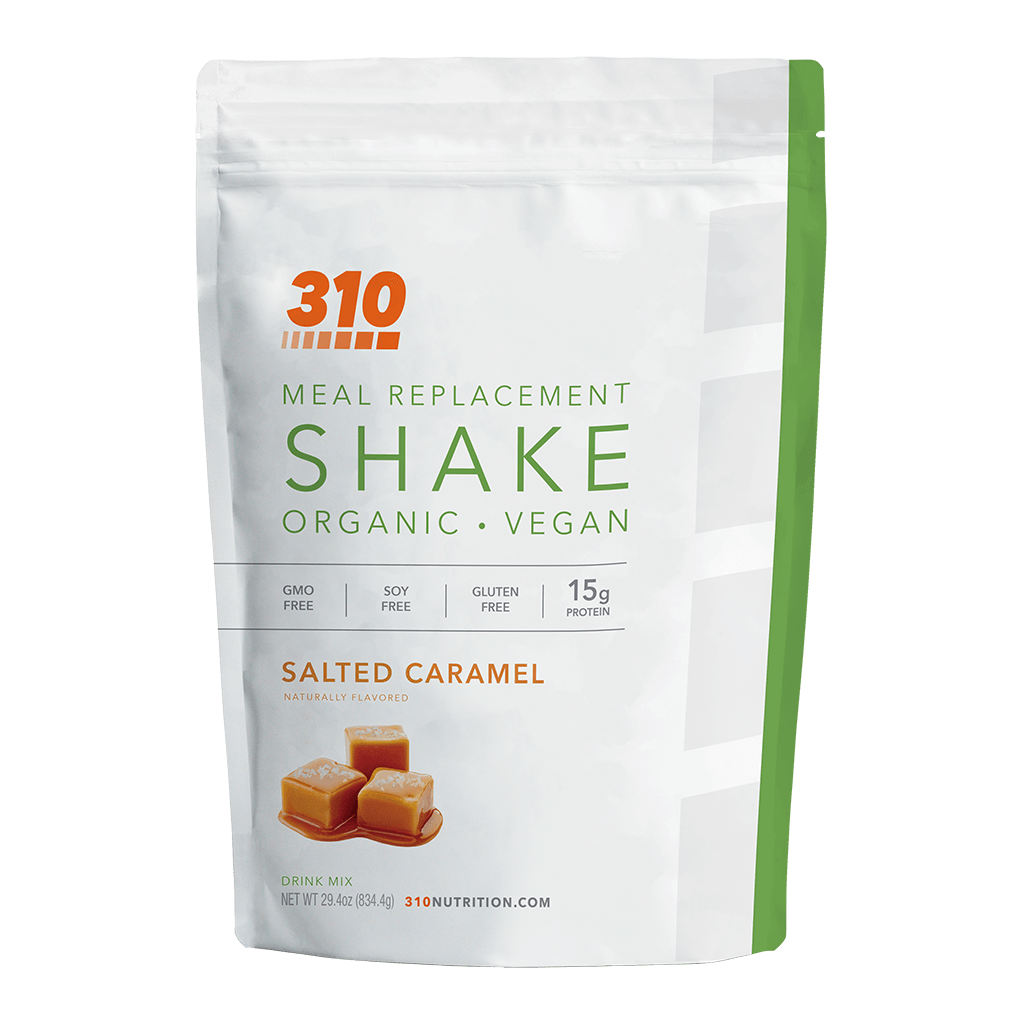 310 Salted Caramel Shake - Original
100% vegan organic creamy Meal Replacement Shake with 15 grams of plant-based protein along with essential superfoods and nutrients to support your weight-loss goals and journey to a healthy lifestyle. View Shake »