This Maple Almond Shake is the perfect fall recipe for anyone that's looking for a new flavor to obsess over this season! It's not only a tasty treat, but it's also full of nutrition and can be made in just a few minutes!
Maple Almond Shake Recipe
Pumpkin spice may be the most popular fall flavor, but there are several other flavors that deserve just as much attention! This Maple Almond Shake captures the essence of the season and is a little different from your regular pumpkin spice treats, but equally tasty. With so many holidays in the fall season, I feel like I'm always surrounded by temptations wherever I go, but this delicious shake satisfies my sweet tooth completely with nutritious ingredients.
Packed with healthy fats and plant-based proteins from almond butter and 310 Organic Vanilla, bring this shake with you on-the-go for a satiating snack or breakfast. Or, have it after a workout to refuel your body with the nutrients it needs! It even has 11g of dietary fiber to support great digestion and prolong feelings of fullness! Without further ado, let's start preparing this shake!
What You Need to Make this Shake
In order to make this shake, you need 310 Organic Vanilla, frozen banana, frozen cauliflower rice, almond butter, unsweetened almond milk, maple extract, cinnamon, ice, and maple syrup (optional). If you choose to sweeten your shake with maple syrup, I would opt for pure maple syrup for a rich maple taste that's free from artificial flavors and preservatives. 
310 Organic Vanilla
310 Organic Vanilla is my secret ingredient to make any shake taste like an indulgent dessert. Just one scoop of this meal replacement shake gives this recipe a pie-like flavor and supplies a plethora of essential nutrients to support your overall health. It's also formulated with a coconut creamer so you can achieve a thick and creamy consistency with zero grittiness.  
There are countless reasons why I consider 310 Organic Vanilla a pantry must-have, but here are some qualities that make it superior…
Sweetened with Stevia and monk fruit for a sugar-free sweet treat
Made with quality vegan and organic ingredients
15g of plant-based proteins from pumpkin, brown rice, and pea
Contains a blend of powerful organic superfoods including beet root, turmeric, spinach, broccoli, and more!
Ways to "Shake Up" this Recipe
If you've been keeping up with these recipes, you know how much I encourage using ingredients you have readily available and adding your own personal touch to these shakes. This recipe is a great way to utilize all your fall spices and ingredients to truly embrace the season!
Check out some of these alternative ingredients you can include in your shake to spice it up!
Cooked sweet potato or pumpkin puree instead of banana
Add almond or vanilla extract for a boost of flavor
310 Organic Salted Caramel instead of vanilla
310 Collagen for an additional 11g of protein
Add a dash of nutmeg or clove
How to Make this Shake
Simply combine all your ingredients in a blender and gradually blend from a medium to a high setting until everything is well combined, which takes under a minute. After making sure there are no clumps in your shake, pour your drink into a glass or mug (because it's fall after all), garnish with a dash of cinnamon on top, and enjoy!
Ingredients:
1 scoop 310 Organic Vanilla
1/2 frozen banana
1/2 cup frozen cauliflower rice
1 tbsp almond butter
1 cup unsweetened almond milk
1 tsp maple extract
1/2 cup ice
Dash of cinnamon
Optional: 1 tsp maple syrup
Directions:
Combine ingredients in a blender and blend until completely smooth.
Serve and enjoy!
Nutrition:
310 calories
30g carbs
19g net carbs
11g fiber
13g fat
21g protein
What's your favorite shake recipe using 310 Organic Vanilla? Let us know in the comments below for a chance to be featured on our blog! 
Like this recipe? Check out other delicious, nutritionist-approved 310 Nutrition recipes here! 
In This Recipe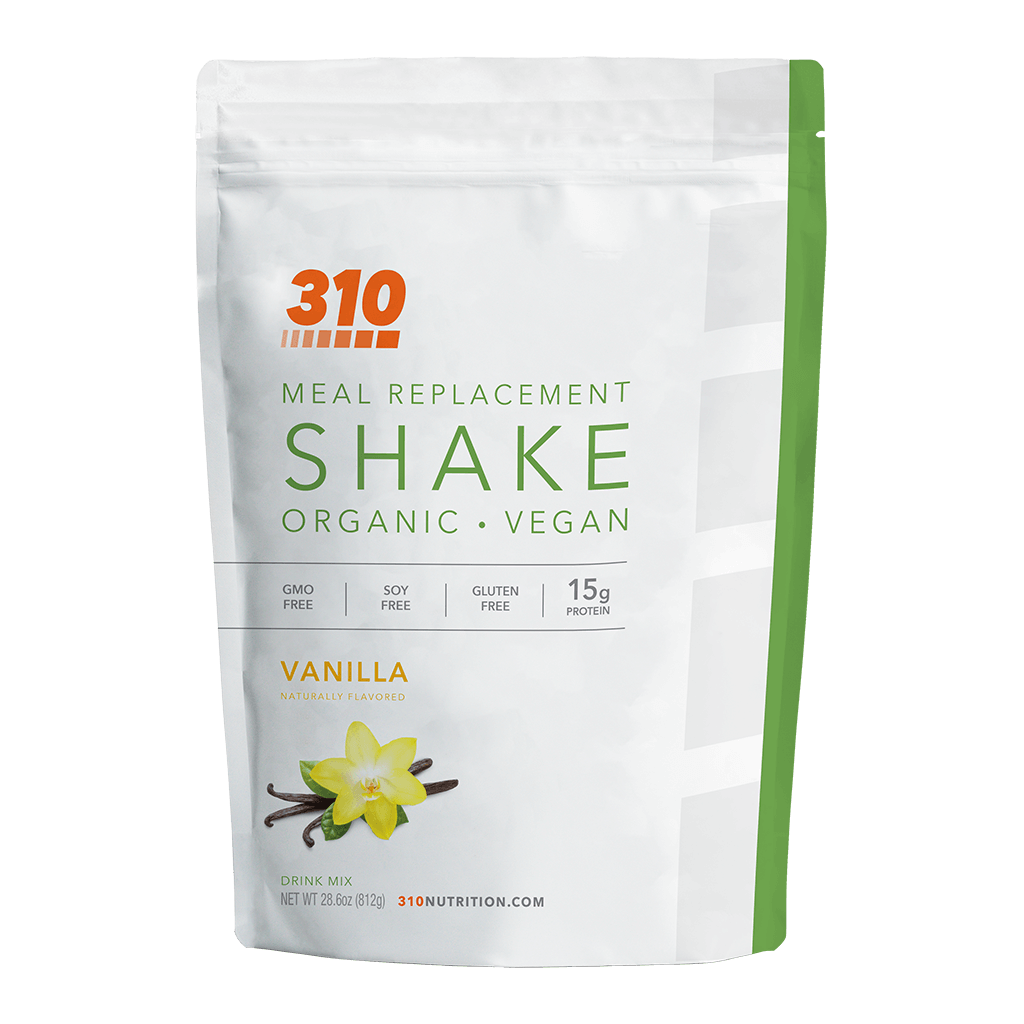 310 Vanilla Shake - Original
100% vegan organic creamy Meal Replacement Shake with 15 grams of plant-based protein along with essential superfoods and nutrients to support your weight-loss goals and journey to a healthy lifestyle. View Shake »