Craving the flavors of fall? This Vanilla Pumpkin Smoothie is just what you need! It's sweet, creamy, delicious, and FULL of nutrition! Plus, it's low-carb to help you stay on track with your health and weight loss goals.
Low-Carb Vanilla Pumpkin Smoothie Recipe
There's no need to sacrifice flavor when you're following low-carb guidelines! You can still have tasty meals, snacks, and desserts while staying aligned with your wellness goals! And this Low-Carb Vanilla Pumpkin Smoothie is going to be a recipe that you reach for over and over! It's ultra-creamy and the taste reminds me of pumpkin pie, which is perfect for the fall season. This smoothie is also completely vegan so you can share it with all your vegan and low-carb friends!
In This Recipe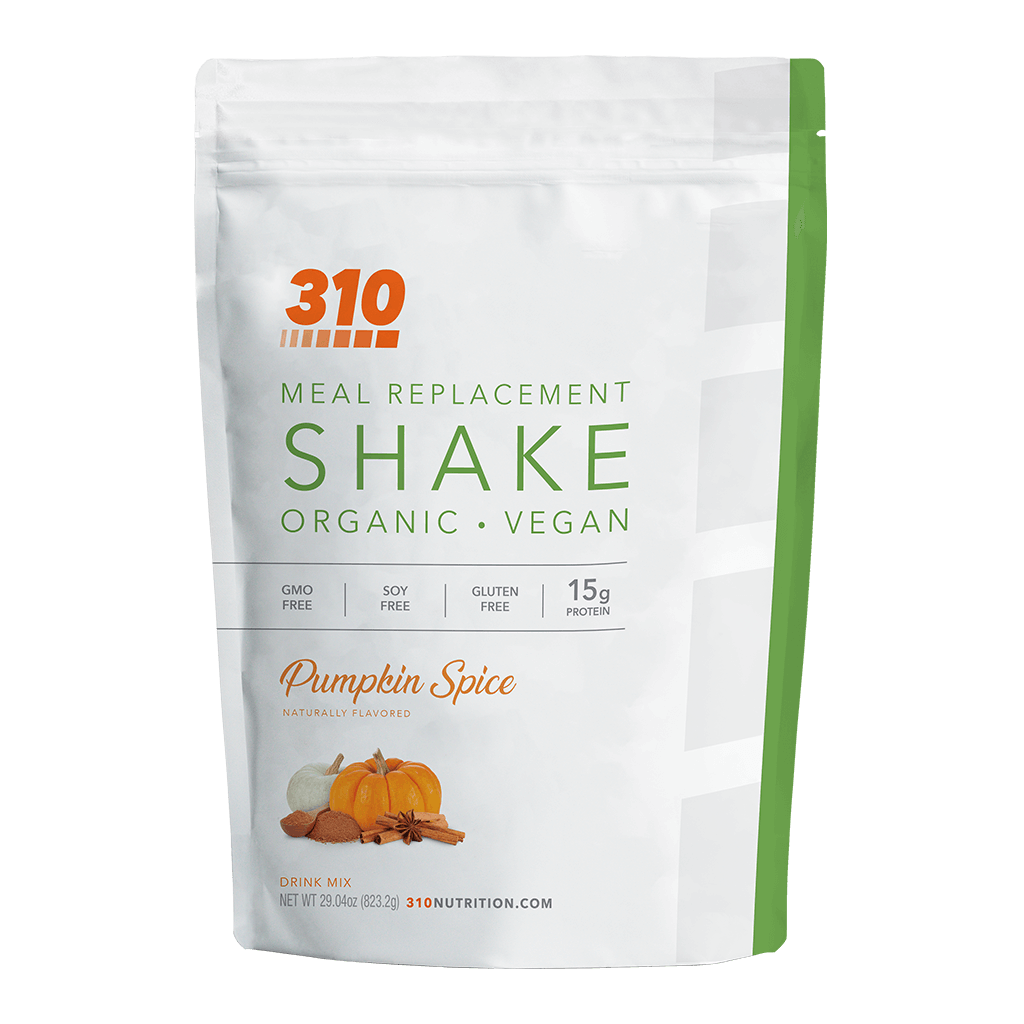 310 Pumpkin Spice Shake - Original
100% vegan organic creamy Meal Replacement Shake with 15 grams of plant-based protein along with essential superfoods and nutrients to support your weight-loss goals and journey to a healthy lifestyle. View Shake »
In addition to satisfying your sweet tooth, this shake also helps you get extra veggies into your diet! I add pumpkin puree and frozen cauliflower rice to this recipe for fiber, antioxidants, and powerful plant-compounds that help boost immunity. As colder weather quickly approaches, I'm trying to build up my body's defenses with superfoods, and I find the easiest way to do so is with a delicious-yet-nutrient-dense smoothie that both my taste buds and body appreciates!
What You Need to Make this Smoothie
Let's go over the ingredients you need to make this smoothie! You'll be needing 310 Organic Pumpkin Spice, 310 Organic Vanilla, unsweetened vanilla almond milk, pumpkin puree, frozen cauliflower rice, vanilla extract, almond butter, sea salt, and a date (optional). The dash of sea salt enhances the sweetness of the shake and truly adds another layer of yummy flavor.
310 Shakes
310 Shakes are an absolute must-have if you're following low-carb, keto, or vegan guidelines! They're a simple and easy way to incorporate more plant-based proteins into your day, whether it be in the form of shakes, smoothies, baked goods, or no-bake power bars. Using only Stevia and monk fruit as sweeteners, 310 Shakes are free from sugar and artificial flavorings, so you can enjoy a sweet treat in a healthy way at any time of day.
Below are some additional qualities that make 310 Shakes stand out in the crowd!
Formulated without sugar, soy, dairy, gluten, or GMOs
15g of plant-based proteins per serving
5g of dietary fiber
Blend of organic superfoods including ginger, turmeric, kale, spinach, broccoli, and more
Ways to "Shake Up" this Smoothie
This is a super-creamy and silky smoothie, but if you want some texture and crunch, you can add a variety of different ingredients for extra flavor and intensity. You can add a date for additional sweetness, as noted in the recipe, but here are some other ways you can customize this smoothie!
Small frozen banana instead of frozen cauliflower rice
Full scoop of Pumpkin Spice or full scoop of Vanilla
Cashew or oat milk instead of almond
Add cacao nibs or unsweetened coconut flakes for texture
How to Make this Smoothie
Make this shake in a matter of minutes by combining all the ingredients into a blender and blending on a medium-to-high setting until everything is smooth and thoroughly-mixed. If you choose to add a date, I recommend giving it a rough chop before adding it into the blender. Once you reach a creamy consistency, just pour your smoothie into a glass or shaker cup and enjoy your nourishing fall treat!
Ingredients:
1/2 scoop 310 Organic Pumpkin Spice
1/2 scoop 310 Organic Vanilla
1 cup unsweetened vanilla almond milk
1/4 cup pumpkin puree
1 cup frozen cauliflower rice
1 tsp vanilla
1 tbsp almond butter
1 dash sea salt
Optional: 1 date
Directions:
Combine ingredients in a blender and blend until completely smooth.
Serve and enjoy!
Nutrition:
300 calories
21g carbs
10g net carbs
11g fiber
13g fat
22g protein
What's your favorite shake recipe using 310 Organic Vanilla or 310 Organic Pumpkin Spice? Let us know in the comments below for a chance to be featured on our blog! 
Like this recipe? Check out other delicious, nutritionist-approved 310 Nutrition recipes here! 
In This Recipe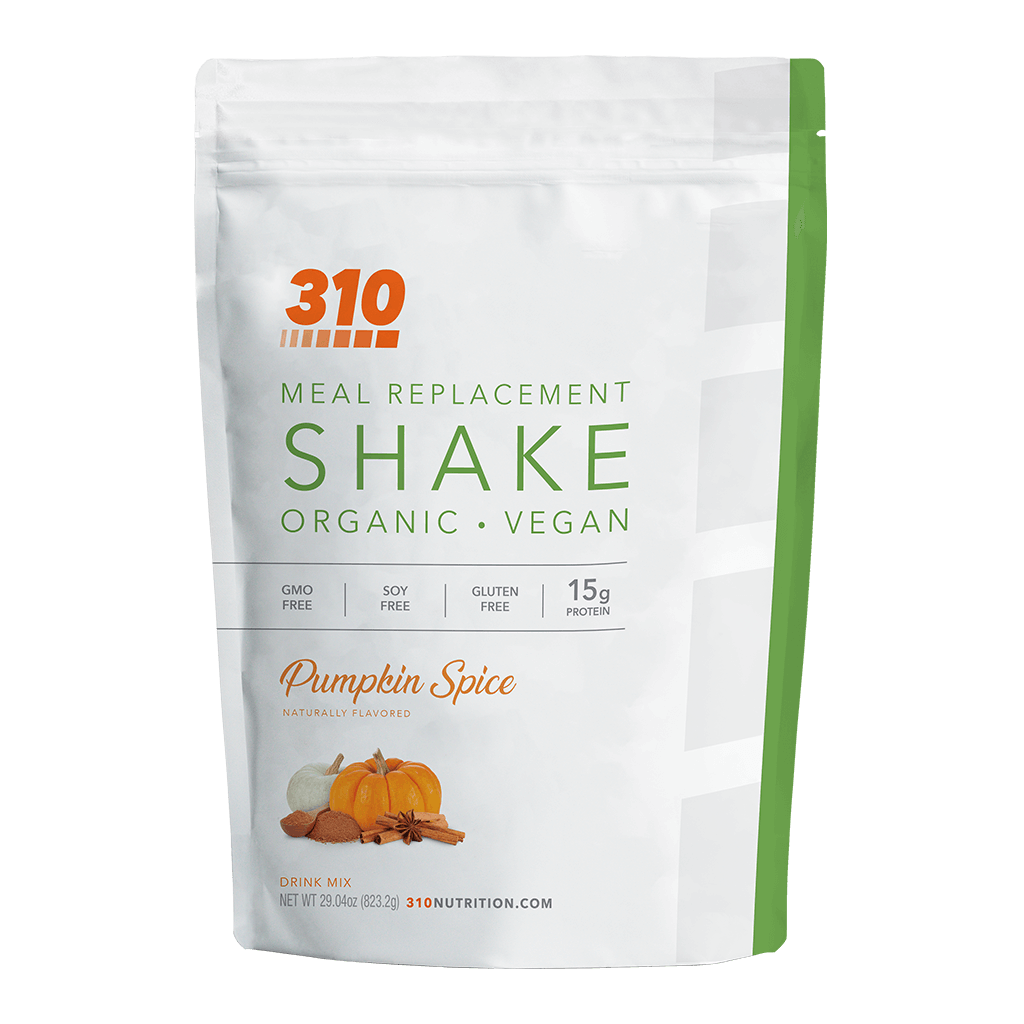 310 Pumpkin Spice Shake - Original
100% vegan organic creamy Meal Replacement Shake with 15 grams of plant-based protein along with essential superfoods and nutrients to support your weight-loss goals and journey to a healthy lifestyle. View Shake »