Satisfy your sweet tooth whenever cravings strike with this delicious Low-Carb Chocolate Cake Shake! Made with vegan-friendly ingredients, it's full of plant-based proteins, healthy fats, and fiber for a filling and satisfying dessert smoothie.
Low-Carb Chocolate Cake Shake Recipe
You can have your cake and drink it too with this Low-Carb Chocolate Cake Shake! In honor of Chocolate Cake Day (yes, it's really a thing!), blend up this indulgent shake while staying aligned with your wellness and weight loss goals. It's full of nourishing ingredients, so you can have a chocolaty treat at any time of day, even for breakfast. If you're like me and enjoy a mid-day pick-me-up, give this recipe a try instead of reaching for pre-packaged snacks!
This shake may have all the delicious flavors of a dessert, but it's balanced with essential micro and macronutrients that your body needs. It has 12g of healthy fats and 22g of plant-based proteins from cashew butter and 310 Shake, to promote satiety while thoroughly satisfying your sweet tooth. There's even a serving of veggies from frozen cauliflower rice!
Ready to celebrate Chocolate Cake Day? Keep reading for the full recipe…
What You Need to Make this Shake
Spoiler alert: This recipe is way easier (and healthier) to make than an actual cake! All you need is 310 Organic Chocolate, frozen cauliflower rice, cashew butter, cacao powder, butter extract, vanilla extract, and ice.
310 Organic Chocolate
The best way to recreate your favorite chocolate treats is with 310 Organic Chocolate! All you need is one scoop to achieve a rich and creamy cocoa taste with zero artificial flavors. It's sweetened with Stevia and monk fruit to suit a variety of lifestyles, including low-carb and keto guidelines. Making healthy choices shouldn't be complicated, and this shake is a tasty and simple way to incorporate a plethora of nutrition into the day. Wondering if 310 Shake is right for you? See below for some amazing qualities that this meal replacement shake offers...
15g of plant-based proteins from pumpkin, brown rice, and pea
Free from sugar, dairy, nuts, gluten, soy, and GMOs
Can be used to make pancakes, oatmeal, or healthy baked goods
Vegan, keto, and paleo-friendly
Ways to "Shake Up" this Recipe
There are several variations of the classic chocolate cake, so feel free to add additional ingredients, like the following, to recreate the cake of your dreams.
Cacao nibs for texture
Frozen banana instead of frozen cauliflower rice
Add frozen cherries for Black Forest Cake version
Almond butter instead of cashew
Add plain yogurt or avocado for extra creaminess
How to Make this Recipe
It's time to put this shake together! Add all the ingredients into a blender and gradually blend on a medium-to-high setting for 30 to 40 seconds, or until completely smooth. Once you reach a creamy and silky consistency, pour your shake into a glass and you're ready to celebrate!
Ingredients:
1 scoop 310 Organic Chocolate
1 cup frozen cauliflower rice
1 cup unsweetened almond milk
1 tbsp cashew butter
1/2 tbsp cacao powder
1 tsp butter extract
1/2 tsp vanilla extract
1/2 cup ice
Directions:
Combine ingredients in a blender and blend until completely smooth.
Serve and enjoy!
Nutrition:
295 calories
22g carbs
12g net carbs
10g fiber
12g fat
22g protein
What's your favorite shake recipe using 310 Organic Chocolate? Let us know in the comments below for a chance to be featured on our blog! 
Like this recipe? Check out other delicious, nutritionist-approved 310 Nutrition recipes here! 
In This Recipe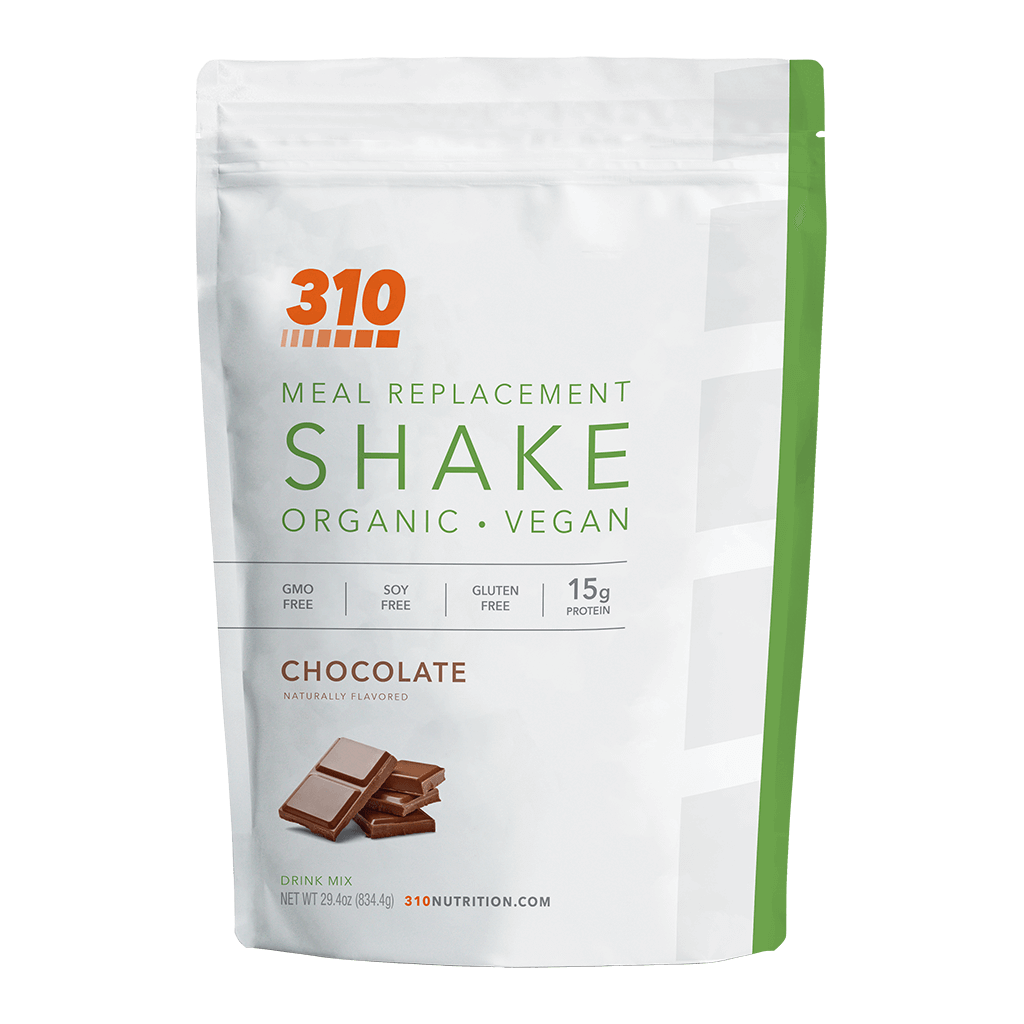 310 Chocolate Shake - Original
100% vegan organic creamy Meal Replacement Shake with 15 grams of plant-based protein along with essential superfoods and nutrients to support your weight-loss goals and journey to a healthy lifestyle. View Shake »