Get your chocolate fix any time of day with this Chocolate Almond Shake! Made with low-carb ingredients, this smoothie is perfect for anyone following low-carb or keto guidelines. 
Low-Carb Chocolate Almond Shake Recipe
Following low-carb guidelines can be difficult when you have a major sweet tooth. It can be frustrating when searching for alternatives to your favorite foods and desserts, but look no further! This flavorful Low-Carb Chocolate Almond Shake is perfect for all chocolate lovers and will satisfy your cravings for sweets while helping you stay aligned with your nutrition goals. 
In This Recipe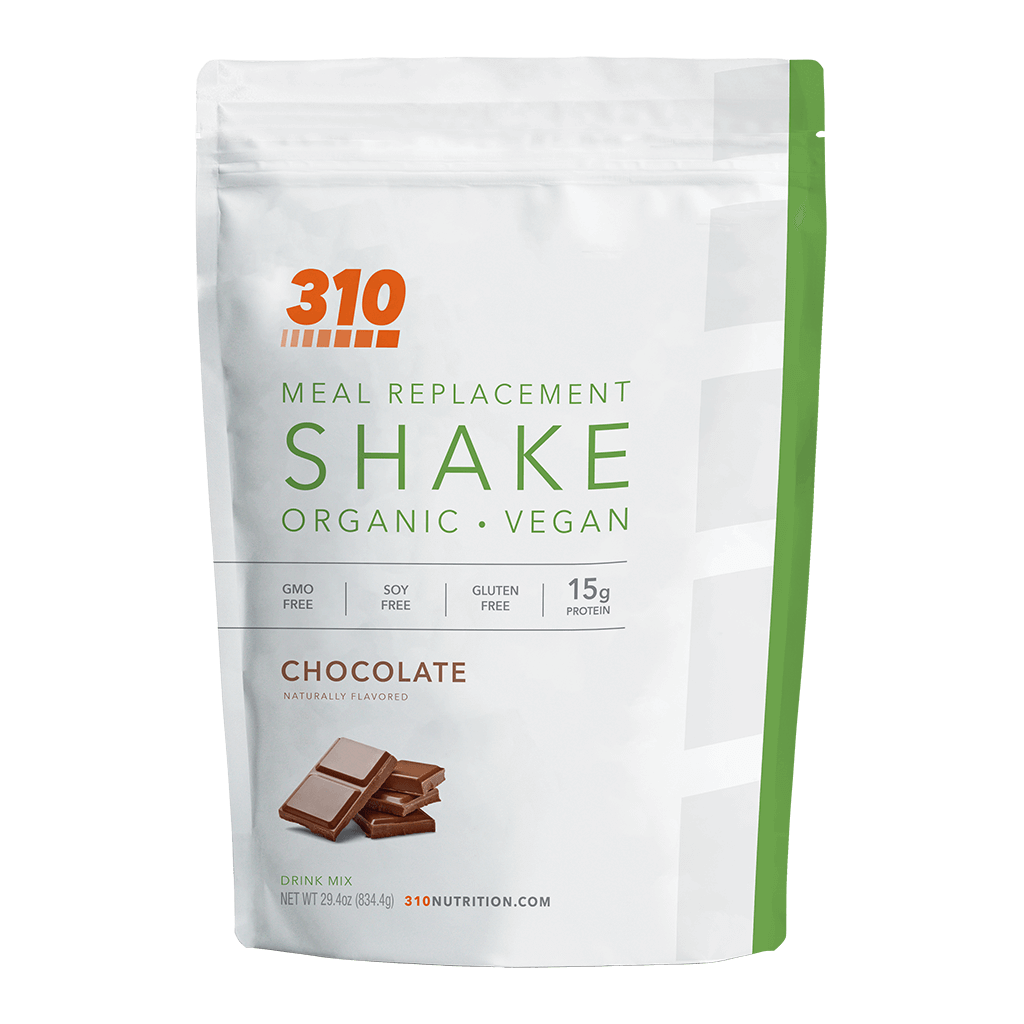 310 Chocolate Shake - Original
100% vegan organic creamy Meal Replacement Shake with 15 grams of plant-based protein along with essential superfoods and nutrients to support your weight-loss goals and journey to a healthy lifestyle. View Shake »
To keep this shake low-carb, I use one of my favorite ingredients: frozen cauliflower rice. You may have noticed a lot of recipes use frozen bananas, but frozen cauliflower rice is the perfect alternative. It still adds thickness and creaminess to your drink while sneaking in a serving of veggies and fiber to help keep you satiated! Swap out frozen bananas with cauliflower rice and you'll instantly lower the carbs in any smoothie recipe.
What You Need to Make this Shake
Let's first go over the ingredients that are in this recipe. I use 310 Organic Chocolate, unsweetened almond milk, frozen cauliflower rice, almond butter, avocado, cacao nibs, and ice. You can also use frozen avocado for extra creaminess or if you can't find readily available ripe ones at the store.
310 Organic Chocolate
Whether you're following low-carb guidelines or not, 310 Organic Chocolate is a must-have for anyone who loves chocolate! This meal replacement shake is sweetened and flavored using Stevia, monk fruit, and other plant-based ingredients for a yummy treat that is full of nutrition.
Just one scoop offers 15g of plant-based proteins and 5g of dietary fiber to support your health and wellness goals! Although most commonly used in shakes, you can recreate your favorite desserts using 310 Shake for a tasty and healthy treat. There's so much to say about 310 Shakes, but below are a few exceptional qualities that make them stand out from the crowd…
Formulated with top-quality vegan and organic ingredients
Vegan, keto, and paleo-friendly
Free from sugar, soy, dairy, gluten, and GMOs
Comes in a wide variety of flavors, check them out here!
Ways to "Shake Up" this Recipe
This is definitely a crowd-pleasing recipe, but here are some ways that you can change it up for when you want something a little different, but equally tasty!
Try using Organic Vanilla or Organic Chocolate Mint
Add cacao powder for even more chocolate flavor
Spinach to sneak in leafy greens
Cashew version: use cashew milk and cashew butter instead
How to Make this Shake
It's time to put this shake together! Simply add all the ingredients into a blender and gradually blend on a medium-to-high setting until everything is nicely incorporated. Once you reach a smooth and creamy consistency, serve your drink in a glass or cup and savor your low-carb treat!
Ingredients:
1 scoop 310 Organic Chocolate
1 cup unsweetened almond milk
1 cup frozen cauliflower rice
1 tbsp almond butter
1/4 avocado
1 tbsp cacao nibs
1/2 cup ice
Directions:
Combine ingredients in a blender and blend until completely smooth.
Serve and enjoy!
Nutrition:
370 calories
23g carbs
9.5g net carbs
13.5g fiber
22g fat
24g protein
What's your favorite shake recipe using 310 Organic Chocolate? Post a picture on Instagram and tag us @310nutrition for a feature! 
Like this recipe? Check out other delicious, nutritionist-approved 310 Nutrition recipes here! 
In This Recipe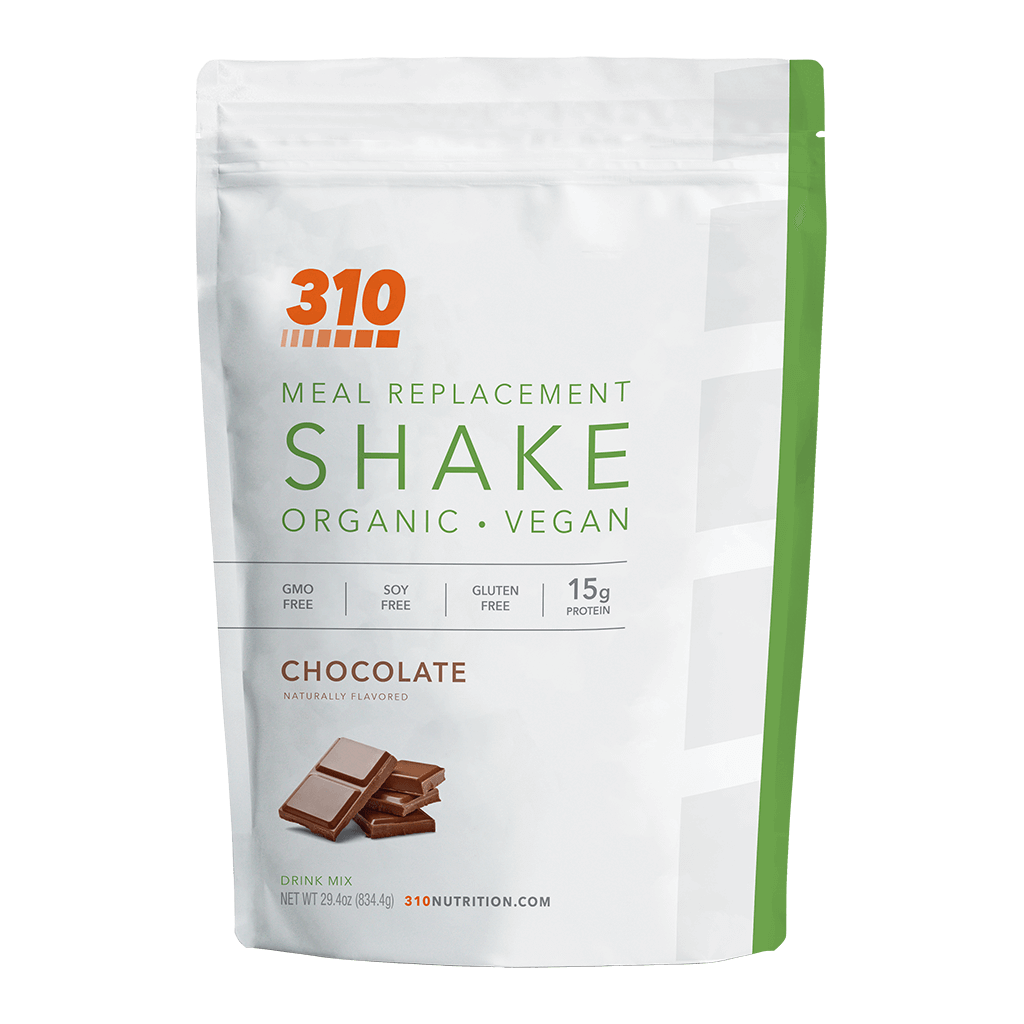 310 Chocolate Shake - Original
100% vegan organic creamy Meal Replacement Shake with 15 grams of plant-based protein along with essential superfoods and nutrients to support your weight-loss goals and journey to a healthy lifestyle. View Shake »