Looking for a tasty snack that will keep you on track with your weight loss goals? These No-Bake Pumpkin Bars are the perfect treat! Filled with healthy fats, including nuts, seeds, coconut oil, and more, these snack bars are low-carb and keto-friendly!
Keto No-Bake Pumpkin Bars Recipe
Typical grab-n-go snacks tend to be overly-processed with preservatives and offer little nutritional value. Although convenient, I usually still feel hungry after eating these types of snacks, so I started making my own to have full control over what goes into my body!
These Keto No-Bake Pumpkin Bars have become my new best friend, and I take them with me wherever I go to have a healthy and satiating snack readily available while I run my errands. Made with vegan, keto, and low-carb ingredients, these tasty bars fit a variety of different lifestyles.
Although I don't personally follow keto guidelines, I'm a big fan of keto-friendly snacks because they're super filling and help hold me over until my next meal! Using a mix of nuts and seeds, these No-Bake Pumpkin Bars offer heart-healthy fats, fiber, and additional vitamins that can boost your overall health. You can quickly whip these up at night in 10 minutes and have them ready to go the next morning for breakfast or a mid-day snack.
What You Need to Make these Bars
In This Recipe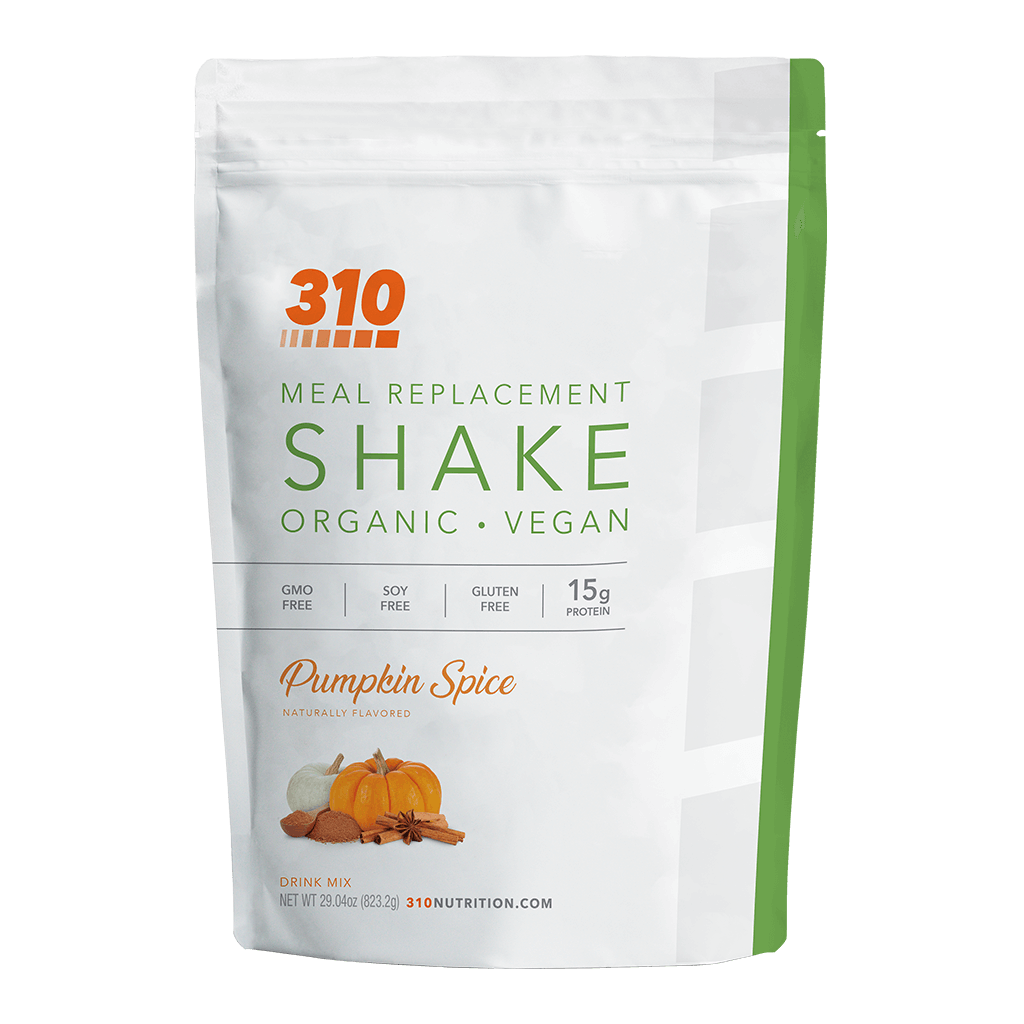 310 Pumpkin Spice Shake - Original
100% vegan organic creamy Meal Replacement Shake with 15 grams of plant-based protein along with essential superfoods and nutrients to support your weight-loss goals and journey to a healthy lifestyle. View Shake »
The ingredients in these bars include almond butter, sugar-free maple syrup, coconut oil, 310 Organic Pumpkin Spice, hemp hearts, pumpkin seeds, crushed walnuts, and unsweetened coconut flakes. I use Lakanto Maple Syrup, but you can use your choice of sugar-free maple syrup!
310 Organic Pumpkin Spice
Adding 310 Organic Pumpkin Spice into a shake is the most common way to use this protein powder, but I wanted to get out of my comfort zone and try something new. These Pumpkin Bars took a bit more trial and error to get the perfect taste and consistency, but they turned out quite delicious, if I do say so myself!
310 Organic Pumpkin Spice adds the perfect amount of sweetness and flavor while providing additional plant-based proteins, fiber, and nutrition that you would typically obtain from a well-balanced meal. It's also vegan and keto-friendly which is why it's my top recommendation to friends and family.
Below are a few more reasons why 310 Organic Pumpkin Spice is such a hit!
No artificial ingredients or flavorings
Sweetened with Stevia and monk fruit
15g of plant-based proteins from pumpkin, brown rice, and pea
5g of dietary fiber
Free from common allergens including gluten, soy, and dairy
Ways to "Shake Up" this Recipe
These Pumpkin Bars are perfect for pumpkin spice season, but you can change the flavor to your liking in a variety of ways. I plan to make these bars year-round, so I have some alternative ingredients to share with you! Take a look below…
Use a different 310 Shake (Chocolate, Salted Caramel, or Vanilla)
Add cacao nibs for chocolate chip texture
Swap out walnuts for pecans, almonds, or cashews
Flax or chia seeds instead of pumpkin
Add a dash of cinnamon for extra spice
Ready to make these yummy bars? Keep scrolling for the full recipe and instructions!
Ingredients:
1/2 cup almond butter
1/4 cup Lakanto Maple Syrup 
4 tbsp melted coconut oil
1 scoop 310 Organic Pumpkin Spice
1/2 cup hemp seeds
1/3 cup pumpkin seeds
1/3 cup crushed walnuts
1/3 cup unsweetened coconut flakes
Directions:
In a large bowl, combine 310 Organic Pumpkin Spice, hemp hearts, pumpkin seeds, walnuts and coconut flakes. Mix well. 
In a separate smaller bowl, mix together the almond butter, keto-friendly maple syrup and coconut oil.
Pour almond butter mixture into the large bowl. Mix well until well combined.
Transfer mixture into a small parchment-lined baking pan.
Set in the freezer for about 30 minutes or in the fridge overnight.
Cut into bars and drizzle with melted almond butter if desired. Enjoy!
Nutrition: 
Serving size: 1 bar (recipe makes about 12 bars)
208 calories
6g carbs
2g net carbs
3g fiber
18g fat
7g protein
What are your favorite baking recipes using 310 Shake? Let us know in the comments below for a chance to be featured!
Like this recipe? Check out other delicious, nutritionist-approved 310 Nutrition recipes here! 
In This Recipe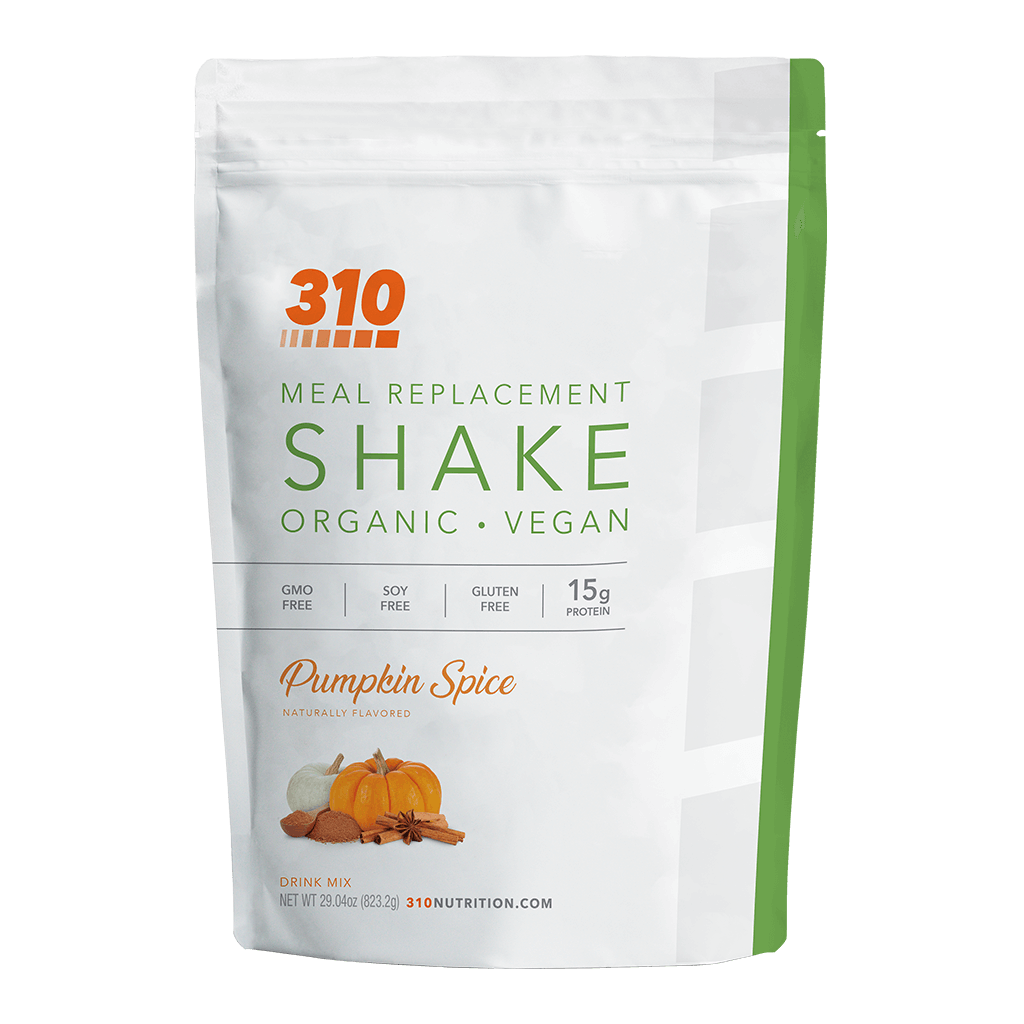 310 Pumpkin Spice Shake - Original
100% vegan organic creamy Meal Replacement Shake with 15 grams of plant-based protein along with essential superfoods and nutrients to support your weight-loss goals and journey to a healthy lifestyle. View Shake »