How to Make this Keto Matcha Smoothie
Not a coffee drinker but want something to give you a burst of energy to help combat brain fog? Try blending up this Keto Matcha Smoothie that can be prepared in minutes to help fuel your body and mind!
It has a delectable vanilla bean matcha flavor derived from vegan and keto-friendly ingredients, to provide you with 20g of protein and an impressive 25g of healthy, energizing fats.
Keep reading to learn how you can recreate this smoothie at home!
Ingredients:
1 scoop 310 Organic Vanilla
1 cup unsweetened coconut milk
1/2 cup frozen cauliflower rice
1/4 cup frozen avocado chunks
1 tsp matcha powder
1 tbsp 310 MCT Oil
1 tsp vanilla extract
1/2 cup ice
Optional: 2 tsp monk fruit sugar
Directions:
Combine ingredients in a blender and blend until completely smooth.
Serve and enjoy!
Nutrition:
375 calories
14g carbs
6g net carbs
8g fiber
25g fat
20g protein
What You Need to Make this Recipe
The ingredients I used to make this recipe are 310 Organic Vanilla, unsweetened coconut milk, frozen cauliflower rice, frozen avocado chunks, unsweetened matcha powder, 310 MCT Oil, vanilla extract, and ice. If you want more sweetness, add a touch of monk fruit sugar.
310 Organic Vanilla
Matcha has wonderful earthy flavor, but it can taste bitter if it's not something you're used to. That's why I always enjoy pairing matcha with 310 Organic Vanilla! It's a sugar-free way to add the perfect amount of sweetness while incorporating essential plant-based proteins and fiber into your drink.
310 Organic Vanilla is also vegan, keto, and paleo-friendly, so I feel confident recommending it for a variety of different lifestyles. Not to mention, the following are some additional impressive qualities of 310 Shake...
Formulated with Stevia and monk fruit
Free from soy, sugar, dairy, gluten, nuts, and GMOs
Contains a blend of powerful organic superfoods
Use in smoothies, oatmeal, healthy baked goods, and more!
310 MCT Oil
Next, let briefly discuss MCT (medium chain triglycerides) oil because it's truly a staple for any keto pantry! Unlike other fats, MCTs are instantly converted into usable fuel for a boost of energy. 310 MCT Oil is also purely extracted from coconut oil and is free from sugars and additives, making it a great add-in for smoothies, shakes, and even coffee!
Recipe Variations
Customize this recipe and feel free to swap out any of the ingredients to suit your personal taste preferences! Below are just a few easy variations that you can try...
Unsweetened almond milk instead of coconut
Swap out MCT oil for coconut cream or coconut oil
Add unsweetened coconut flakes for texture
Try 310 Organic Toasted Coconut instead of Organic Vanilla
Ready to get blending?! See above for the full recipe!
Looking for More Recipes?
Check out other delicious, nutritionist-approved 310 Nutrition recipes here! 
What are your favorite recipes using 310 Organic Vanilla? Let us know in the comments below for a chance to be featured on our blog! 
In This Recipe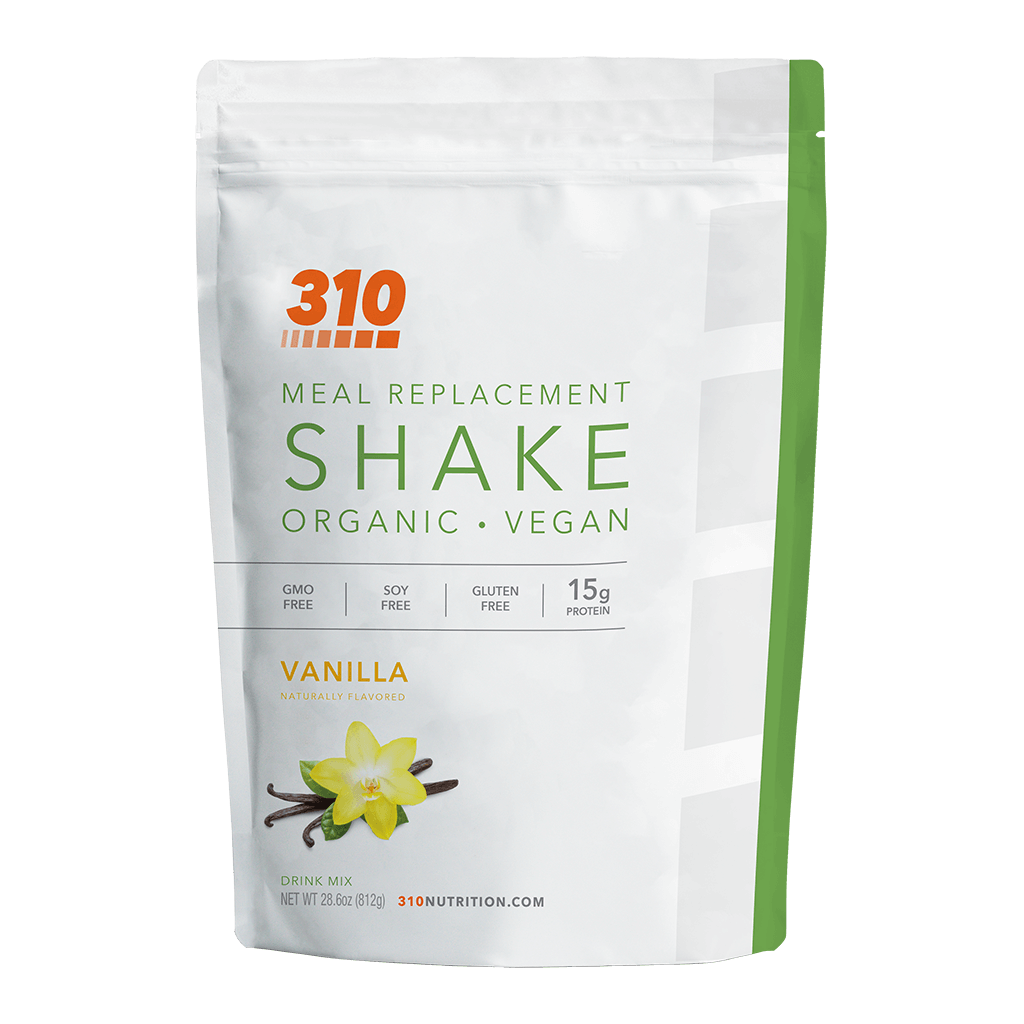 310 Vanilla Shake - Original
100% vegan organic creamy Meal Replacement Shake with 15 grams of plant-based protein along with essential superfoods and nutrients to support your weight-loss goals and journey to a healthy lifestyle. View Shake »