How to Make this Keto-Friendly Chocolate Coconut Shake
Are you a fan of chocolate covered macaroons? If so, you have to prepare this Keto-Friendly Chocolate Coconut Shake for the ultimate healthy dessert that tastes like the real thing, but loaded with healthy fats and plant-based proteins! This gluten-free and vegan-friendly recipe takes just minutes to blend and has whole foods to balance your health while supporting your keto goals.
See below for the full recipe!  
Ingredients:
1 scoop 310 Organic Chocolate
1 cup unsweetened coconut milk
1/2 cup frozen cauliflower rice
1/4 cup frozen avocado chunks
1 tbsp unsweetened coconut flakes
1/2 tsp coconut extract
1/2 cup ice
Directions:
Combine ingredients in a blender and blend until completely smooth.
Serve and enjoy!
Nutrition:
250 calories
15g carbs
5.5g net carbs
9.5g fiber
14g fat
18g protein
What You Need to Make this Shake
You only need a few items to make this shake. I used 310 Organic Chocolate, unsweetened coconut milk, frozen cauliflower rice, frozen avocado, unsweetened coconut flakes, coconut extract, and ice. 
310 Organic Chocolate
Just because you're following low-carb or keto guidelines doesn't mean you can't satisfy your sweet tooth! If you're a chocolate lover, 310 Organic Chocolate is what you need for when the cravings hit. It's made with plant-based Stevia and monk fruit for a naturally-sweetened shake that has a delicious and rich cocoa taste without any artificial flavors, additives, or sugar.
If that isn't impressive enough, here are additional reasons why I recommend this shake to anyone and everyone!
Formulated with quality vegan and organic ingredients
Free from sugar, soy, dairy, gluten, a=nuts, and GMOs
15g of plant-based proteins from pumpkin, brown rice, and pea
Contains a blend of organic superfoods including turmeric, beet root, ginger, spirulina, and more!
Recipe Variations
If you're missing an item for this recipe, check your pantry for the following alternative ingredients that you can use instead! 
Organic Mocha instead of Chocolate
Add MCT Oil for an extra 14g healthy fats
Coconut cream instead of coconut flakes for creamier texture
Vanilla extract instead of coconut extract
Frozen zucchini instead of frozen cauliflower rice
How to Make this Shake
Looking forward to giving this yummy recipe a try? Just combine all your ingredients into a blender and blend until completely smooth, which takes about 30 to 40 seconds! Pour into a shaker cup or glass, and enjoy! 
Looking for More Recipes?
Check out other delicious, nutritionist-approved 310 Nutrition recipes here! 
What are your favorite recipes using 310 Organic Chocolate?! Let us know in the comments below for a chance to be featured on our blog! 
In This Recipe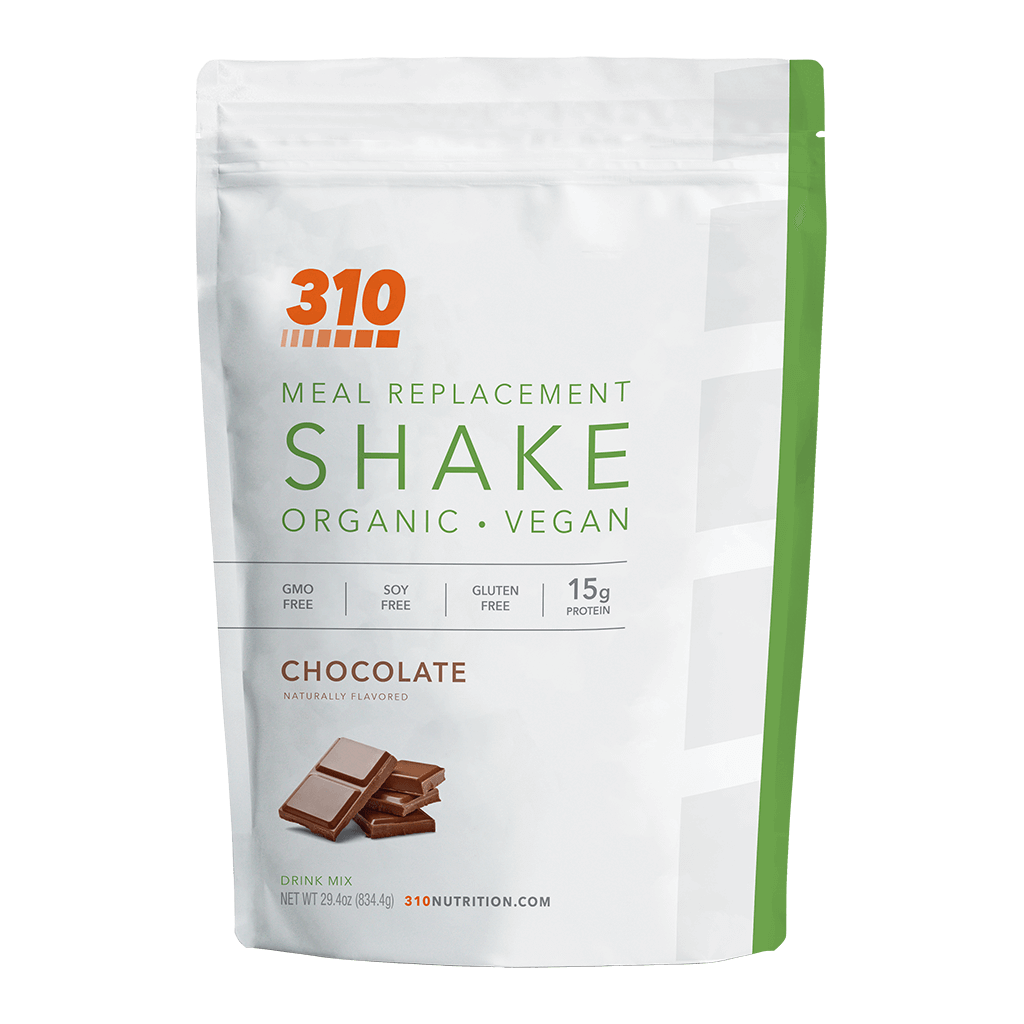 310 Chocolate Shake - Original
100% vegan organic creamy Meal Replacement Shake with 15 grams of plant-based protein along with essential superfoods and nutrients to support your weight-loss goals and journey to a healthy lifestyle. View Shake »