How to Make this Hot Shake: Spiced Eggnog
Eggnog is one of those holiday drinks that's always around at this time of year – and you either love it or you hate it. Whichever you fall into, I promise you'll love this healthier spin on traditional eggnog.
One of the awesome things about this Spiced Eggnog recipe that I have for you is that you can enjoy it hot, so it really warms you during this chillier time of year.
And you may not even realize that you can enjoy your 310 Shakes hot! It really opens up a lot more recipe opportunities, especially when you're using the shakes as snacks or meal replacements!
It's the perfect drink to have as a replacement to other holiday beverages this year, while still enjoying the spirit of the season.
Read on to learn how to mix up this sweet-and-spicy, creamy, warming indulgence ASAP!
Ingredients:
1 scoop 310 Organic Vanilla
1 scoop 310 Collagen

1 cup unsweetened oat milk, warmed

1 tbsp 310 MCT Oil

1/4 tsp pure vanilla extract

1/2 tsp cinnamon

1/2 tsp ground nutmeg

1/2 tsp rum extract

Optional: Liquid Stevia to taste
Directions:
Combine ingredients in a blender and blend until smooth. 
Serve and enjoy!
Nutrition:
Calories: 336

Carbs: 18g

Net Carbs:15g

Fiber: 5g

Fat: 19g

Protein: 27g
What You Need to Make this Shake
Let's review the ingredients to make this sweet treat. I used 310 Organic Vanilla Shake, 310 Collagen, unsweetened oat milk, 310 MCT Oil, vanilla extract, cinnamon, nutmeg, rum extract, and liquid Stevia to taste.
For only 336 calories per serving, this shake has the perfect amount of metabolism-supporting protein (27g), satiety-building fiber (5g), and healthy fats (19g) – unlike your traditional cup of eggnog.
310 Organic Vanilla Shake
Let's talk about 310 Organic Vanilla! If you've tried other protein powders before, it only takes one sip to realize that 310 Vanilla is different… it's richer, with more depth of delicious vanilla bean flavor. In short, it's extremely indulgent, which makes it a major staple for my smoothies!  
Plus, since the powder only contains amazingly-wholesome ingredients (organic plant-based proteins and superfoods that support overall health and vitality), you can feel really good about drinking it… whenever you want.
In this particular recipe, 310 Organic Vanilla really gives a rich and creamy taste that serves as the perfect base for our eggnog.
Plus, 310 Organic Vanilla is amazing because it offers…
15g of weight loss supporting plant protein
5g of essential dietary fiber
An abundance of powerful superfoods
NO sugar, soy, gluten, dairy or anything artificial
Recipe Variations
Feel free to make this recipe entirely your own by switching up the ingredients to suit your personal taste preferences. But be careful, if you change it up too much, it may not taste like eggnog anymore!
I'll offer up a few suggestions below, based on your weight loss and dietary plan…
Use 310 Gingerbread instead of Vanilla for a unique, more spiced version
Add 1-2 tablespoons espresso for a caffeine kick
Use cold milk instead of warm for a chilled drink instead
Replace Stevia with a dash of honey or maple syrup
How to Make this Recipe
Learn how to make this recipe with the full recipe card up top!
What's your favorite shake recipe using 310 Organic Vanilla Shake? Let us know in the comments below for a chance to be featured on our blog! 
Like this recipe? Check out other delicious, nutritionist-approved 310 Nutrition recipes here! 
In This Recipe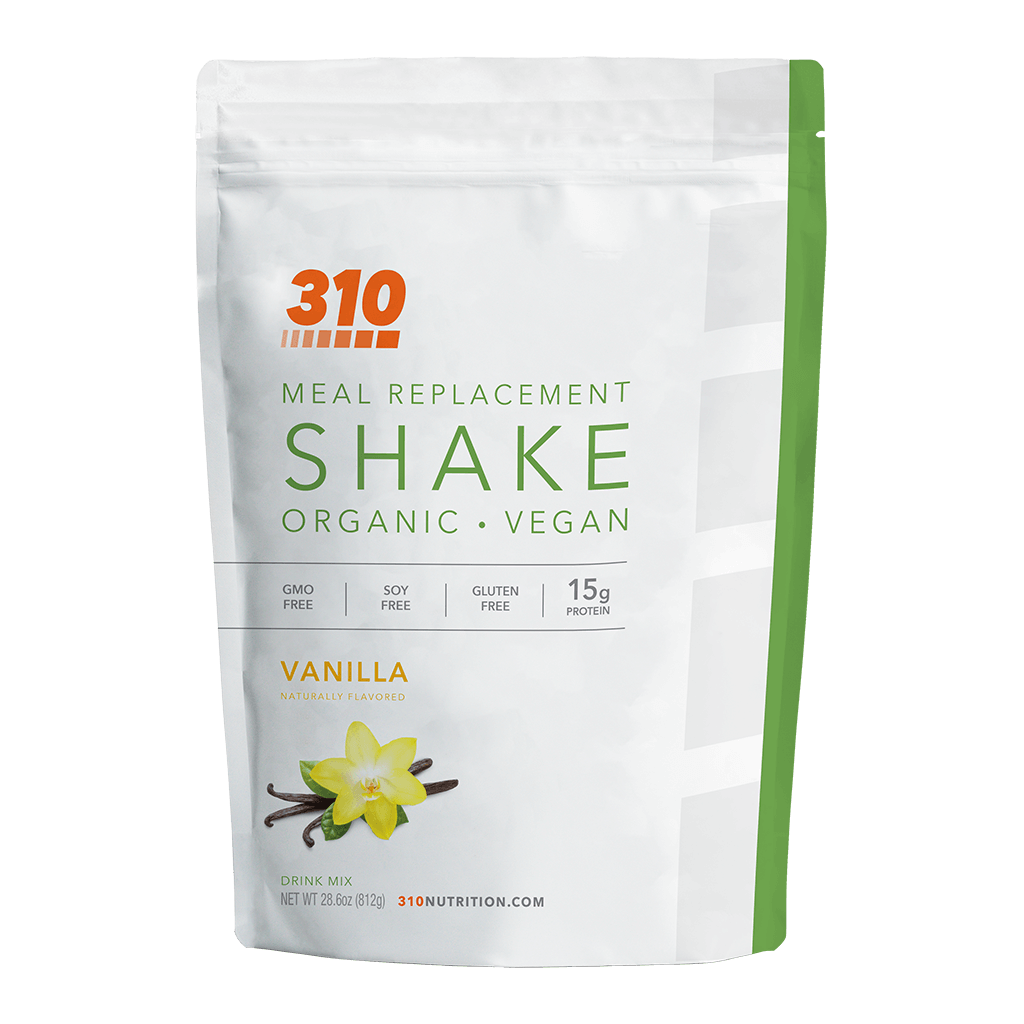 310 Vanilla Shake - Original
100% vegan organic creamy Meal Replacement Shake with 15 grams of plant-based protein along with essential superfoods and nutrients to support your weight-loss goals and journey to a healthy lifestyle. View Shake »