Looking for a healthier alternative to sugar-laden holiday dessert drinks? Enjoy this festive Peppermint Mocha Shake that's sugar-free and full of nutrition for an energizing breakfast, snack, or dessert!
Hot Shake: Peppermint Mocha Recipe
For me, the holidays don't officially start until the first sip of peppermint mocha! And with the new release of 310 Organic Peppermint Swirl, I have a hunch I'll be feeling the holiday spirit even more so than usual!
This Hot Peppermint Mocha is a delicious-yet-nutritious coffee shake that has notes of sweet vanilla bean, rich chocolate, and refreshing peppermint for a flavorful breakfast, snack, or even dessert. Without the added sugars and artificial flavors of a typical holiday coffee beverage, you can enjoy this mocha daily for a boost of nutrition while staying warm and cozy.
In This Recipe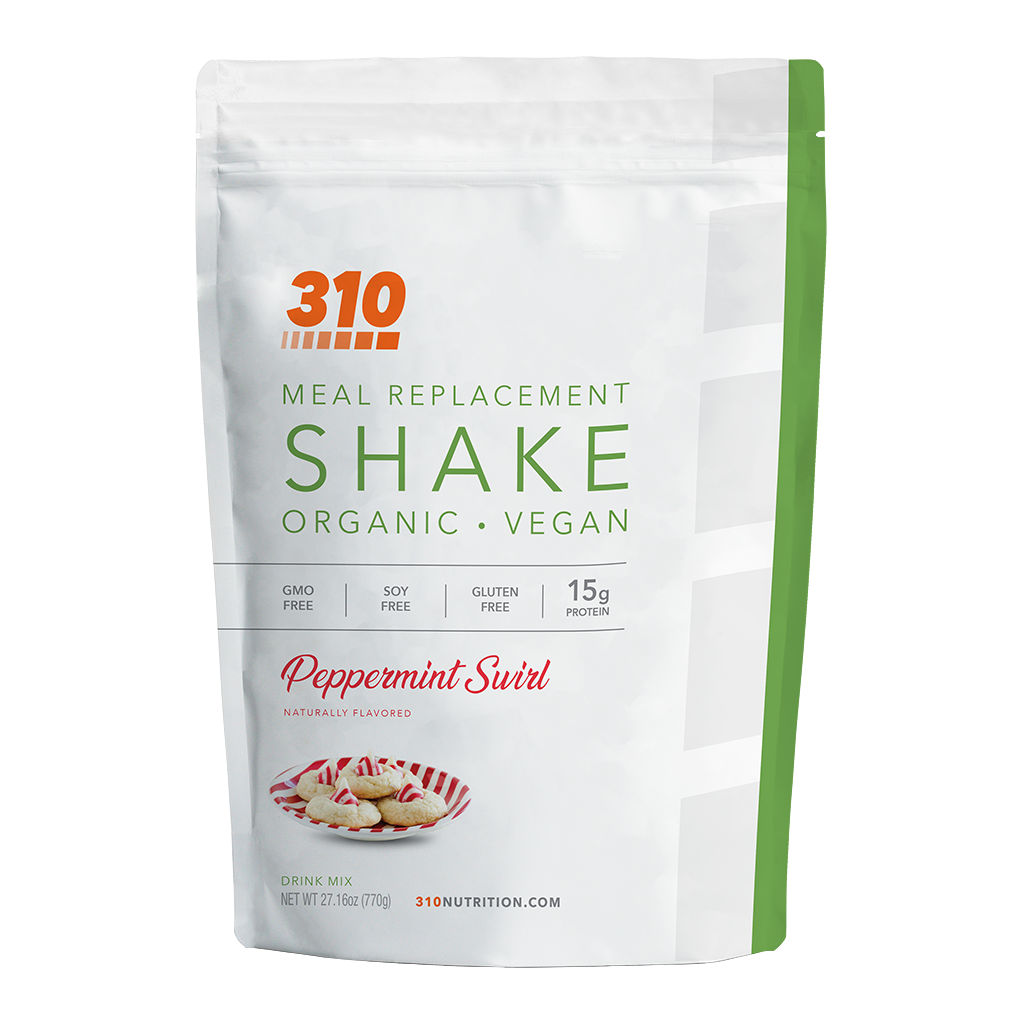 310 Peppermint Swirl Shake - Original
15 grams of plant-based protein nourish your body in this super-creamy organic blend, along with immune-supporting superfoods. It's a "can't-miss" healthy holiday indulgence, perfectly balanced with zero-sugar & satisfying sweetness, in this Limited Edition Shake. View Shake »
With powerful antioxidants from cacao powder and coffee, you can help build your body's immunity while fighting free radicals, to optimize health. Rather than using sugary syrups to sweeten the coffee, I used a scoop of 310 Organic Peppermint Swirl for a hint of invigorating mint while incorporating plant-based proteins to promote satiety. As you can see, this is unlike any other mocha at your usual coffee shop!
Keep reading to learn how to make this drink at home…
What You Need to Make this Hot Shake
Let's go over the ingredients that are in this recipe. I use 310 Organic Peppermint Swirl, coffee, unsweetened almond milk, cacao powder, and peppermint extract. Like with all of our other coffee-based recipes, you can always use espresso in place of coffee and add more almond milk instead.
310 Organic Peppermint Swirl
If you're a fan of 310 Organic Vanilla, you're going to adore the new 310 Organic Peppermint Swirl! It has the creamy vanilla base that you know and love, with a touch of peppermint that's not too overpowering, so you can use it in a variety of ways. You can always add a drop or two of peppermint extract, like I do in this recipe, for extra minty-ness!
Flavored/sweetened with plant-based ingredients including Stevia, you can skip all the unnecessary sugars and additives that are typically in regular peppermint mocha drinks without sacrificing taste. 310 Organic Peppermint Swirl is also formulated with a coconut creamer to offer a velvety smooth consistency, with zero grittiness that blends beautifully into hot or cold drinks. If that isn't impressive enough, check out some additional qualities of this standout shake!
Vegan, keto, and paleo-friendly
15g of plant-based proteins from pumpkin, brown rice, and pea
Free from sugar, soy, nuts, dairy, gluten and GMOs
Contains a blend of organic superfoods including beet, ginger, turmeric, spinach, and more
Ways to "Shake Up" this Recipe
Before we get into making this shake, let's talk about some alternative ingredients that you can incorporate for variety. Below are simple ways to add some variety to this recipe, but you can adjust according to your own taste preferences!
Use half a scoop of Peppermint Swirl & half a scoop of Chocolate
Collagen for more protein
Cacao nibs for more chocolate flavor and texture
Coconut, cashew, or oat milk instead of almond
Almond butter or cashew butter for healthy fats
How to Make this Hot Shake
At last, it's time to assemble this mocha! First thing's first, brew or warm up a cup of coffee. You can also warm up your almond milk with your coffee for an extra hot mocha, if desired.
Next, simply combine all your ingredients into a blender and blend until everything is completely smooth, which takes around 20 to 30 seconds. Finally, pour your hot shake into a mug or thermos and enjoy your nourishing holiday drink!
Ingredients:
Directions:
Warm the coffee if needed.
Combine ingredients in a blender and blend until completely smooth.
Serve and enjoy!
Nutrition:
160 calories
14g carbs
5g net carbs
9g fiber
4g fat
18g protein
What's your favorite shake recipe using 310 Organic Peppermint Swirl? Let us know in the comments below for a chance to be featured on our blog! 
Like this recipe? Check out other delicious, nutritionist-approved 310 Nutrition recipes here! 
In This Recipe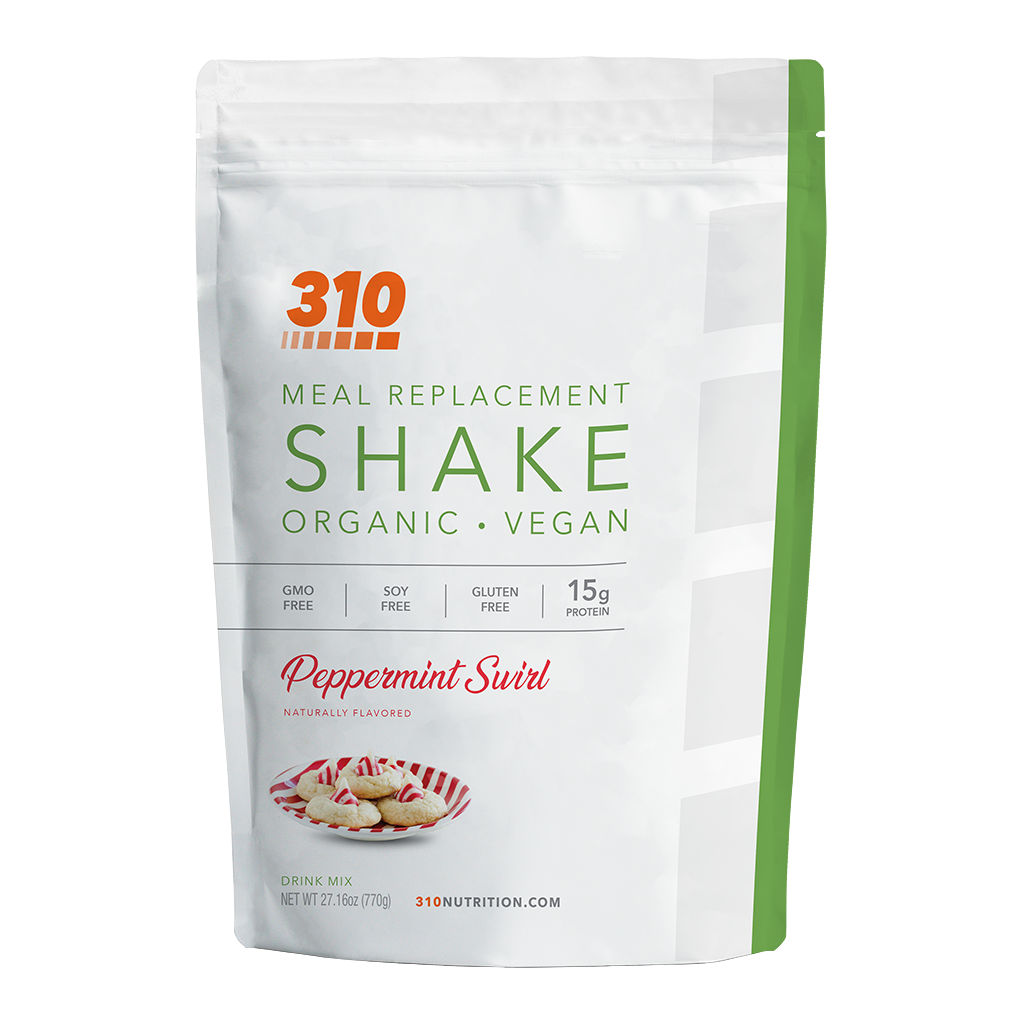 310 Peppermint Swirl Shake - Original
15 grams of plant-based protein nourish your body in this super-creamy organic blend, along with immune-supporting superfoods. It's a "can't-miss" healthy holiday indulgence, perfectly balanced with zero-sugar & satisfying sweetness, in this Limited Edition Shake. View Shake »