Take your holiday desserts to the next level with this Double Chocolate Peppermint Shake! This smoothie recipe is not only full of holiday cheer and major flavor, but it's also packed with wholesome ingredients to keep you on track with your health and weight loss goals!
Double Chocolate Peppermint Shake Recipe
We're taking the beloved 310 Organic Peppermint Swirl to the next level with this Double Chocolate Peppermint Shake! It's the perfect combination of refreshing peppermint and rich chocolate, for a tasty and healthy dessert that anyone and everyone can enjoy. I especially love the additional crunch of cacao nibs for a fun chocolate chip texture! With the busy holiday season, a quick, nutritious, and convenient snack is just what I'm looking for. This shake checks off all the boxes while swirling some holiday cheer into the day!
In This Recipe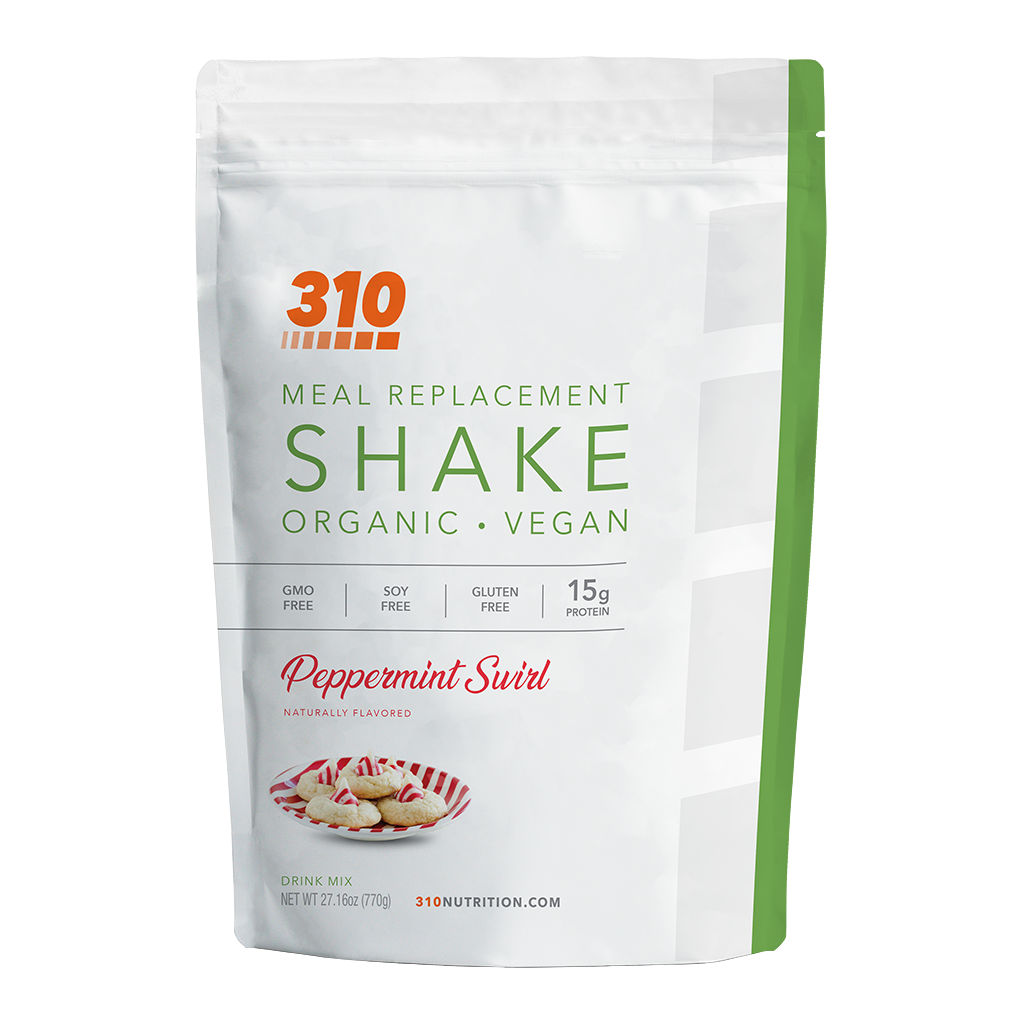 310 Peppermint Swirl Shake - Original
15 grams of plant-based protein nourish your body in this super-creamy organic blend, along with immune-supporting superfoods. It's a "can't-miss" healthy holiday indulgence, perfectly balanced with zero-sugar & satisfying sweetness, in this Limited Edition Shake. View Shake »
Staying aligned with your wellness goals can be especially hard around this time of year, which is why I made sure to include a balance of complex carbs, healthy fats, and quality protein from ingredients like 310 Shake and frozen cauliflower rice. With 21g of plant-based proteins and 12g of dietary fiber, this shake is not only satisfying for your taste buds, but for your health as well. Trust me, I know hitting up the drive-thru is tempting with a packed schedule, but this shake takes just minutes to make and your body will thank you for it!
What You Need to Make this Shake
First, let's take a look at the ingredients that are in this recipe. I use 310 Organic Peppermint Swirl, frozen cauliflower rice, unsweetened coconut milk, cacao powder, cacao nibs, vanilla extract, and ice. For a stronger peppermint flavor, you can swap out the vanilla extract for peppermint instead.
310 Organic Peppermint Swirl
Believe it or not, 310 Organic Peppermint Swirl is an incredibly versatile shake! It has the same creamy, vanilla bean base as 310 Vanilla, but with notes of peppermint that are subtle and not overpowering. This is a fun flavor to add to smoothies, coffee (my personal favorite), or even baked goods! Free from artificial ingredients and sugar, you can indulge your sweet tooth with confidence. It's also vegan, keto, and paleo-friendly, making it an easy recommendation for a wide variety of lifestyles. 310 Organic Peppermint Swirl is a seasonal item, so here are some reasons to grab it before it's gone!
Crafted with top-quality vegan and organic ingredients
Free from sugar, soy, dairy, gluten, nuts, and GMOs
15g of plant-based proteins from a blend of pumpkin, brown rice, and pea
Contains antioxidant-packed superfoods including kale, broccoli, beet, ginger, turmeric, and more
Ways to "Shake Up" this Recipe
This recipe is scrumptious as-is, but I am all for adding extra nutrition and taste! Check out some of my favorite alternative ingredients below…
Half scoop of Chocolate & half scoop of Peppermint Swirl
Add frozen banana instead of cauliflower rice
Almond or cashew butter for healthy fats
Almond or cashew milk instead of coconut
How to Make this Shake
To make this shake, combine all your ingredients into a blender and blend until everything is completely smooth, which takes approximately 30 to 40 seconds. Once you reach a smooth consistency with no chunks remaining, pour into a glass or shaker cup, garnish with additional cacao nibs, and enjoy your festive drink! Cheers!
Ingredients:
1 scoop 310 Organic Peppermint Swirl
1 cup frozen cauliflower rice
1 cup unsweetened coconut milk
1 tbsp cacao powder
1 tbsp cacao nibs
1 tsp vanilla extract
1/2 cup ice
Directions:
Combine ingredients in a blender and blend until completely smooth.
Serve and enjoy!
Nutrition:
265 calories
20g carbs
8g net carbs
12g fiber
11g fat
21g protein
What's your favorite shake recipe using 310 Organic Peppermint Swirl? Let us know in the comments below for a chance to be featured on our blog! 
Like this recipe? Check out other delicious, nutritionist-approved 310 Nutrition recipes here! 
In This Recipe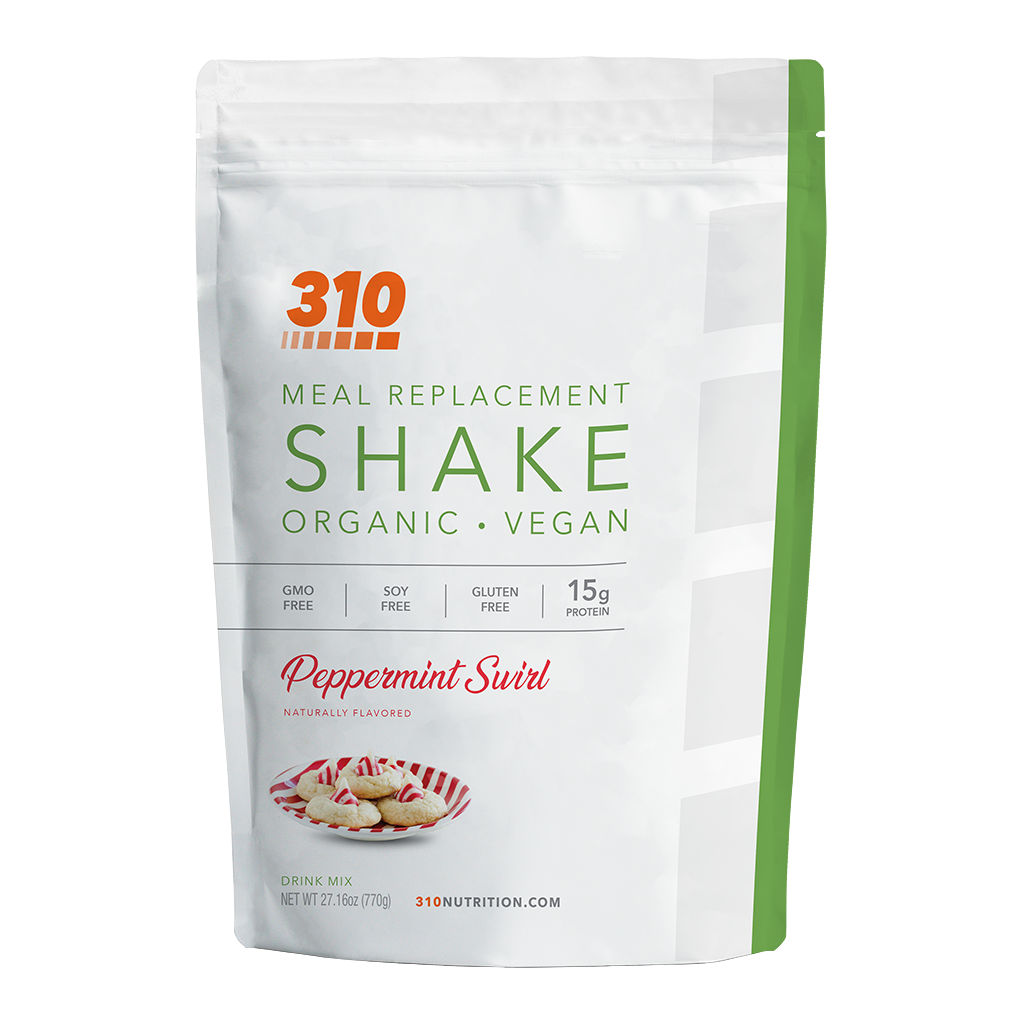 310 Peppermint Swirl Shake - Original
15 grams of plant-based protein nourish your body in this super-creamy organic blend, along with immune-supporting superfoods. It's a "can't-miss" healthy holiday indulgence, perfectly balanced with zero-sugar & satisfying sweetness, in this Limited Edition Shake. View Shake »