Why have a regular chocolate shake, when you can have a totally-enlivening version with this Chocolate Spice Shake recipe?! Made with 310 Chocolate Shake, unsweetened almond milk, frozen banana, almond butter, and spices, (including cinnamon, ginger, nutmeg, ground cloves and cardamom), it's the perfect warming, yet awakening winter dessert drink. Plus, with 334 calories, 21g of protein, and 13g of healthy fats, it's a spicy-sweet treat that will surely satisfy while fueling your body!
Read on to see how this chai-like chocolaty drink can even benefit your health in many ways…
Rich & Chocolaty Plant-Based Protein: 310 Chocolate Shake
This shake gets its rich, cocoa flavor from 310 Chocolate Shake. With its naturally-sweet, super-indulgent flavor, this meal replacement shake has an ultra-smooth texture while being full to the brim with nutrients. Didn't think a vitamin and protein-packed meal replacement powder could taste like a dessert? Think again!
Sweetened with plant-based Stevia, (and free from artificial sugars), this shake offers 15g of plant-based protein, plus 5g of dietary fiber to promote healthy digestion. The addition of 20 vital vitamins and minerals, organic green superfoods, and gut-healthy probiotics makes this shake bursting with nutrients, supporting a strong immune system and higher energy levels.
This well-balanced shake can help you get the nutrients you need on a busy schedule. So, in summary, it's a chocolate treat that acts as a healthy meal.
Additional Healthy Fats: Almond Butter
In addition to the shake powder, this recipe features additional healthy fats including almond butter! 
Almond butter is high in protein, vitamin E, vitamin B2, and magnesium, assisting with cell growth and providing your body with lasting energy. Furthermore, the monounsaturated fats found in almonds can assist in supporting healthy cholesterol levels, ultimately supporting heart health.
Reduced Inflammation: Warm Winter Spices
Finally, this cozy Chocolate Spice Shake incorporates several warm winter spices such as cinnamon, ginger, nutmeg, and clove. Along with adding zesty chai flavors to this recipe, these spices also offer also amazing health benefits. Ginger, nutmeg, and clove have anti-inflammatory characteristics, while cinnamon and cardamom have been studied in relation to optimal blood sugar levels and heart health.
Ready to indulge in this enticing shake? See below for the full recipe!
Chocolate Spice Shake 
Ingredients:
1 scoop 310 Chocolate
1 cup unsweetened almond milk
1 frozen banana
1 tbsp almond butter
1/4 tsp cinnamon
1/8 tsp ginger
1/8 tsp nutmeg
1/8 tsp ground cloves
1/8 tsp cardamom 
Directions:
Combine ingredients in a blender and blend until completely smooth.
Serve and enjoy!
Nutrition: 
334 calories
40 g carbs
29 g net carbs
13 g fat
21 g protein
What's your favorite recipe using 310 Chocolate? Let us know in the comments below for a chance to be featured on our blog! 
Looking for more healthy shake recipes? Check out other delicious nutritionist-approved 310 Nutrition shake recipes here! 
In This Recipe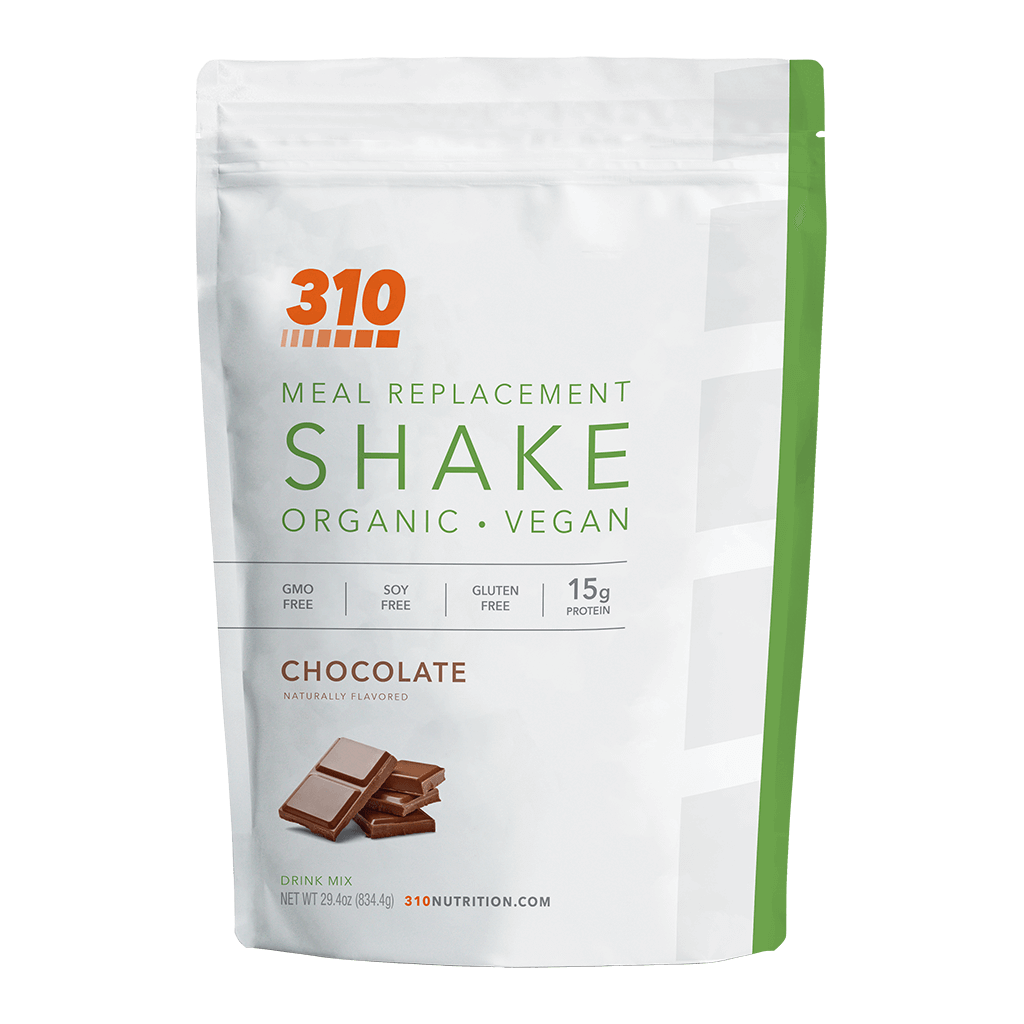 310 Chocolate Shake - Original
100% vegan organic creamy Meal Replacement Shake with 15 grams of plant-based protein along with essential superfoods and nutrients to support your weight-loss goals and journey to a healthy lifestyle. View Shake »