Looking for a meal that tastes like dessert but is also packed with nutrition?! Try this Chocolate Coconut Smoothie! Made with 310 Shake, banana, and coconut, it tastes like a candy bar, yet makes a super-satisfying, healthy sweet treat!
Chocolate Coconut Smoothie Recipe
Satisfy your sweet tooth in an exciting way with this indulgent Chocolate Coconut Smoothie that tastes just like a candy bar! Chocolate and coconut is one of my favorite pairings and with the latest release of 310 Organic Toasted Coconut, I was inspired to put a nutty twist on the typical chocolate smoothie. It's easy to get stuck in a routine, making the same recipes day in and day out, so give this yummy Chocolate Coconut Smoothie a try to switch it up! It just might be your new favorite…
If you've set wellness and weight loss goals for the new year, you can still enjoy a dessert-like treat with this smoothie. It's made with whole food ingredients without any added sugars or artificial flavors, to support your total health. Packed with 19g of plant-based proteins and 11g of dietary fiber from 310 Shake and coconut, you can quickly blend up this recipe in just minutes for a quick and nutritious breakfast, snack, or dessert that will keep you full while satisfying your sweet tooth.
What You Need to Make this Smoothie
The ingredients you will need to make this smoothie are simple: 310 Organic Toasted Coconut, unsweetened coconut milk, frozen banana, unsweetened coconut flakes, cacao powder, and ice.
310 Organic Toasted Coconut
The best way to add a sweet nuttiness to any smoothie is with a scoop of 310 Organic Toasted Coconut! This sweet and creamy meal replacement shake has a rich, coco-nutty taste that is not only balanced in flavor, but nutrition as well. It's sugar-free, with organic, plant-based ingredients giving it sumptuous taste that anyone and everyone can enjoy. If you're looking to switch up your usual smoothies, 310 Organic Toasted Coconut is a unique flavor that you can use in a variety of ways including in oatmeal, healthy baked goods, or even coffee! This is a must-have for coconut lovers and here's a few additional reasons why…
Vegan, keto, and paleo-friendly
15g of plant-based proteins derived from pumpkin, brown rice, and pea
5g of fiber
Free from sugar, soy, dairy, gluten, nuts, and GMOs
How to "Shake Up" this Smoothie
Feel free to swap out or add any ingredients that you'd like, in order to cater the recipe to your own taste buds. Below are some variations of this smoothie that I've tried and loved, and think you will too!
1/2 scoop of Chocolate and 1/2 scoop Toasted Coconut
Use 1-2 tablespoons of coconut cream instead of coconut flakes
Keto version: 1 cup of frozen cauliflower rice instead of frozen banana
Add cacao nibs for more texture
Add vanilla extract for extra flavor
How to Make this Smoothie
Let's get to blending! Just combine all the ingredients into a blender and gradually blend on a medium-to-high setting for 30 to 40 seconds until everything is smooth. Once you reach a creamy consistency, pour your finished drink into a glass or shaker cup, garnish with cacao powder, and enjoy! Cheers!
Ingredients:
1 scoop 310 Organic Toasted Coconut
1 cup unsweetened coconut milk
1 frozen banana
1 tbsp dried coconut flakes, unsweetened
1 tbsp cacao powder
1/2 cup ice
Directions:
Combine ingredients in a blender and blend until completely smooth.
Serve and enjoy!
Nutrition:
305 calories
36g carbs
25g net carbs
11g fiber
10g fat
19g protein
What's your favorite shake recipe using 310 Organic Toasted Coconut? Let us know in the comments below for a chance to be featured on our blog! 
Like this recipe? Check out other delicious, nutritionist-approved 310 Nutrition recipes here! 
In This Recipe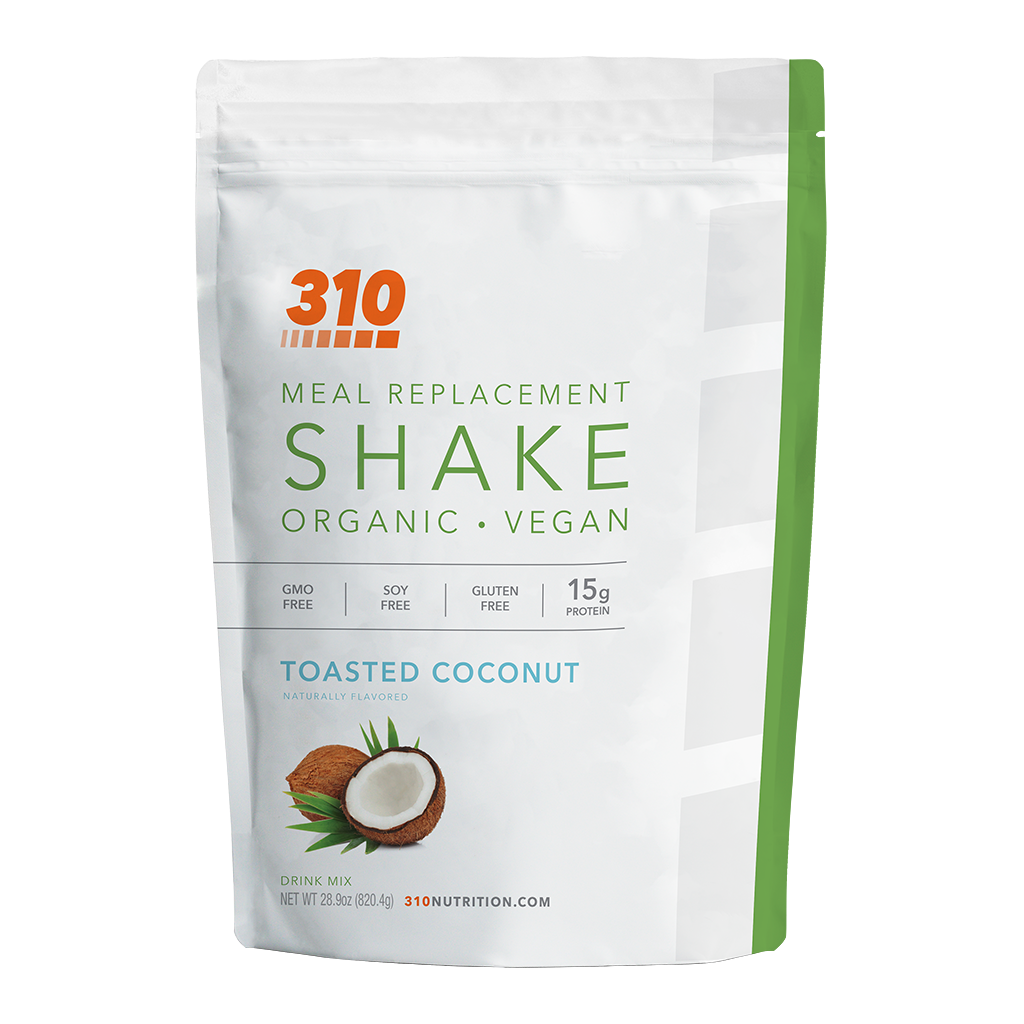 310 Toasted Coconut Shake - Original
100% vegan organic creamy Meal Replacement Shake with 15 grams of plant-based protein along with essential superfoods and nutrients to support your weight-loss goals and journey to a healthy lifestyle. View Shake »