How to Make this Apple Crisp Protein Shake
Dive head first into fall's favorite flavors! This mouthwatering shake tastes like a deliciously crumbly, old fashioned apple crisp... With all the flavors to remind you of grandma's house, and it's even full of nutrition!
With the holidays right around the corner, I highly recommend this shake as the perfect healthy sweet treat to help you resist all the surrounding temptations. Plus, it will give you the energy you need to get through the extremely busy holiday season!
So get ready to enjoy the delicious food your favorite holiday has to offer, without falling off track with your weight-loss goals…
And let's learn how to make this apple pie replacing, nourishing protein shake!
Ingredients:
Nutrition:
Calories: 366

Carbs: 32g

Net Carbs: 21g

Fiber: 11g

Fat: 13g

Protein: 30g
What You Need to Make this Shake
Let's review what you need to make this yummy shake! Starting with the proteins, we have the foundation: 310 Organic Vanilla Shake, and 310 Sour Apple Collagen (which we'll talk a little more about in the next section). I also added almond butter, cashew milk, (unsweetened is best), half a sliced apple for that authentic taste, rolled oats, cinnamon, and ice.
All blending together to create a deliciously nostalgic apple crisp for only 308 calories per serving… Sure to nourish your body, and keep you full!
310 Organic Vanilla Shake
Now let's talk about the star ingredient in this shake, which is a fan favorite, and can blend with nearly EVERY ingredient you can think of...
310 Organic Vanilla blends the velvety taste of cool vanilla along with 15 grams of filling protein + superfoods like turmeric and ginger – And it's so good you won't even realize it's only 110 calories per serving – with ZERO sugar, artificial sweeteners, or other unnecessary additives.
This particular shake flavor acts as the perfect base to get creative… Whether you want to add  fruits, spices, or any other favorite ingredients - 310 Vanilla will envelope it in it's classic flavor, and enhance the taste of your shake!
Like all other 310 Shakes, 310 Organic Vanilla also offers the following qualities, making it stand out from other shake mixes on the market that aren't as nutritious…
Organic, plant-based whole foods in every shake
Vegan and keto-friendly
15g protein, 5g fiber, and a plethora of superfoods
NO sugar, soy, gluten, dairy or anything artificial
310 Sour Apple Collagen
Next in this recipe, our NEW 310 Sour Apple Collagen adds a punch of sweet, tangy apple flavor, along with additional protein + nutrients for a healthy, youthful appearance and strong body.
Adding our collagen powder into your shakes can help give them an even creamier, more indulgent texture – and with the mouthwatering tang of a sour apple, this is the perfect ingredient to top off an authentic apple crisp shake!
Plus, collagen is a protein that your body needs, but you stop making as much as you get older. So replenishing your collagen supply can help support comfortable, mobile joints; youthful skin; strong bones; a healthy gut and digestive tract, and more.
Also, unlike many other brands, our collagen boasts some impressive features…
Made from grass-fed bovine collagen (for premium nutrition)
Includes type 1 and type 3 collagen (the most abundant types in your body)
Hydrolyzed for optimal absorption
Includes hyaluronic acid, resveratrol, and vitamins C, D, E, and B6 for radiant skin, strong immunity, & enhanced energy
How to Make this Recipe
Learn how to make this recipe with the full recipe card up top!
What's your favorite shake recipe using 310 Organic Vanilla? Let us know in the comments below for a chance to be featured on our blog!
Like this recipe? Check out other delicious, nutritionist-approved 310 Nutrition recipes here!
In This Recipe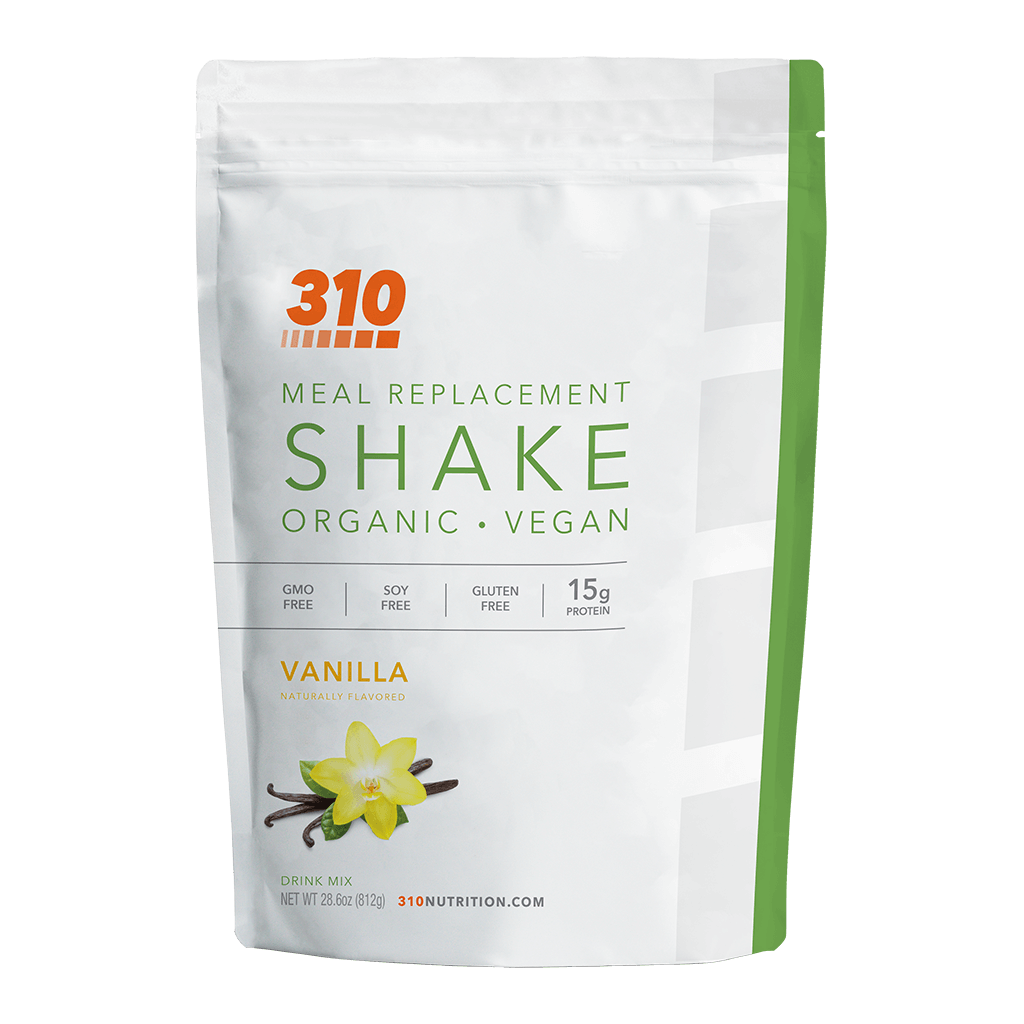 310 Vanilla Shake - Original
100% vegan organic creamy Meal Replacement Shake with 15 grams of plant-based protein along with essential superfoods and nutrients to support your weight-loss goals and journey to a healthy lifestyle. View Shake »