Though the first day of spring is almost upon us, unfortunately flu season will linger on a bit longer, so it's important to protect yourself by keeping your immune system strong! Real, whole foods that can help supply you with an abundance of vitamins, minerals, and antioxidants that your body needs to stay well and help sidestep the common cold or flu. 
Give yourself a little boost of immunity today with this zesty Tropical Immunity Boost Shake! Made with 310 Vanilla Shake, banana, carrots, orange juice, water, ginger, ground turmeric, chia seeds, and a squeeze of lemon (if you so desire), you'll be providing your body with some of the best nutrients to help fight illnesses in a deliciously-satisfying way.
This Immunity Boost Shake also contains 19g of protein and 6g of heart-healthy fats to further support your health and wellness goals. Keep reading for some incredible health benefits of this yummy, island-transporting shake!
Plant Proteins: 310 Vanilla Shake
To create a rich, creamsicle-like shake consistency, a scoop of 310 Vanilla protein powder is incorporated into this recipe! Not only will this shake formula provide you with immense flavor and a boost of natural sweetness, but it also has  plant-based protein, vital vitamins and minerals, probiotics, and a blend of organic super-greens.  
In general, protein is an essential macronutrient that plays a huge role in maintaining satiety, building and maintaining lean muscle mass, and supporting overall health.
Adding a scoop of 310 Vanilla Shake is a quick and easy way to get all the great benefits of quality protein! This particular meal replacement shake powder is comprised of three types of plant-based proteins (pea, brown rice, and hemp), to prolong feelings of fullness and provide your body with the fuel it needs to power through your day! 
In addition, to ensure you get quality nutrients that you would from a healthy, balanced regular meal, vitamins and minerals are added, including vitamins E and A, as well as minerals including magnesium, calcium, and potassium. There are also superfoods in every serving – including organic broccoli, kale, spinach, and spirulina. 
Antioxidant Power: Turmeric
Next, the incredible spice, turmeric, is added to this shake recipe. This ingredient has gained incredible popularity as of recently through its use in popular health-promoting beverages like turmeric lattes, teas, and golden milks. Adding turmeric to your diet is a surefire way to keep yourself feeling great, since it contains high levels of antioxidants and anti-inflammatory properties that can assist with greatly enhancing your immune system, and may even help relieve aches and pains, among other potential benefits. As a bonus, it will give your shake a beautiful, vibrant yellow/orange-y hue!
This recipe also includes minced ginger, which provides great anti-inflammatory and antioxidant effects, especially when paired with turmeric. These two ingredients make this shake a must-try for the flu season, or anytime you feel the need for an immunity-booster!
Energy-Boosting Fats: Chia Seeds
Despite their tiny size, chia seeds are incredibly nutritious and are loaded with fiber, protein, omega-3 fatty acids, and antioxidants. The immense amount of fiber in chia seeds can help keep you satiated for a longer period of time and assists with digestion for optimal function. Chia seeds are a good source of calcium and phosphorous, two minerals that are essential for bone health. For plant-based eaters, these mighty seeds are great addition to meals and snacks for supporting healthy bones!
Don't wait for sickness to roll around before supporting your immune system.  Keep this recipe in your arsenal of nutrient-boosting meals that you can enjoy daily to protect you when flu season is here! Get the recipe below...
Tropical Immunity Boost Shake
Serves 1
Ingredients:
1 scoop 310 Vanilla
1 small frozen banana
1/4 cup chopped carrots
1/2 cup fresh squeezed orange juice
1/2 cup water
1/2 tsp minced ginger
1/4 tsp ground turmeric
1 tbsp chia seeds
Optional: a squeeze of lemon
Directions:
Combine ingredients in a blender and blend until completely smooth.
Serve and enjoy!
Nutrition:
306 calories
52g carbs
39g net carbs
6g fat
19g protein
What's your favorite shake recipe using 310 Vanilla? Let us know in the comments below for a chance to be featured on our blog! 
Like this recipe? Check out other delicious, nutritionist-approved 310 Nutrition recipes here! 
In This Recipe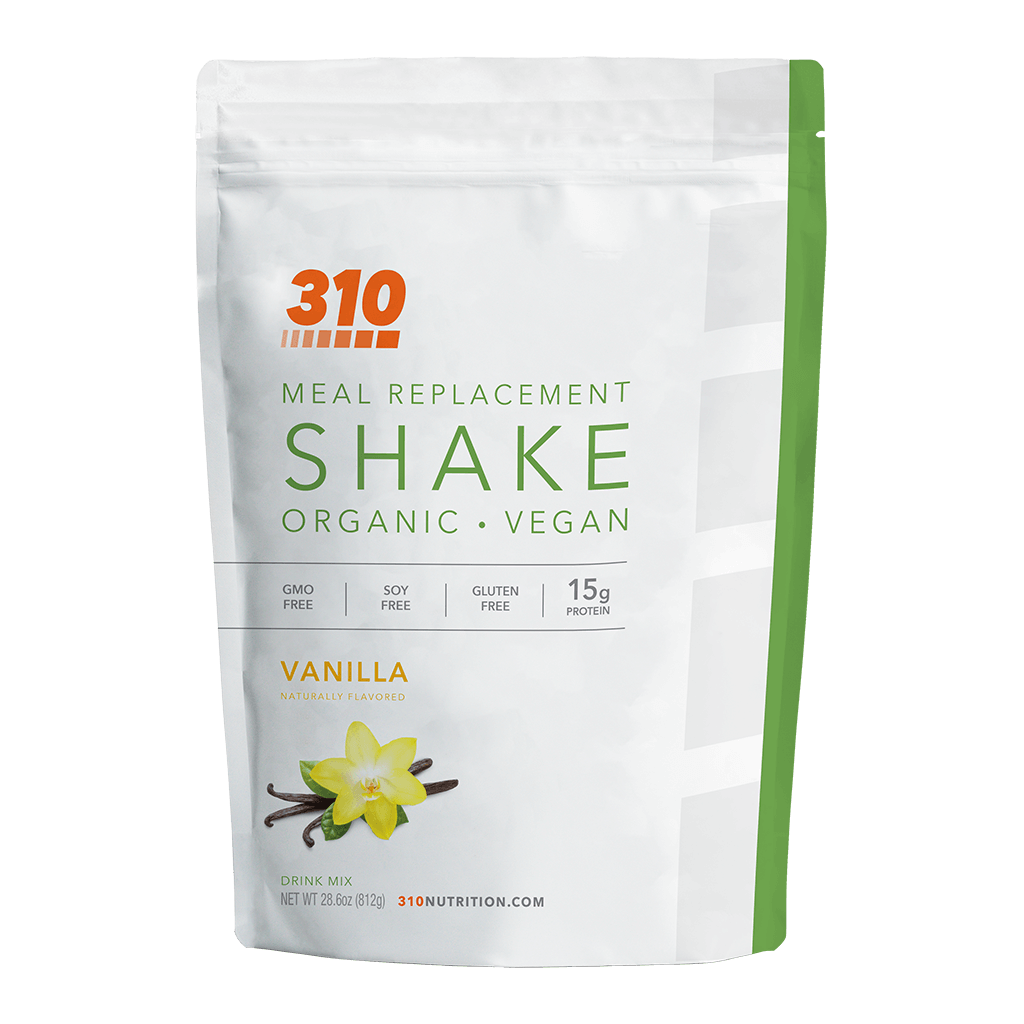 310 Vanilla Shake - Original
100% vegan organic creamy Meal Replacement Shake with 15 grams of plant-based protein along with essential superfoods and nutrients to support your weight-loss goals and journey to a healthy lifestyle. View Shake »