Do you crave peanut butter and jelly sandwiches as a favorite comfort food reminiscent of your childhood? In this super-tasty shake recipe, we bring a classic PB & J to another level of amazingness with this Peanut Butter Banana and Jelly Shake! The best part is there is NO added sugar or other unhealthy ingredients… just 100% real food nutrition.
Made with luscious 310 Vanilla shake powder, unsweetened almond milk, frozen banana, frozen strawberries, and creamy peanut butter, this smoothie tastes just like the sandwich you know and love, while being a highly-nutritious treat. With 21g of protein and 12g of satisfying healthy fats, you can nourish your body with the familiar flavors of the famous PB & J.
Keep on reading for some incredible health benefits of this truly yummy shake!
Complete Meal In a Glass: 310 Vanilla Shake
The first ingredient in this decadent Peanut Butter Banana and Jelly Shake is the 310 Vanilla Meal Replacement Shake. The best part about this protein powder is that it's a complete "meal-in-one", with 15g of plant-based proteins, 5g of dietary fiber, 1g of healthy fat, 20 vitamins and minerals, a superfood greens blend, and probiotics for digestive and immune health! All that to say that the shake also tastes scrumptious!
With a creamy vanilla bean flavor, you'll be happy to know there's no sugar or artificial sweeteners in this shake powder – only natural, plant-based sugar alternatives like Stevia. Yet, it has a distinctively smooth and thoroughly enjoyable vanilla flavor that goes well in countless smoothie recipes. In this PBB & J Shake recipe, it adds a creamy, dessert-like flavor, making it seem like you're drinking a sinful treat instead of a truly healthy shake!
Powered by some of the best plant proteins to help you meet your fitness goals (brown rice, pea and hemp), this meal replacement powder helps build and maintain lean muscles while maximizing the results of your workouts. In addition, it can help boost your metabolism to burn more daily calories, even while at rest.
Sweet & Nutritious "Jelly": Strawberries
Next, you can't make a PBB & J Shake without the jelly! In this clean and healthy smoothie recipe, frozen strawberries serve as the "jelly"… and in our opinion, taste far better than the stuff in a jar!
Not only do strawberries add a pleasant natural sweetness to this shake recipe, but this low-carb fruit packed with nutrients, including vitamin C, potassium, and immune-boosting antioxidants – which help protect your body from free radicals, sickness and disease. Furthermore, strawberries contain a great amount of dietary fiber to support your digestive health and prolong satiety, which is great for controlling blood sugar levels.
Energizing Source of Healthy Fat: Peanut Butter
The next ingredient is of course, peanut butter! In addition to adding big and bold nutty flavor to this recipe, peanut butter provides great protein along with vital minerals such as magnesium to support bone health, and potassium to help lower high blood pressure. Plus, the healthy fats in this nutritious butter provide an incredible boost of energy, and promote optimal heart health.
Ready to try out this "healthified" Peanut Butter Banana & Jelly Shake for yourself?! Check out the full recipe, below!
Ingredients:
1 scoop 310 Vanilla
1 cup unsweetened almond milk
1/2 frozen banana
1/2 cup frozen strawberries
1 tbsp peanut butter 
Directions:
Combine ingredients in a blender and blend until completely smooth.
Serve and enjoy!
Nutrition: 
299 calories
31g carbs
22g net carbs
12g fat
21g protein
What's your favorite shake recipe using 310 Vanilla? Let us know in the comments below for a chance to be featured on our blog! 
Like this recipe? Check out other delicious, nutritionist-approved 310 Nutrition recipes here! 
In This Recipe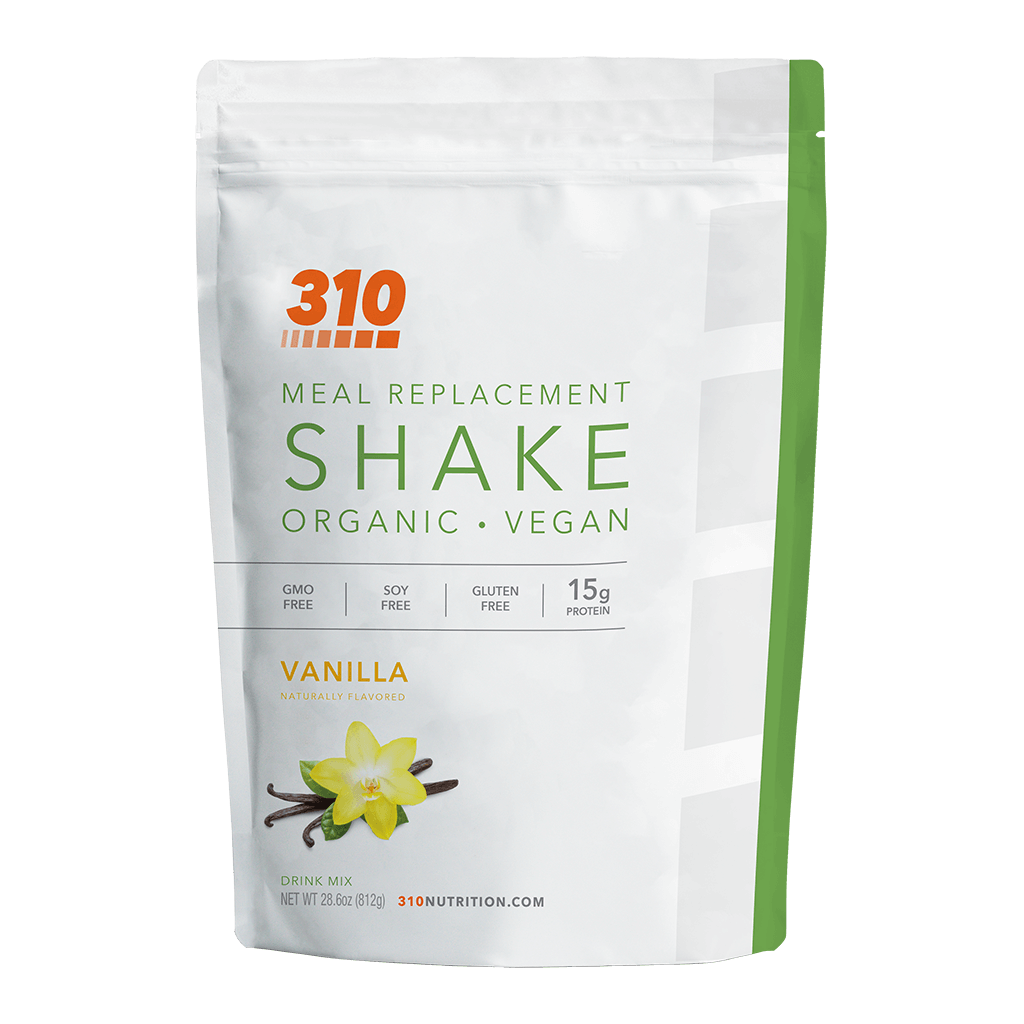 310 Vanilla Shake - Original
100% vegan organic creamy Meal Replacement Shake with 15 grams of plant-based protein along with essential superfoods and nutrients to support your weight-loss goals and journey to a healthy lifestyle. View Shake »