If you're following a low-carb diet, you can still indulge your holiday cravings with this Keto Dark Chocolate Peppermint Shake! Filled with nutritious fats, this dessert smoothie will surely satisfy both your hunger and your taste buds!
Keto Dark Chocolate Peppermint Shake Recipe
Swirl some magic into your day with this Keto Dark Chocolate Peppermint Shake that's the perfect combination of rich chocolate with a burst of refreshing peppermint! These classic flavors are bound to lift your spirits and satisfy your holiday sweet tooth, while helping you stay aligned with your health and wellness goals.
Rather than using sugary syrups that are full of artificial flavors, I used whole foods to provide essential nutrition and exceptional taste. Blended in just minutes, there's always time to make this recipe, even amidst the busy holiday season!
In This Recipe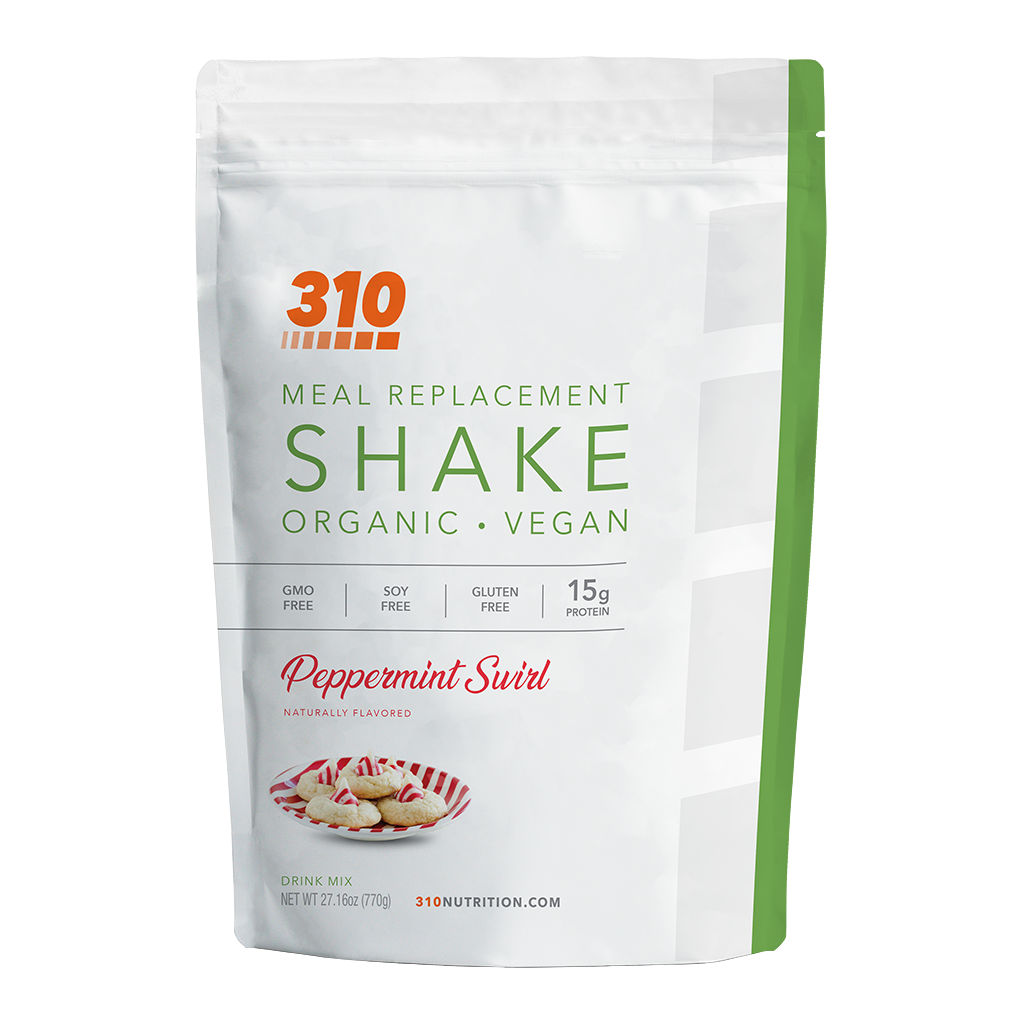 310 Peppermint Swirl Shake - Original
15 grams of plant-based protein nourish your body in this super-creamy organic blend, along with immune-supporting superfoods. It's a "can't-miss" healthy holiday indulgence, perfectly balanced with zero-sugar & satisfying sweetness, in this Limited Edition Shake. View Shake »
With an impressive 21g of plant-based proteins and 18g of healthy fats from 310 Shake and 310 MCT Oil, this yummy drink is an ideal snack to keep you full, while staying low-carb. I also included fiber-rich ingredients to further promote satiety, for a superfood shake that can also be enjoyed as dessert! Whether or not you're following keto guidelines, this is a recipe that can be enjoyed by anyone and everyone, so keep reading for how you can create it at home!
What You Need to Make this Shake
Let's first go over the ingredient list! I use 310 Organic Peppermint Swirl, unsweetened coconut milk, frozen cauliflower rice, cacao powder, cacao nibs, vanilla extract, 310 MCT Oil, and ice. For stronger notes of peppermint, swap out vanilla extract for peppermint extract.
310 Organic Peppermint
If you love melting candy canes into your drinks around the holidays, 310 Organic Peppermint is calling your name! Sugar-free and naturally-sweetened, this shake offers a creamy vanilla bean base with a hint of invigorating peppermint to create a beautifully balanced flavor that can be used in a variety of ways. Just one scoop of 310 Organic Peppermint provides 15g of plant-based protein and 5g of dietary fiber to fuel your body with quality ingredients. This is a limited-edition flavor, so don't miss out on a seasonal favorite!
Along with incredible taste, below are some additional qualities that make 310 Shake stand out in the crowd…
Vegan, keto, and paleo-friendly
Free from sugar, soy, dairy, gluten, and GMOs
Mix into smoothies, coffee, healthy baked goods, and more
Contains a blend of antioxidant-rich superfoods including kale, broccoli, beet, spirulina, and more
Ways to "Shake Up" this Recipe
To cater to your own personal taste and dietary needs, feel free to add or omit any ingredients. Below are some of my favorite ways to switch things up!
1/2 scoop of Peppermint Swirl and 1/2 scoop of Chocolate
Frozen banana instead of cauliflower if not following keto guidelines
310 Collagen

 

for extra 11g of protein
Almond or cashew milk instead of coconut
How to Make this Shake
Add all your ingredients into a blender and gradually blend from a medium-to-high setting for approximately 30 to 40 seconds until completely smooth. Pour your finished drink into a glass or shaker cup, garnish with additional cacao nibs, if desired, and that's it! Cheers!
Ingredients:
1 scoop 310 Organic Peppermint Swirl
1 cup unsweetened coconut milk
1 cup frozen cauliflower rice
1 tbsp cacao powder
1 tbsp cacao nibs 
1 tsp vanilla extract
1/2 tbsp

 

310 MCT Oil
1/2 cup ice
Directions:
Combine ingredients in a blender and blend until completely smooth.
Serve and enjoy!
Nutrition: 
330 calories
19g carbs
8g net carbs
12g fiber
18g fat
21g protein
What's your favorite shake recipe using 310 Organic Peppermint Swirl? Let us know in the comments below for a chance to be featured on our blog! 
Like this recipe? Check out other delicious, nutritionist-approved 310 Nutrition recipes here! 
In This Recipe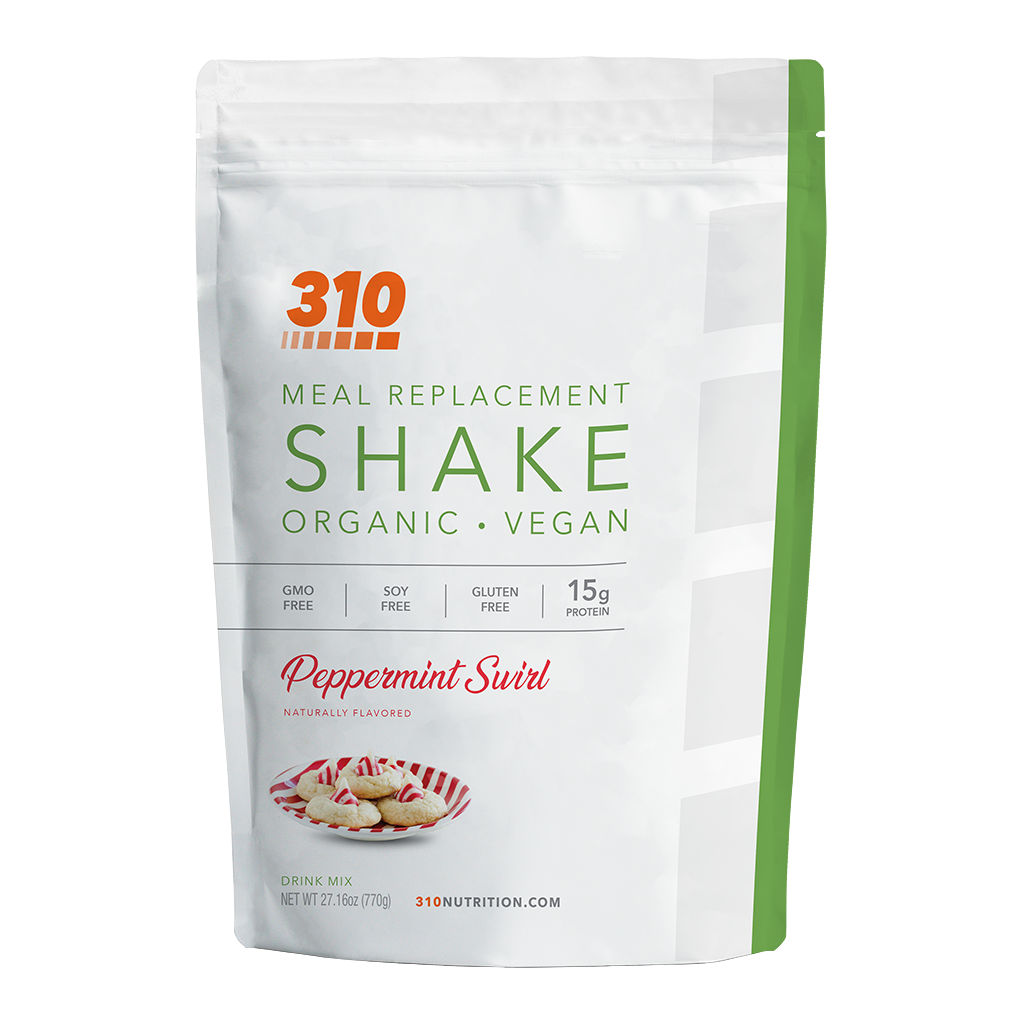 310 Peppermint Swirl Shake - Original
15 grams of plant-based protein nourish your body in this super-creamy organic blend, along with immune-supporting superfoods. It's a "can't-miss" healthy holiday indulgence, perfectly balanced with zero-sugar & satisfying sweetness, in this Limited Edition Shake. View Shake »