Skip the gingerbread cookies and kickstart the holidays with a sweet and nutritious Gingerbread Cookie Shake instead! Made with whole food, vegan ingredients, this recipe will satisfy all your holiday cravings in a totally nutritious way!
Gingerbread Cookie Shake Recipe
My favorite way to kickstart the holidays is by building a gingerbread house while sipping a deliciously-spiced Gingerbread Cookie Shake! It's easy to mindlessly snack when you're surrounded by candy, frosting, and gingerbread, which is why there's nothing better than a dessert-like shake to keep you company while assembling an edible treat. With the latest release of 310 Organic Gingerbread, you can enjoy all the classic holiday flavors while continuing to support your health and wellness goals!
In This Recipe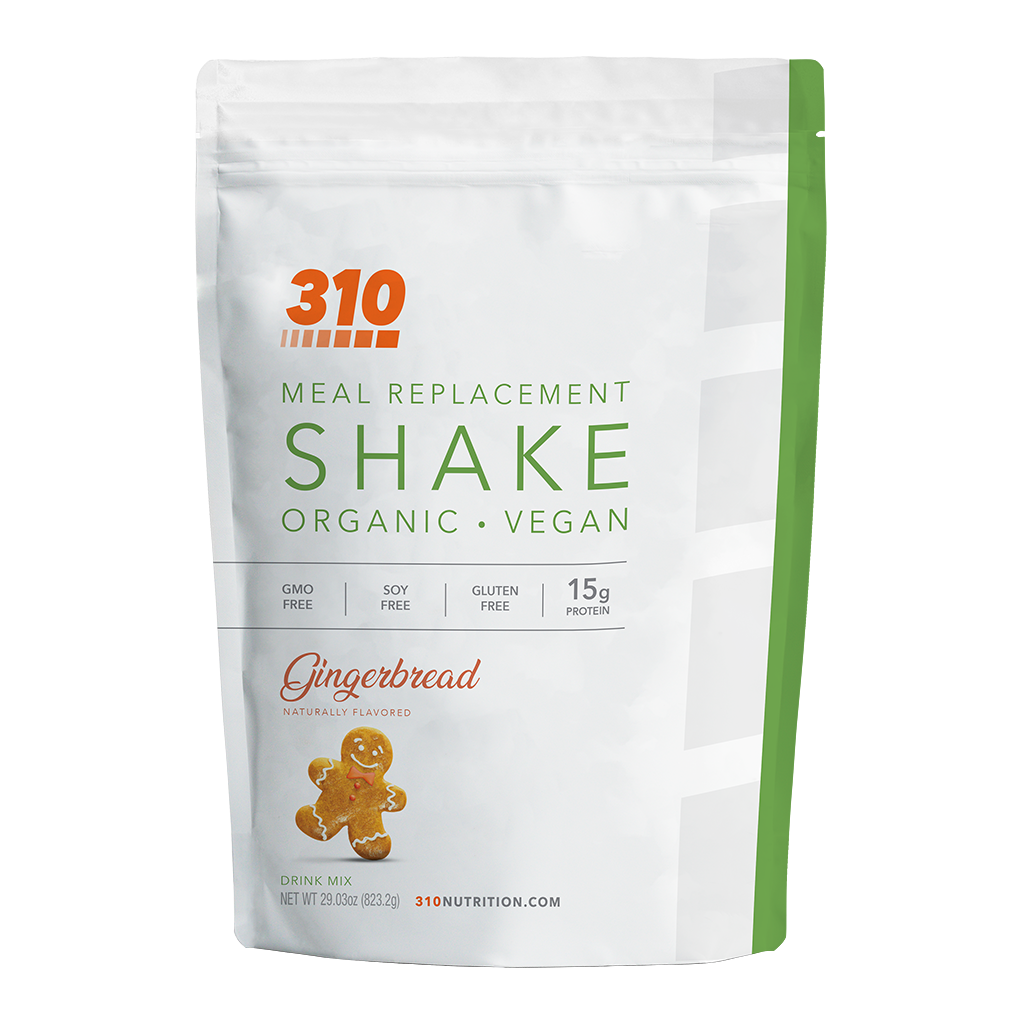 310 Gingerbread Shake - Original
15g of plant-based protein nourish your body in this super-creamy blend loaded with immune-supporting superfoods. Fresh-baked cookie flavors of ginger, cinnamon, and clove are perfectly balanced for a satisfying sweet shake with zero sugar! View Shake »
I adore adding rolled oats to my recipes when I'm blending cookie-inspired shakes, not only for great flavor, but because they're a source of beta-glucan, a powerful soluble fiber that helps promote satiety. For a boost of nourishing fats and plant-based proteins, I also included almond butter and 310 Shake into this recipe. This Gingerbread Cookie Shake is a hearty drink that can serve as a dessert, snack, or meal, for the perfect holiday treat!
What You Need to Make this Shake
Let's go over the ingredients that are in this recipe! I use 310 Organic Gingerbread, frozen banana, rolled oats, unsweetened almond milk, almond butter, vanilla extract, cinnamon, and ice. You can also add additional spices like clove or allspice, if desired.
310 Organic Gingerbread
It's officially gingerbread season and this year, you can celebrate the yummy flavor in your shakes, oatmeal, healthy baked goods, and even pancakes using 310 Organic Gingerbread! Beautifully-balanced with spices like ginger, allspice, cinnamon, and nutmeg, this shake is a must-have for all gingerbread lovers. I find sticking to healthy habits is the hardest around the holidays, so having indulgent-yet-healthy holiday options, like 310 Organic Gingerbread is a serious game-changer!
Using natural flavors and whole food ingredients, 310 Organic Gingerbread offers 15g of plant-based proteins and 5g of dietary fiber to nourish and fuel your body right. Formulated with a coconut creamer, it has a velvety texture to provide you with a classic milkshake taste. These are just a few reasons why I'm a huge fan of 310 Organic Gingerbread, and you can see more impressive qualities below!
Made with top-quality vegan and organic ingredients
Keto and paleo-friendly
Sugar-free, sweetened solely with Stevia
Contains a blend of superfoods including spinach, ginger, broccoli, spirulina, and more
Ways to "Shake Up" this Recipe
Love this recipe but following low-carb guidelines? See below for a low-carb version as well as alternative ingredients that also complement this shake!
Cashew butter instead of almond
Coconut or cashew milk instead of almond
Add cacao powder for a hint of chocolate flavor
Low-carb version: Swap frozen banana for frozen cauliflower rice
How to Make this Shake
It's time to put this shake together! Simply add all the ingredients into a blender and blend until you reach a smooth consistency. Once everything is well combined, serve your shake in a shaker cup or glass, garnish with a dash of cinnamon, and enjoy your nourishing holiday drink!
Ingredients:
1 scoop 310 Organic Gingerbread
1/2 frozen banana
2 tbsp rolled oats
1 cup unsweetened almond milk
1 tbsp almond butter
1 tsp vanilla extract
1/4 tsp cinnamon
1/2 cup ice
Directions:
Combine ingredients in a blender and blend until completely smooth.
Serve and enjoy!
Nutrition: 
340 calories
32g carbs
22g net carbs
10g fiber
13g fat
21g protein
What's your favorite shake recipe using 310 Organic Gingerbread? Let us know in the comments below for a chance to be featured on our blog! 
Like this recipe? Check out other delicious, nutritionist-approved 310 Nutrition recipes here! 
In This Recipe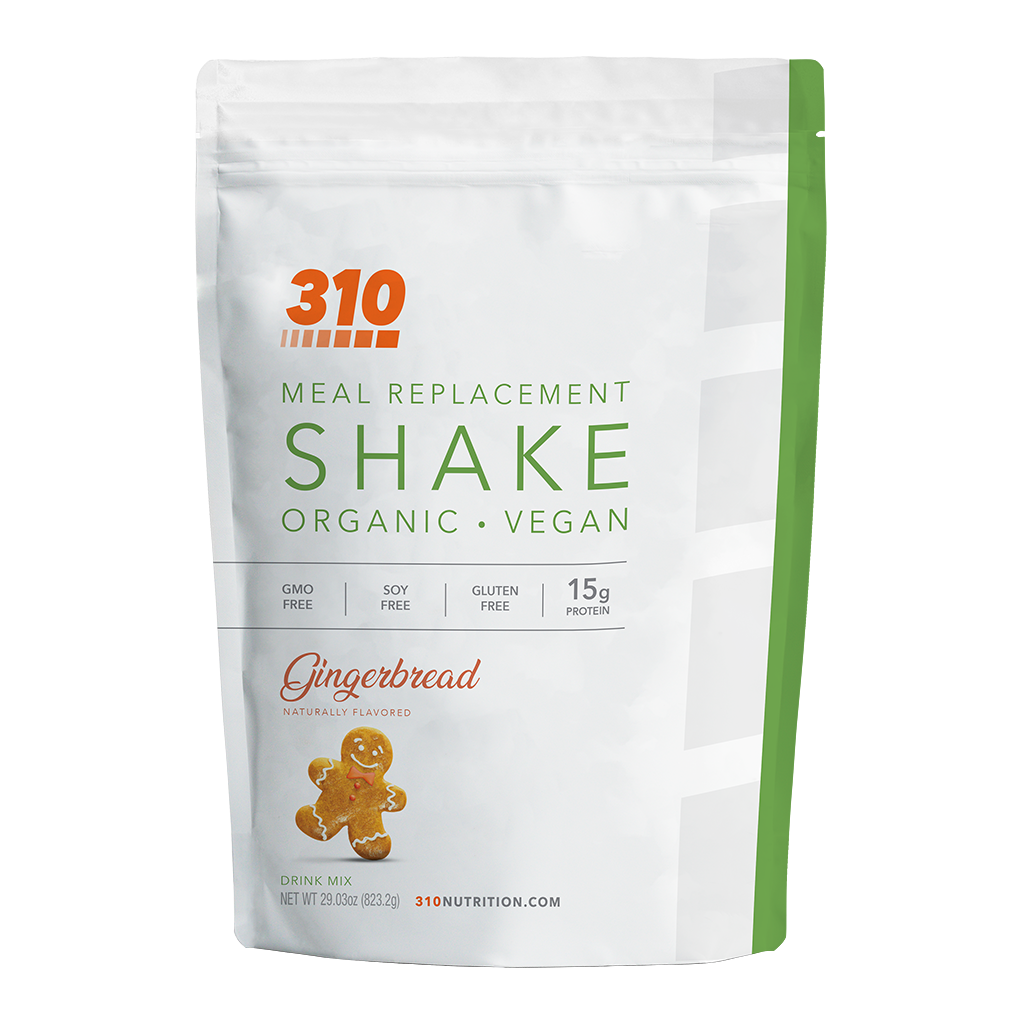 310 Gingerbread Shake - Original
15g of plant-based protein nourish your body in this super-creamy blend loaded with immune-supporting superfoods. Fresh-baked cookie flavors of ginger, cinnamon, and clove are perfectly balanced for a satisfying sweet shake with zero sugar! View Shake »