As summer quickly approaches, the cravings for rich and creamy ice cream are kicking in! But fret not - if you're trying to avoid the extra sugar, or are just looking for a healthier alternative, this Coco Loco Shake is perfect for you!
This smoothie includes three different sources of high-quality chocolaty goodness, so it can deeply satisfy your sweet tooth, while providing your body with the nutrients it needs to function at its best! In fact, this shake is packed with 20g of protein and 13g of nutritious fats, so rather than the usual sugar crash you might get from ice cream, you'll likely find yourself feeling much more focused and energized!
To make this yummy shake, all you need is 310 Chocolate, banana, unsweetened almond milk, cacao powder, cacao nibs, avocado, and unsweetened coconut (which is optional) - If you're looking to add a subtle nutty twist to this shake!
Before we get to the full recipe, let's take a look at some of the potential health benefits this shake offers!
Addicting Cocoa Flavor: 310 Chocolate Shake
You may be wondering how it's possible to make a nutritious chocolate shake, and the key ingredient I use to do this is 310 Chocolate! It gives the flavor and texture you would expect from an ice cream chocolate shake, but instead of all the sugar and additives, it's sweetened with stevia and contains 20 essential vitamins and minerals, gut-healthy probiotics, and superfood greens for an extra boost of nutrition. 
In This Recipe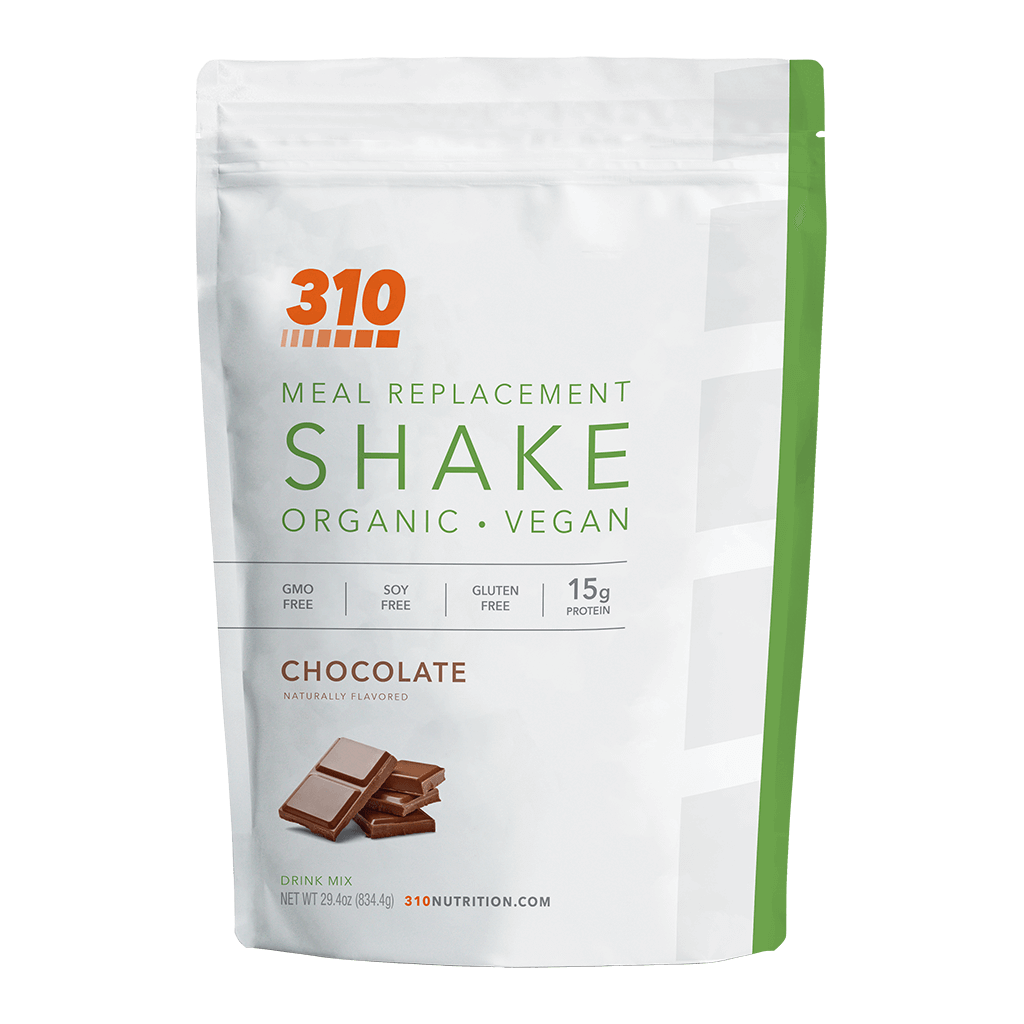 310 Chocolate Shake - Original
100% vegan organic creamy Meal Replacement Shake with 15 grams of plant-based protein along with essential superfoods and nutrients to support your weight-loss goals and journey to a healthy lifestyle. View Shake »
310 Shakes also contain a blend of three different types of plant proteins, including brown rice, pea, and hemp. So in this shake powder, there's 15g of protein and a whopping 5g of dietary fiber per serving to help support digestion and promote satiety. Whether you need a satisfying breakfast, filling lunch, or nourishing pre- or post-workout snack, adding a scoop of 310 Shake to your smoothie can help provide the nutrients you need on a busy schedule!
Healthy Fats & Smooth Texture: Avocado
Ah, avocado! Why add this green "fruit" to a dessert shake, you might ask?
Not only are avocados full of nutritious fats, (monounsaturated and polyunsaturated), to help support brain health and overall health, but they also add the most silky, creamy texture to smoothies! In this recipe in particular, it kind of replaces the "heavy cream" texture you would get from a traditional ice cream shake.  
Avocados are also loaded with nutrients including a variety of B vitamins, vitamin K, folate, potassium, and even dietary fiber to promote feelings of fullness and satiety. And, you won't even realize that avocado is in your smoothie when drinking it – instead, you'll get rich chocolate flavor with the best texture! 
More Chocolaty Goodness: Cacao Nibs & Powder
As if this shake couldn't get any better, I added two more sources of chocolaty goodness… cacao nibs and cacao powder!
While 310 Chocolate already has a great amount of cocoa flavor, these additional ingredients take it a step further, for super-rich, super-satisfying, ultimate chocolate taste in every sip. 
Plus, along with fulfilling your sweet tooth, cacao nibs and cacao powder also contain antioxidants, specifically flavanols, that may help to fight against free radicals in the body and support healthy cells. 
Ready to make this dessert-like treat? See the full recipe for this Coco Loco Shake, below!
Ingredients:
Serves 1
1 scoop 310 Chocolate
1/2 frozen banana
1 cup unsweetened almond milk
1 tbsp cacao powder
1 tbsp cacao nibs
1/4 avocado
Optional: 2 tsp unsweetened dried coconut 
Directions:
Combine ingredients in a blender and blend until smooth. 
Serve and enjoy! 
Nutrition: 
300 calories
30 g carbs
19 g net carbs
13 g fat
20 g protein
What's your favorite shake recipe using 310 Chocolate? Let us know in the comments below to be featured on our blog! 
Like this recipe? Check out other delicious 310 Nutrition recipes here! 
Sources:
https://310nutrition.com/products/healthy-meal-replacement-shake-chocolate
https://newsnetwork.mayoclinic.org/discussion/mayo-clinic-minute-avocado-gets-an-a-for-health-benefits/
https://my.clevelandclinic.org/health/articles/16774-heart-healthy-benefits-of-chocolate
In This Recipe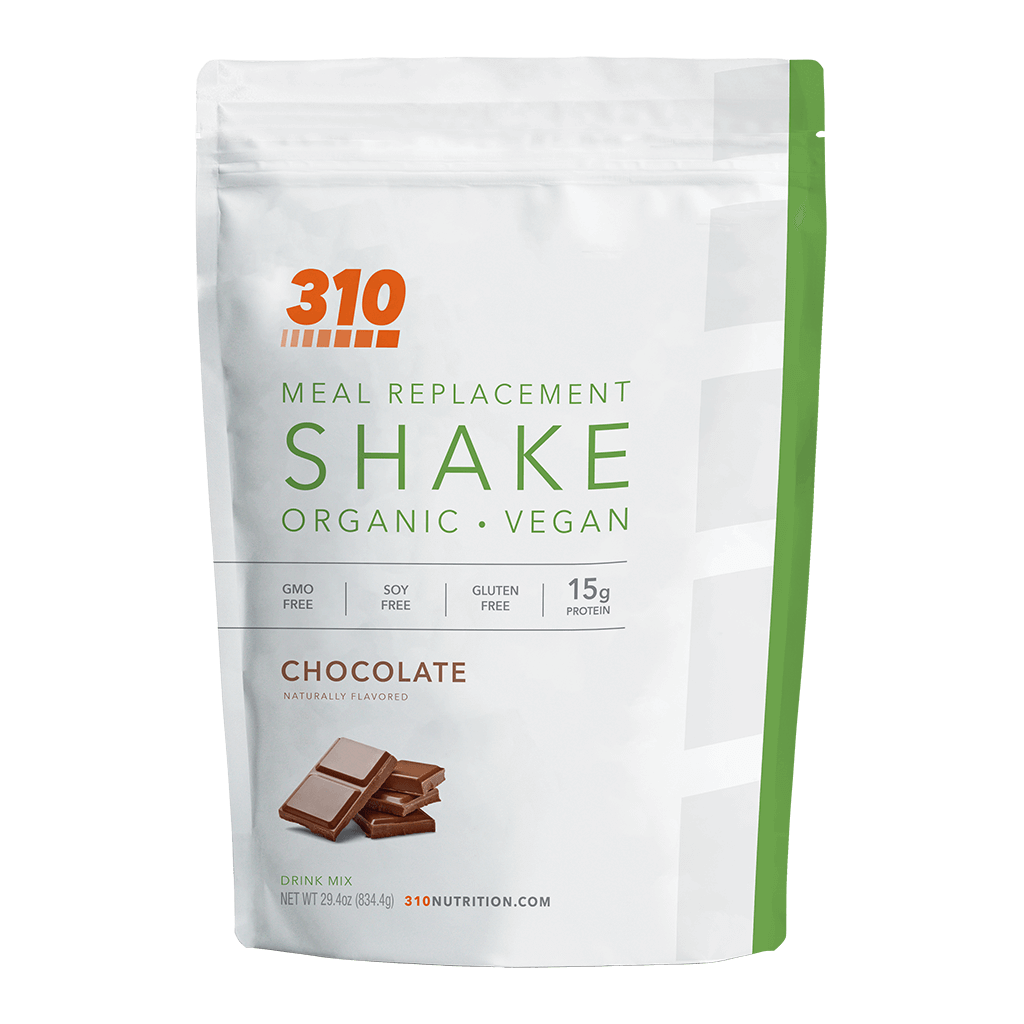 310 Chocolate Shake - Original
100% vegan organic creamy Meal Replacement Shake with 15 grams of plant-based protein along with essential superfoods and nutrients to support your weight-loss goals and journey to a healthy lifestyle. View Shake »