Did someone say double chocolate smoothie?! That's right, and without the sugar, calories and carbs that are typically in these dessert-like treats. Instead, this keto-friendly chocolate shake recipe is full of healthy, nutritious ingredients – featuring whole food nutrients instead of the processed, chemical ones you find in similar beverages. In addition, it's plant-based and dairy-free.
This Double Chocolate Keto Shake will remind you of a decadent treat, being rich, creamy and seriously delicious. So, when you're craving chocolate in any form, simply mix up one of these shakes to satisfy your cravings. (Hint hint: You can even enjoy this shake as a meal replacement, since it contains one of the best plant-based meal replacement shake powders… more on that next!)
Read on to get the full recipe for this indulgent chocolate keto shake…
A Chocolate Dessert That Doubles As a Meal
Are you craving chocolate? You can have all you desire with this luscious chocolate shake recipe that will remind you of something off an ice cream shop menu, while containing only healthy ingredients. The main ingredient in this recipe is 310 Chocolate Shake meal replacement powder – which features plant-based proteins, pea, brown rice and hemp.
In addition to being an excellent source of protein, (which can greatly assist with weight loss), 310 Shake also contains optimal dietary fiber; 20 vitamins and minerals; superfoods such as organic kale, spinach and broccoli; and gut-healthy probiotics. Plus, it gets its chocolaty taste from cocoa powder and natural sweetener, Stevia – a much healthier alternative to regular table sugar.
With richly indulgent taste, 310 Chocolate Shake also has only 2g of net carbs, so it's the perfect addition to your keto lifestyle. Along with this awesome recipe, you can also use 310 Shake to make many other sumptuous creations, for quick and healthy meals on-the-go!
Now that you know what makes this keto shake recipe so great for you, we'll show you how to make it…
Double the Chocolate, Double the Fun…
Along with 310 Chocolate Shake, this Double Chocolate Shake recipe includes more indulgent ingredients that also happen to be healthy, like canned coconut milk, unsweetened almond milk, and cacao powder. The recipe also features MCT Oil, which is a highly-nutritious, fast-absorbing oil that provides instant energy and mental focus, and can help kick your body into ketosis.
For all its extra-chocolaty goodness, each Double Keto Shake serving has just 374 calories, 7g of net carbs, 26g of healthy fats and 18g of protein. Grab your bag of 310 Chocolate Shake and start mixing up pure happiness today!
Ingredients:
Serves 1
I scoop 310 Chocolate 
1/3 cup canned coconut milk
1/2 cup unsweetened almond milk
1 tbsp cacao powder
1 tbsp MCT oil
1 cup ice
Optional: a few drops of liquid stevia
Directions:
Combine ingredients in a blender and blend until smooth. 
Serve and enjoy! 
Nutrition: 
374 calories
13 g carbs
7 net carbs
26 g fat
18 g protein
What's your favorite keto-friendly shake recipes? Let us know in the comments below to be featured on our blog! 
Like this recipe? Check out other delicious 310 Nutrition recipes here! 
In This Recipe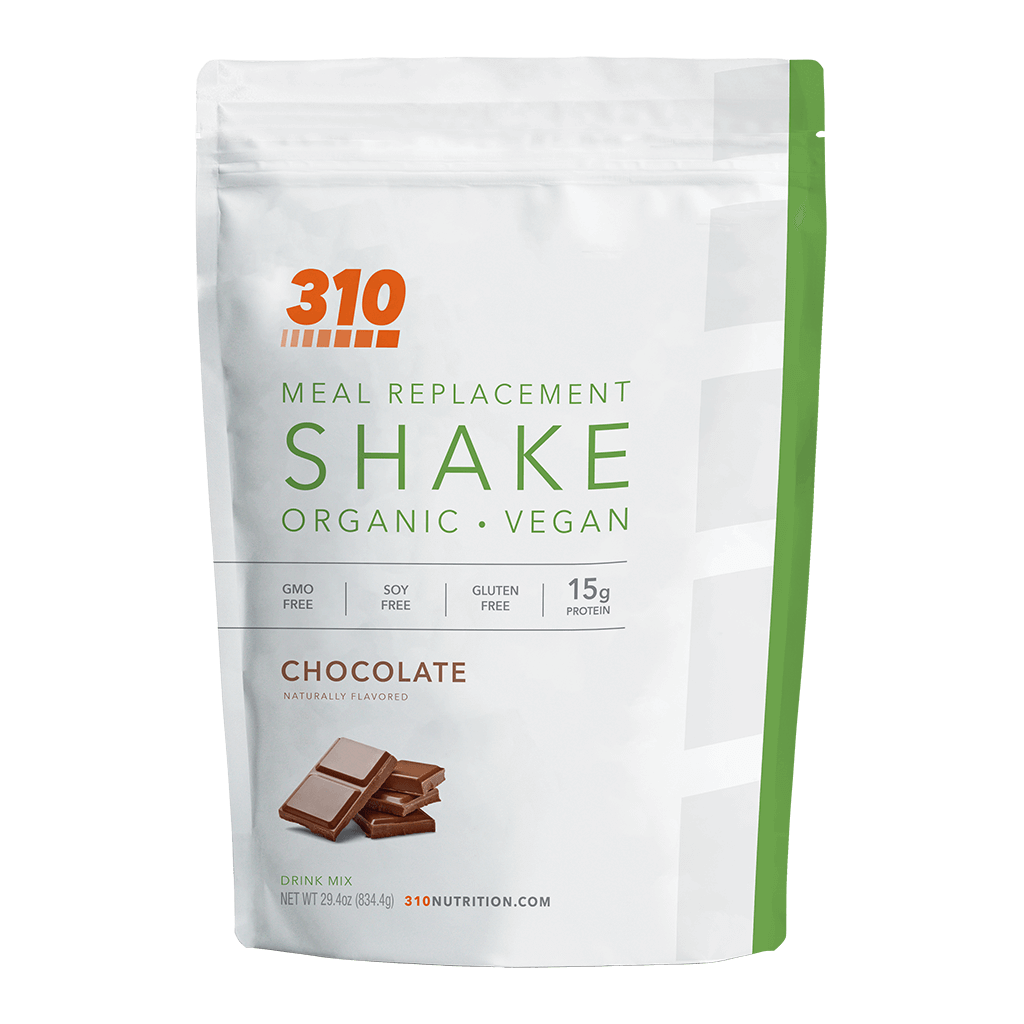 310 Chocolate Shake - Original
100% vegan organic creamy Meal Replacement Shake with 15 grams of plant-based protein along with essential superfoods and nutrients to support your weight-loss goals and journey to a healthy lifestyle. View Shake »